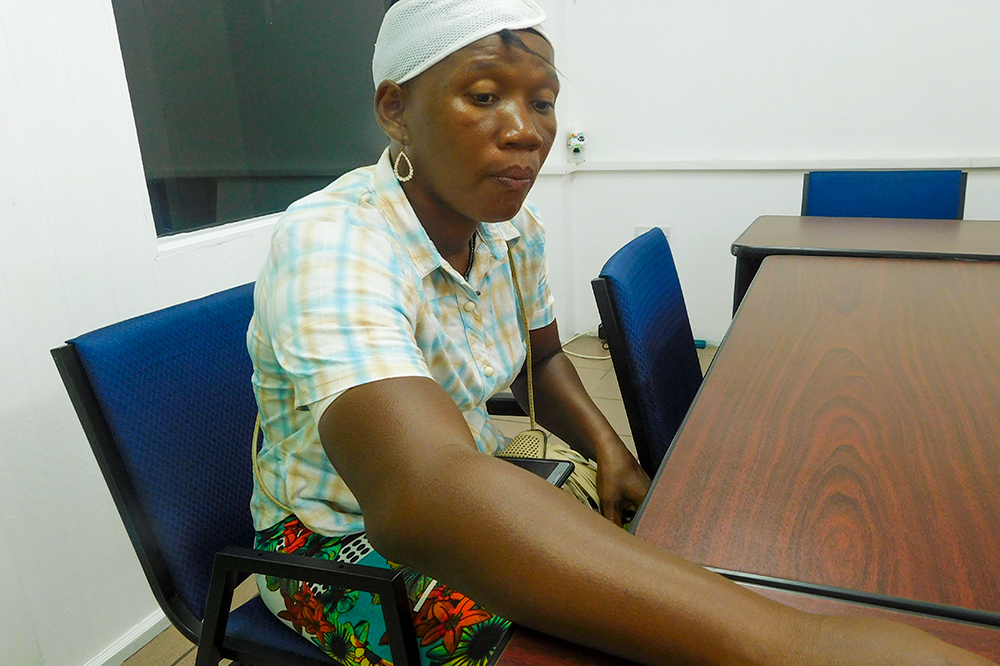 Colonarie woman demands apology from police for causing her arm to swell
A Colonarie woman is seeking an apology from police officers for an incident that has caused her arm to be swollen for two days, making her incapable of doing everyday tasks.
Suenell Adams-Forde visited SEARCHLIGHT yesterday, holding out her right arm which appeared to be swollen from elbow to wrist.
She explained that she and her husband, who is an auxiliary police officer, had a dispute last Friday which resulted in him reporting the matter to the police station in their area.
The Colonarie resident said when she tried to explain herself to the officers there, they told her to stay outside of the police station while they dealt with the matter.
"I end up take up a piece of residue from the ground and slam it on the ground. I ask him (her husband) like this, 'this is what you carry me station for? Every time we have an argument, you carry my name station'," Adams-Forde said.
The mother of six said it was at this point that a police officer in plain clothes ran out of the station and "wring my hand".
She also said that a female police officer had her in a chokehold and she bit the officer on her hand to get away.
Adams-Forde's visit to SEARCHLIGHT came just minutes after she had been fined $400 at the Magistrate's Court for causing bodily harm to that female officer.
"They end up charge me for that because she went to the doctor. And when I asked for a doctor paper now, I ask for a doctor paper, they refuse to give me a doctor paper to see the doctor. I went doctor differently off my own without a doctor paper … issued from the station. They didn't give me any," she said.
She also said she was told to go to the Criminal Investigations Department (CID) to report the matter.
Adams-Forde, who is a janitor at the George Stevens Secondary School, said that her right hand is her dominant hand and the swelling has made it difficult to do some tasks.
She also said it has been difficult sleeping with her swollen arm as it hurts when she applies pressure to it.
And she would like an apology from the police and a police-issued slip so that she can receive medical treatment.
"I have to go so I could get treatment. I can't put too much pressure on the hand. If I put too much pressure, it feels like a needle or something jooking back in there. I ain't believe it break or anything, probably just how he wring it," she said. "I have a bath tub of clothes home now. I can't wash with the hand. I could barely bathe me skin properly…"
The Colonarie woman said that while she understands that police officers have to do their job, she does not believe what happened called for their actions towards her.
"I keep watching police abusing people like if they respond back like how they react to them. They are the law. They supposed to know how to react," Adams-Forde said.
"If I could say sorry…I accept my wrong but they not accepting theirs. They're refusing me to see the doctor. If I have to get treatment, I'll buy it on my own; no problem with that, because I accept I slam the stone on the ground. I did not lash anybody. In my anger responding to my husband, I didn't lash anybody."