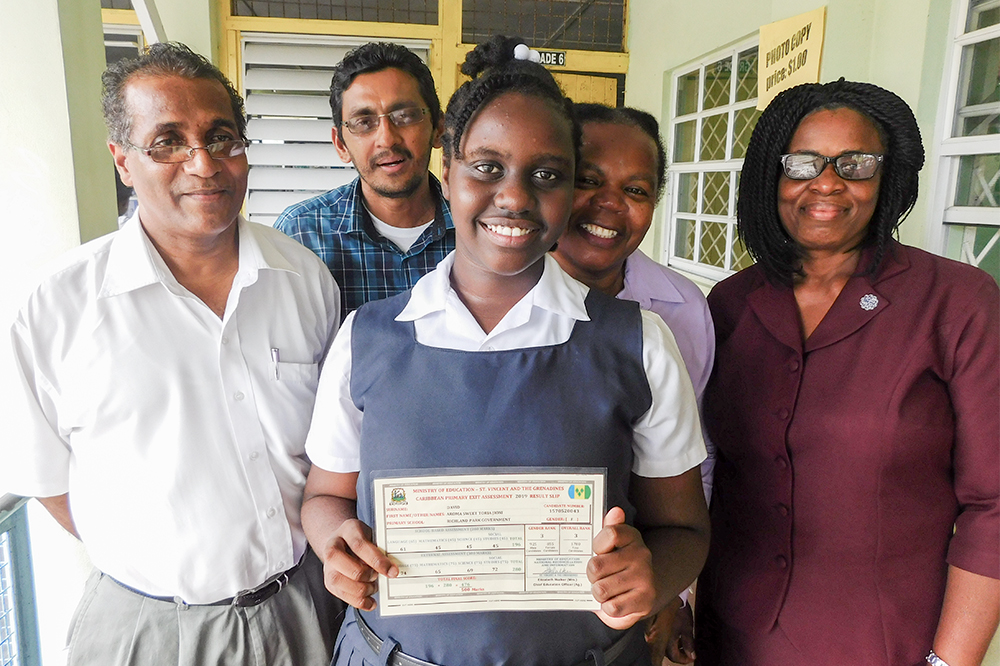 Aroma David is always ready to take on a challenge
A student who placed third in this year's Caribbean Primary Exit Assessment (CPEA) examinations wants to be a chef, an evangelist and a hairdresser when she grows up.
And if what her mother and teachers say is true, then she is quite capable of achieving all those goals.
Aroma David, a student of the Richland Park Government School, placed third for girls and third overall with an overall percentage of 95.2 per cent.
She tied with two other students for the third position.
"This is the first time we are in the top 10. Some years ago, we realised 13th overall and 8th for girls. That was since 2005. We are really happy to be in the top 10 this time. We have been waiting and now it has happened, we are really happy," Carol Miller, the principal of the school said.
David was among 24 students from that school who sat the CPEA examinations this year.
Miller, commenting on David, said that the 11-year-old was an extremely determined individual who is always willing to take on a challenge.
It would appear that Miller is right as the school's top performer told SEARCHLIGHT that although she found the Social Studies and Science exams a bit difficult, "I wasn't nervous at all".
"I feel very happy and excited and I look forward to going to a good secondary school. I want to go to Girls' High School. It was very hectic but in all, I just kept focus and kept my head on," David said. "I want to say thanks to the teachers for being patient with me and helping me through all my struggles and I want to say thank you to all my parents. They always encouraging me."
As part of the preparations for exams, David said her mother took away all her electronics. But, while she was sad at first, she understood why her mother did it.
The 11-year-old said she was confident that she would be a part of the top 10 performers in this year's exams.
And her mother, Cynthia David attests to this confidence.
"Aroma trusts God. She is very god fearing and she has that confidence within herself and she is very humble. And she takes instructions," David's mother, who is also a teacher at the Richland Park Government School, said. "And it's just today she said said to me, Mommy I cried because I really thought I was first."
The mother of three expressed appreciation for the Richland Park Government School, where she and all her children received their primary school education. She added that Aroma didn't receive any additional classes outside of the ones offered at school.
Miller, the principal said the school recorded a pass rate of just under 80 per cent this year. She added that this was a slight decrease from last year's pass rate of 83.3 per cent.
"…All in all, the children did well. We had some challenges concerning the staffing at the beginning of the school year. Some of our teachers were out and our school has issues with proper partitions and so on," she said. "Despite the odds, I am really pleased that we still maintained a reasonable average and we just hope that as time goes by, we improve because there is always room for improvement. One of these days, we really would like to see 100 per cent."(BK)