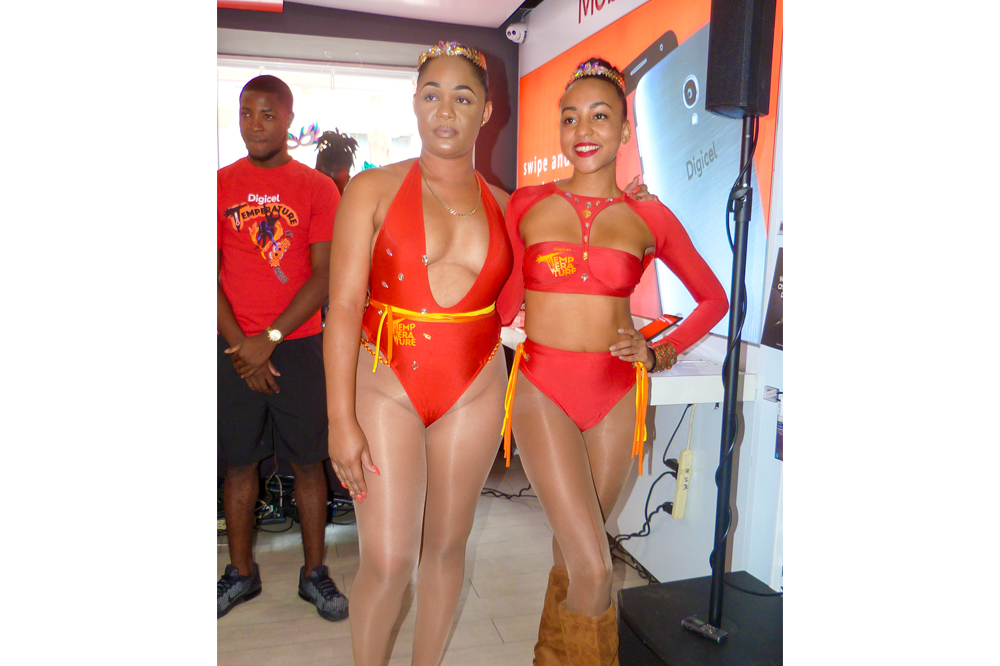 Digicel "ultimate feter's pack" promotion and give away begins
Ten tickets to five of Carnival's "most anticipated" events including "Slippery when Wet" and "Brunch and Soca" are up for grabs by several persons as part of Digicel's Carnival promotion.
Jamisha Wright, Marketing Manager at Digicel St Vincent and the Grenadines(SVG), indicated that there will be three winners of the "ultimate feter's pack" every Friday during her remarks at the launch of the promotion at "The Cell" on Halifax Street.
This promotion which began on June 7, will run until July 5.
Wright explained that the pack is "a Digicel passport that's gonna give you 10 tickets to five of the most anticipated events here in St Vincent and the Grenadines for Carnival."
She continued, "that's two tickets to 'Slippery when wet', two tickets to 'Shenseea', two tickets to 'Brunch and Soca'" and two Temperature packages (Digicel's T-shirt band for Carnival Monday).
Wright said that the opportunity to win costumes for Carnival Tuesday is also on the table. "We're on board again with Mirage, we all know what Mirage is known for; we're on board with Ahdrenalin, and of course we're supporting Blondie Bird and Friends for 2019," she informed. Costumes for these bands were showcased at the launch.
Country manager Fanta Williams explained how persons may have a chance at winning these prizes. She said that Digicel isn't asking customers to do anything differently that what they are already doing, commenting, "no jumping through hoops, nothing magical to do, do exactly what you do all the time and it's going to reward you."
A prepaid customer is expected to continue to purchase plans, specifically a seven-day supersize plan. This would give the customer seven days of unlimited data according to Williams.
A postpaid customer may purchase a plan or max plan and be entered to get a chance at winning a "Temperature general package" which includes costumes and unlimited rum punch. This also enters the person in the weekly draw.
However, a postpaid customer only needs to pay their bill in full and on time and they will qualify for the weekly draw.
Digicel is also encouraging people to join the network and switch, considering since June 3, persons may now switch their network and keep their old phone number.
"You have the freedom, the absolute freedom to choose your provider, so you stay married to your number, but you're no longer married to your provider," Williams explained.
For these persons, "Join. Whether you join as a new customer, brand new, meaning a new SIM, or you port over to our network these two activities also qualify you for part of this promotion," the country manager encouraged.
Winners will be contacted by Digicel.
Digicel has also started a "#CarnivalProud" campaign. The company is giving persons this platform to say how "wonderful our Vincy Mas is," and it will also offer rewards for those who take part in this campaign, Williams informed.