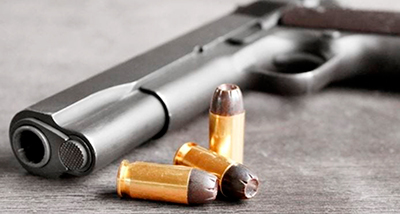 Couple shot by masked men in botched robbery
About two weeks after a couple erected a wall around their home in Brighton, two gunmen invaded the property and attempted to murder them during a botched robbery.
"You would think they would have come when we had a hedge as our main fencing, not when we built a wall," Carolyn Lee told SEARCHLIGHT on Monday from hospital.
Carolyn, 52, and her husband Stephen, 58, were shot about their bodies at around 2 am last Thursday, May 13 while at their home in Brighton.
The police say two armed and masked intruders entered the Lees' residence and shot the couple, and they are soliciting the assistance of the public to supply any information that can lead to the prosecution of the offenders.
Carolyn told SEARCHLIGHT that she and her husband were at home when two masked men, dressed in black, entered their home and demanded money. She said they responded by telling the men they had no money and that they never keep money in the house after which the intruders opened fire on them.
"We never expected anything like this to happen, we felt so safe there," said Carolyn who added that during the 12 years they have lived at the property they never had any reason to feel unsafe.
She said they recently built a wall around the property and it is strange that there was never an attempt to burglarized or rob when they had a simple hedge, but since the wall has gone up this is the second attempt to enter the property.
Carolyn added that they have no idea who tried to rob them and at the moment they do not feel safe going back to their home.
The Lees, originally from England, have been living in St. Vincent for the last 12 years and Stephen is the manager at Barefoot Yacht Charters.
Carolyn said while they no longer feel safe at their home, their first thought is not to flee the island as St Vincent is their home, discovered during their many sailing trips around the world.
She said they have visited many countries but when they discovered St. Vincent and the Grenadines (SVG), they fell in love and decided to settle here.
Carolyn thinks that it is unfortunate what happened to them and noted that this is the first time that they have experienced anything of this nature while living on the island. Her husband Stephen was discharged from hospital while Carolyn is in a stable condition.
The Police are asking that persons with information on the crime contact the officer in charge of South-Central Division at (784)458-4200 or the assistant commissioner of police in charge of crimes at (784)456-1339.