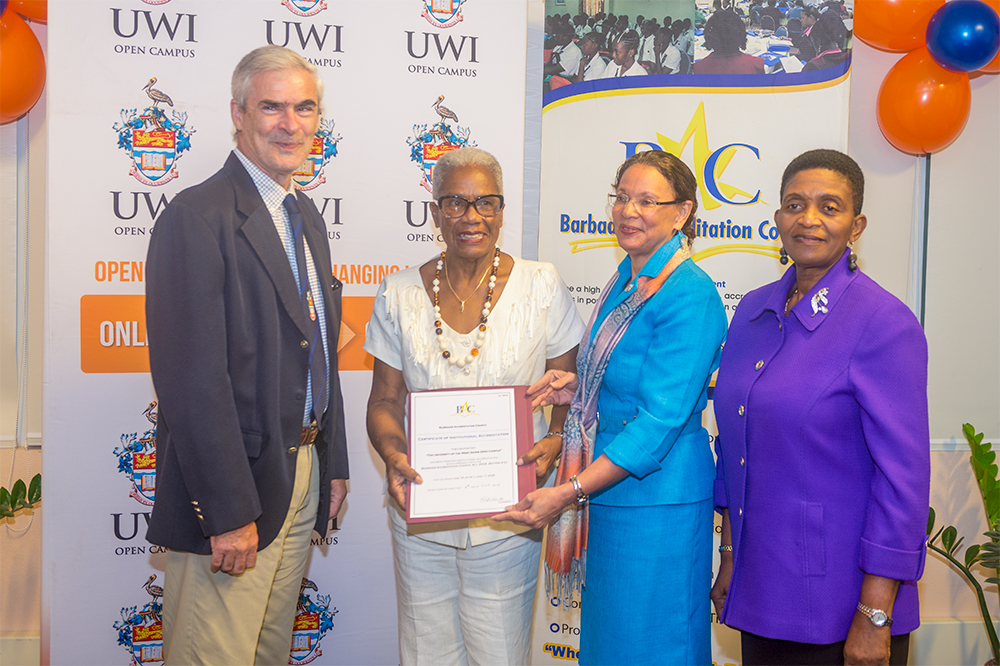 UWI Open Campus gains Accreditation for another Seven Years
The leadership and staff of The University of the West Indies Open Campus were in a celebratory mood on the afternoon of Tuesday, June 4, when it was announced that the Campus has been reaccredited for seven years, the maximum period achievable.
The announcement was made by Chairman of the Board of Directors, Barbados Accreditation Council (BAC), Margo Lady Ann Hewitt at a ceremony hosted at the Open Campus Headquarters in Barbados.
The accreditation team was very complimentary of the Open Campus Self-Evaluation Report, describing it as "reflective and analytical and addressing the various challenges faced by the Open Campus."
"The accreditation criteria and its standards are clearly met," the accreditation team declared in its report.
"In the view of the team, the Open Campus is poised to take advantage of the opportunities presented by Global Online Strategy, its ambassadorial role in the non-physical campus countries and the growth of continuing professional education," the report stated.
The team commended the Open Campus for several positives including: "the honesty of the self-evaluation and the use of the exercise to identify opportunities for improvement; improvements in administrative system and the commensurate reduction in students' complaints, following the introduction of the Banner Enterprise Resource Planning (ERP) system; and the commitment of all staff at all levels to serve the under-served in the region."
According to the accreditation report, the Open Campus has made significant improvements in the performance of its administrative systems, and also enjoys "strong support from its alumni, who value the opportunities that it provides, and who consider that the university lives it student-centred values."
Acting Principal, Professor Julie Meeks Gardner accepted the instrument of accreditation on behalf of the Open Campus and attributed the accomplishment to the staff. "This Certificate of Institutional Re-Accreditation which I have just accepted on your behalf, granted for seven years, the maximum time achievable, is testimony to your commitment, dedication and in so many cases to your efforts beyond the call of duty to ensure the success of our beloved Campus," Professor Meeks Gardiner explained.
The Acting Principal said the re-accreditation exercise provided the Open Campus with an excellent opportunity to critically evaluate its operations and processes, and to identify recommendations and future actions that will ensure that the Campus continues to provide first-class service, and a world-class education to its students.
The re-accreditation period runs from June 18, 2019 to June 17, 2026 and the Campus will undergo a mid-cycle review in another three years.