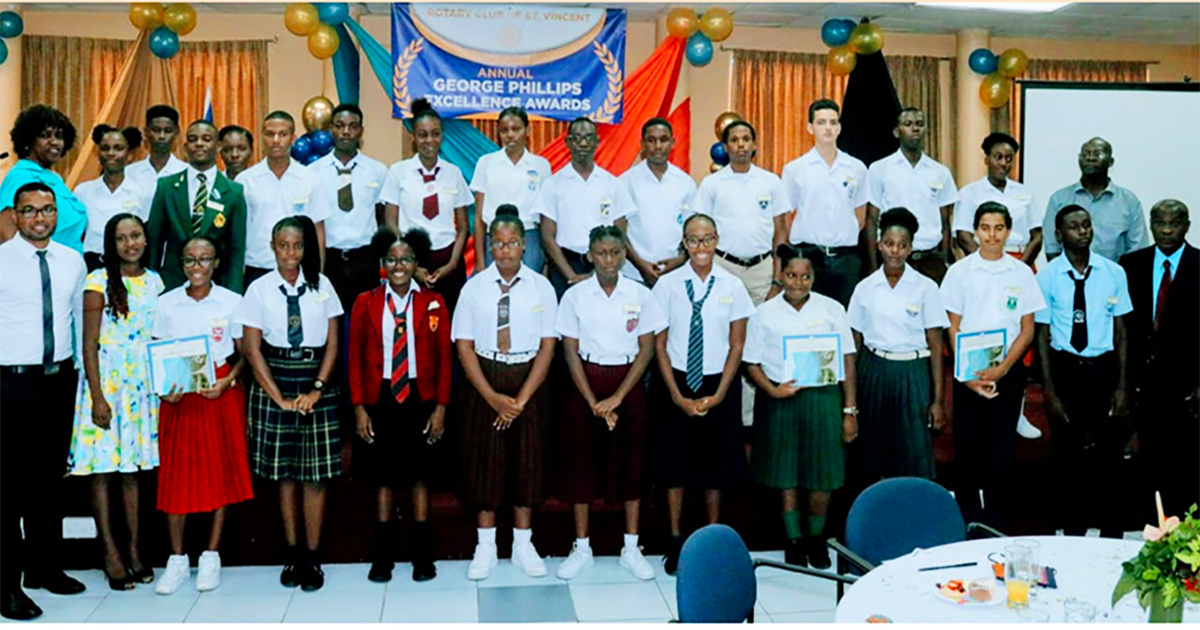 Rotary Club of SVG hosts 18th George Phillips Awards
The Rotary Club of St Vincent held its 18th Annual George Phillips Excellence Award Ceremony at the Methodist Hall in Kingstown on Thursday, June 6. This award is presented to the most outstanding fourth form student at each of the 26 secondary schools throughout St Vincent and the Grenadines. The students are assessed by their teachers and peers and selected based on academic performance, deportment, and extracurricular activities. A teacher and at least one parent accompany the awardee to the annual luncheon ceremony.
This year's event was chaired by Rotarian Mikasha Ramsaran. Rotarian Past President Joseph Sheridan did the invocation while the Club's current President, Reuben John welcomed the guests and provided brief remarks. Kay Martin Jack represented the Ministry of Education and provided brief remarks on behalf of her Ministry. Omari France, Senior Marketing Officer at the Bank of St Vincent and the Grenadines, one of the event's major sponsors, addressed the gathering and noted his establishment's commitment to such noble initiatives. Dr Julian Ferdinand, a Past President of the Club, provided the gathering with a background to George Phillips (1928-1996) and noted that this outstanding national exemplified the qualities used for the selection of the awardees.
Kimsha Williams, a graduate of the University of the West Indies, an entrepreneur, and clothes designer, was this year's Feature Speaker. She was introduced by Rotarian Monique Arthur. Williams' address was entitled, "Secrets of Success: All that I Have Learned About Dreams". She challenged the awardees to pursue their noble dreams with passion. She identified the skills and attitudes needed to do so.
Dorian Phillips, George Phillips' son and former national goal keeper, presented the certificates and gifts to the awardees. This was done immediately prior to Rotarian Philon Hackshaw's Vote of Thanks. She especially recognized the significant contributions made by the Admiralty Transport Company Limited, the Bank of St. Vincent and the Grenadines, Grenadine House, SVG Air (1990) Limited and Grenadine Air Alliance, Quik Print, and St Vincent Brewery.