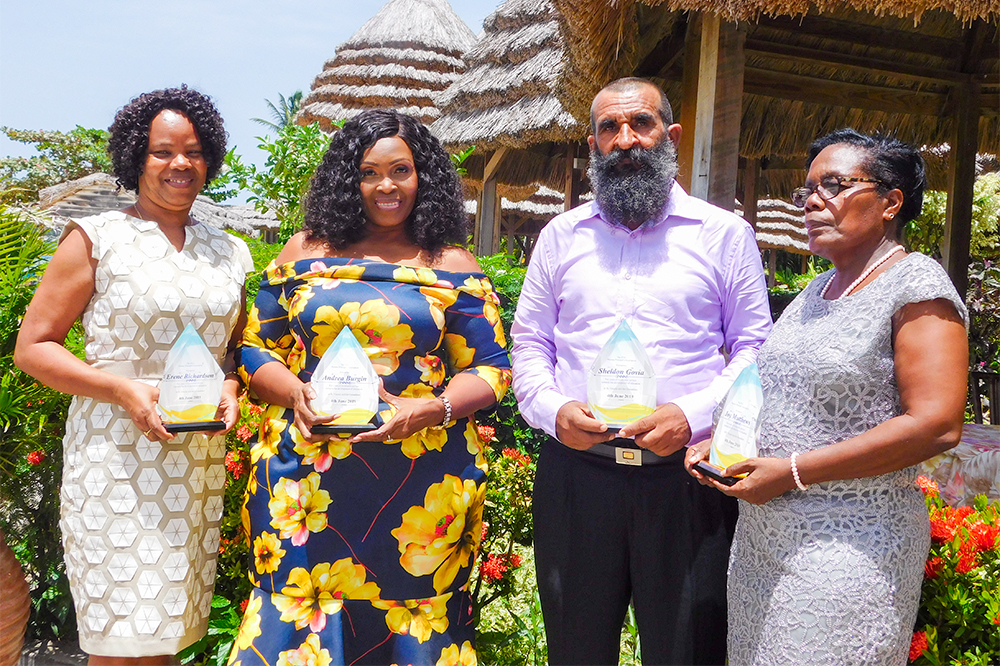 Nine retired primary school principals honoured
Nine retired primary school principals have been honoured for their contribution to St Vincent and the Grenadines (SVG) through the education sector.
The honourees were celebrated at the Biennial Primary School Principals luncheon, which was held at Young Island on June 4 under the theme "Thanks for keeping your promise".
And in keeping with the theme, Ave Weekes-Stephens, president of the Primary Schools Principals' Association said retirees were able to transition from the classroom to the principal's office and stayed for the entire journey.
"Colleagues, your career demonstrates that despite the hazards, you have managed to add value to the face of education in St Vincent and the Grenadines so you can be proud of your achievements. You have nurtured cohorts of students who have grown up to be fine men and women in our communities," she said.
Weekes-Stephens said principals often deal with negativity in the form of ineffective and resistant staff members. And this is often coupled with the struggles of maintaining deadlines.
"Our profession has had to adapt to many changes, positive ones and sometimes often difficult working conditions. Those we celebrate today are contributors, they are products and they are also survivors of that change," she said.
The president also said that while it might be hard to give up the only job they know, retirement is a path of self renewal and professional development of the system.
Education Minister, Jimmy Prince said that "we are sending home… to rest some of our best examples of nation builders in St Vincent and the Grenadines".
Prince congratulated retirees, not only because they achieved a milestone, but for all they have done on the journey to that milestone.
"If it is true that education is a sure way out of poverty, and if it is also true that education is an indispensable element in the process of development, it means that the teacher is at the vanguard of the general society," he said.
The education minister told retirees that they have touched the lives of many people both directly and indirectly and thanked them for their contribution to nation building.
Joy Matthews, one of the retirees honoured at the luncheon, said it was a humbling experience to be recognised for contributions to nation building.
"Collectively, we would have given more than 300 years yeoman's service to the development of St Vincent through education, touching several generations. This is a reminder to us that we are amazing and we can handle anything," she said.
Matthews congratulated her fellow retirees on their achievement and said that they have retired from the formal classroom, but not from teaching.
She added that they are "engaged in teaching ourselves how to relax and have fun…these fun activities are varied and if you take just a few minutes to look at us, you would see the transformation it has caused".
Other retirees honoured at this year's luncheon were Andrea Palmer-Burgin, Sheldon Govia, Erene Richardson, Verrol Richardson, Wayne Dabreo, Bernadette Craigg, Jacqueline Charles and Orde Ballantyne.