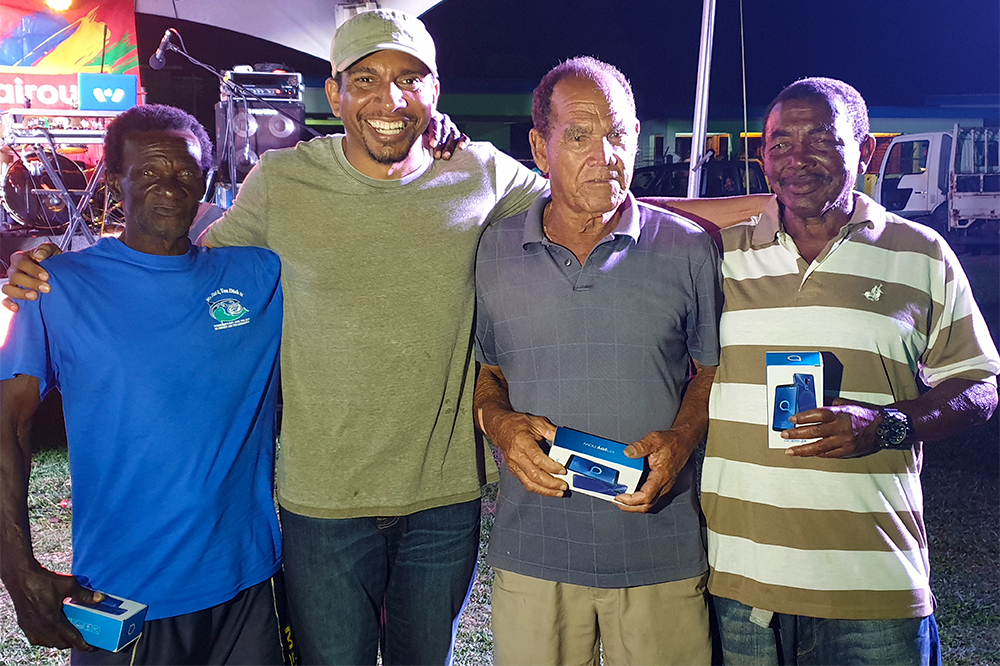 Calliaqua Fish Fest organized to showcase and recognize fishers
William DaBreo was rewarded for having the heaviest catch during last Monday's Calliaqua Fish Fest.
DaBreo brought ashore 195 pounds of fish during the initiative which was held separately from the annual National Fisherman's Day competition.
"I feel really good," said DaBreo who has been fishing for over 30 years.
During his expedition, he travelled 90 nautical miles using a pirogue equipped with a 90-horsepower engine.
The second heaviest catch (192 pounds) was brought ashore by Hamlet George while the third heaviest haul (176 pounds) came from Julian "Juju" Bradshaw. Fourth place went to Sohan Lucas with 125 pounds while the fifth heaviest catch was 35 pounds from Fitzroy Goodluck.
The person with the most heads of fish, some 160, was Hamlet George while the heaviest fish was caught by Timothy Murphy.
The prizes awarded included motor oil, wire (to make fishing pots) and drinks from the St Vincent Brewery Ltd.
The event also saw six longstanding fishermen from the area recognized for their contribution to the fisheries sector over the past 40 years.
Recognized were Jonathan "Sardo" Goodluck, Winston Haynes, William Oliver, Fitzhardy Goodluck, Okel Mcree and Stanley "Scraper" Bradshaw.
Digicel donated cellular phones to all of the fishermen who were recognized.
The Calliaqua fish event came about after fishermen from the East St George area decided not to take part in the annual Fisherman's Day Competition when the venue was changed from Calliaqua to Kingstown.
Addressing the gathering, Minister of Finance and East St George parliamentary representative Camillo Gonsalves said the event in his constituency was not a competition but an event to showcase and recognize fishers.
He added that the first Fisherman's Day event was the brainchild of former minister of agriculture Sir Vincent Beache and was held at Canash in East St George before being moved to Kingstown then back to Calliaqua.
It has been held in Calliaqua for the last 10 years.
Gonsalves said that Calliaqua has a long tradition of feeding the nation through fishing and their activity was held to honour fishers, not compete with the national event.
"This is not intended to be an alternate Fisherman Day. It's like Heroes Day where events are held all over the country, so we are doing that too," said Gonsalves.
He said that fishing is the lifeblood and future of Calliaqua as soon, the Jamaican owned Rainforest Seafood will open a plant in the area that will hire over 50 persons and make Vincentian fishers wealthy.
Gonsalves noted also that the prizes given at the event were intended to boost the fishermen and support their efforts to become better fishers.
"Fishing is a career for the future. It is a viable livelihood," stressed Gonsalves who said the ocean is full of riches and fishing is going to drive our economy as the government moves towards a tremendous expansion for fisheries.
The event was attended by Prime Minister Dr Ralph Gonsalves, former East St George parliamentary representative Clayton Burgin, ambassador Ellsworth John and Minister of Transport and Works Julian Francis among others.