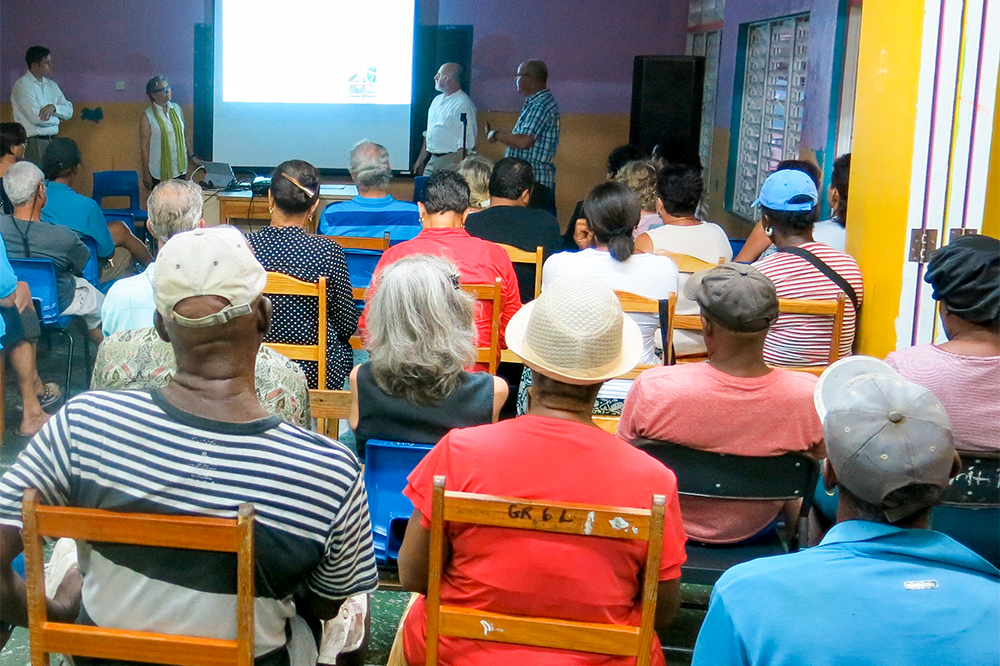 Unique Waterfront Redevelopment Plan Gifted to Bequia Community
A set of comprehensive plans titled "A Vision of Port Elizabeth" was presented to the Bequia community at a public meeting at the Bequia Anglican Primary School on Monday, June 3.
The project resulting in these plans is unique in that the plans were informed and guided by widespread input from Bequia residents and nothing will be imposed or dictated, a release said.
The plans are a gift that can be used as desired by the people of Bequia.
Invited by a Bequia-based non-governmental Steering Committee, the team of visiting volunteers from the American Institute of Architects (the R/UDAT team) collected information, opinions and wishes from people in Bequia and used that input to create a free set of plans that the Bequia community can choose how to use. Preservation of the Almond Tree as a cherished public community gathering space is a cornerstone of the overall plan.
Leading up to and during the seven-member R/UDAT team's May 31 through June 4 on-site visit, the following occurred:
There were open public meetings in Port Elizabeth on May 24 and in Paget Farm on May 31.
R/UDAT team members met with key Port Elizabeth stakeholder groups including taxi drivers, vendors and craftspeople, and shopkeepers along Front Street. R/UDAT team members also walked along waterfront, talking to other individuals using the waterfront area, person to person.
On May 31, a meeting was held at the Bequia Revenue Office with Public Sector representatives sharing their input with the R/UDAT team. Participants included Dr Godwin Friday, Parliamentary Representative for the Northern Grenadines; Paula Patterson, Ministry of Tourism, Sports and Culture; Colin Layne, Senior Building Inspector, Physical Planning Unit; Irene Doughty, Central Water & Sewerage Authority (CWSA); Les Malcolm, St. Vincent Electricity Services (VINLEC); Rannie Gregg, Clerk of Bequia District Council Office, Ministry of Transportation, Works, Urban Development and Local Government; and Sabrina Mitchell, Chairperson, Bequia Tourism Association. Invitees unable to attend but being kept informed included Yvette Pompey, Permanent Secretary (Ag.), Ministry of National Security; Herman Belmar, Deputy Director Grenadines Affairs; Superintendent Kenneth John, Traffic Department, Royal SVG Police Force; Barry Providence, St Vincent and the Grenadines Port Authority; Kenrick Frederick, Administrative Officer Bequia Revenue Office; and a representative of the Roads, Bridges and General Services Authority (BRAGSA).
A remarkable key component of community input that formed the plans titled "A Vision of Port Elizabeth" were the more than 300 survey forms filled out by Bequia residents, which were analyzed to provide data on public opinion.
Following the June 3 meeting, at which the Bequia Waterfront Development plans titled "A Vision of Port Elizabeth" were presented to the public, Dr Friday stated, "We have been given a road map — it's up to us to follow it." Or, as one community member said, "If nothing changes now, the problems we have will only get worse and this won't be a place we want to leave to our children."
The entire plan is available, free, at www.issuu.com/aiacxd  "A Vision for Port Elizabeth".