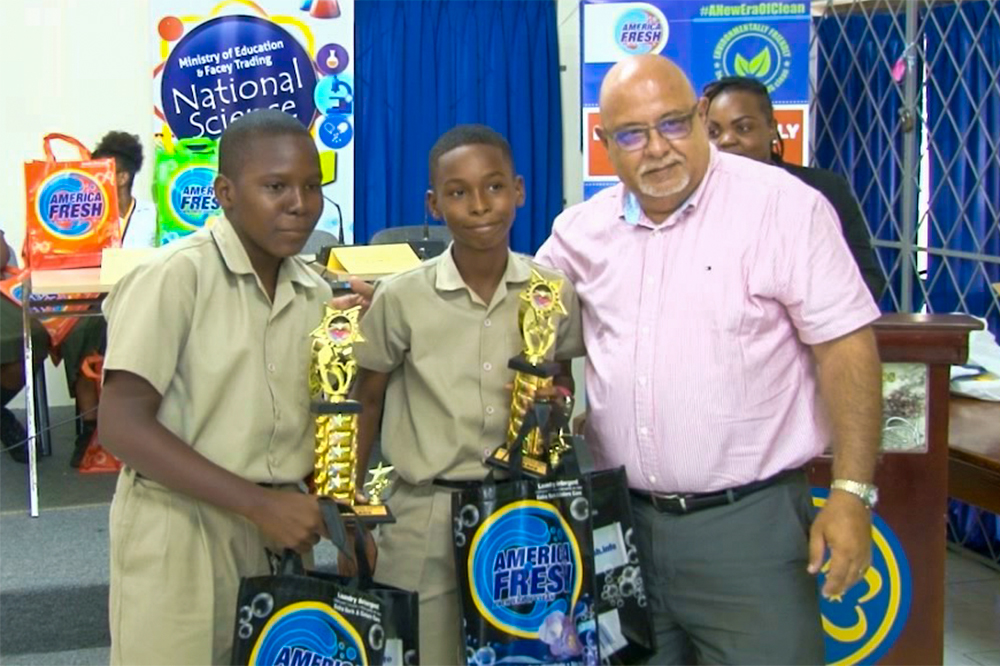 St Vincent Grammar School takes top prize in Inaugural Science Quiz
Joshua Browne and Nicolai Williams, students of the St Vincent Grammar School, copped the first prize in the inaugural Ministry of Education and Facey Trading National Science Quiz 2019.
The St Vincent Grammar School students narrowly captured the top prize with 65 points. St Joseph's Convent Marriaqua represented by Jared Nicholls and Shaniel Richards came in a close second with 64 points. Third was the Georgetown Secondary School represented by Mariah Lavia and Leona Lorraine with 53 points; Central Leeward Secondary School represented by Maurice Whyte and Kalifa Bulze took the 4th place with 51 points; and the Intermediate High School 5th with 43 points was represented by Afi Lucas and Ozika Browne.
Education Officer with responsibility for Science, Juanita Hunte-King said she was thrilled to see so many persons showing support for the Quiz. According to Hunte-King, the National Science Quiz was designed as a platform for Teachers to aim for mastery of concepts, to "motivate research and enquiry", and for students to strive for excellence.
The Education Officer (Science) stated she has already seen a greater interest in Science because of the Quiz. Furthermore, Hunte-King hoped that students will develop an appreciation for all aspects of nature and become curious about the world around them. She urged all stakeholders to continue to work together to ensure Science literacy in St. Vincent and the Grenadines
General Manager of Facey Trading, sponsor of the competition, Harry Gibson and other members of staff were present to show support at the Quiz finals. The General Manager expressed great satisfaction with the audience turnout and the number of schools that participated in the National Science Quiz. Gibson used the opportunity to announce America Fresh commitment to sponsor next year's National Science Quiz.
Deputy Education Officer, Dixton Findlay, echoed Gibson's remark of being pleased with the level of participation from schools. However, Findlay called for total participation from all schools at the next Quiz. He expressed thanks to Facey Trading for their endorsement, Ministry of Education stakeholders, and to the audience for their attendance and support.
The National Science Quiz had three rounds, the sci-grid, science challenge, and fast answer. The finals took place on Monday, May 13 at the Guides Girls' Headquarters. It was sponsored by Facey Trading, under the brand 'America Fresh'. Prizes for the winners included tablets, smart phones, watches, book vouchers, and medals. The National Science Quiz targeted form two students across secondary schools in St. Vincent and the Grenadines.