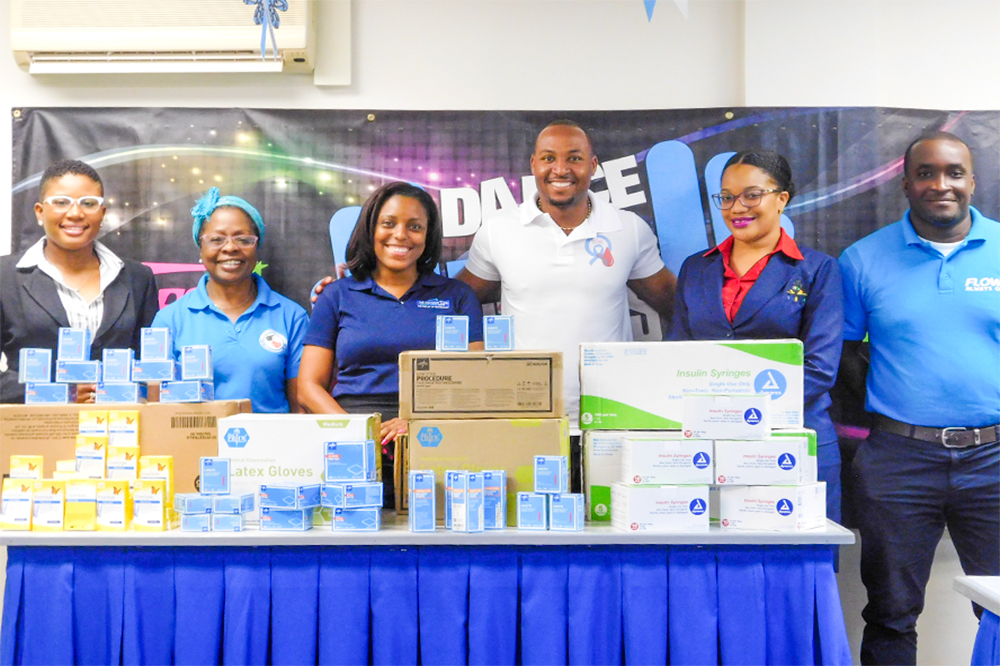 Be Fit donates supplies to the SVG Diabetes and Hypertension Association
The Be Fit Movement has donated a large quantity of supplies to the SVG Diabetes and Hypertension Association, following its successful 5K Run and Walk event earlier this year.
The event was held on April 27 and had three components: a health exhibition, 5K Run and Walk and a FLOW sponsored Dance to Fitness event in an effort to raise awareness for juvenile diabetes in this country.
And this week, Lindon James, the founder of the Be Fit Movement handed over the supplies to the local diabetes association in a short ceremony at the Arnos Vale Sporting Complex.
"I'm very humbled and grateful for the support that we got throughout our diabetes campaign. It wasn't easy. I must say, it was a lot of work, a lot of hard work every single day, trying to make it happen," he said.
While gesturing to a table packed with supplies, James said the donation comprised over 1500 lancets and syringes each, more than 2000 diabetic strips, gloves and prep pads and over 500 urine strips.
Dust masks, peroxide and rubbing alcohol were also included in the donation.
James said that other persons have committed to donating diabetic machines and those will be handed over once they arrive.
The Be Fit Movement founder said that cash prizes were also awarded during the event to persons in a number of categories. And school children who participated in the event and won prizes were given savings accounts at the Kingstown Cooperative Credit Union (KCCU).
"I'm very grateful for the support for the event. This year was sold out about three days before the actual date, so as we can see, it's a growing event. It's growing nicely and I really hope and pray that more persons, whenever we do this event again come 2020 — God spare all of our lives — we will be able to do more so that we can give more to those children living with type 1 diabetes," he said.
And James expressed thanks to the many sponsors of the event as well as others who made the donations possible.
Beverly Reddock accepted the donation on behalf of the SVG Diabetes and Hypertension Association.
She thanked James for "planting the seed" of exercise locally as it has developed into a movement that has decided to tackle "a very sensitive area of diabetes".
"It is a very intense area and it's a hard area sometimes for you to detect in children. It takes a very long time for you to detect juvenile diabetes. So on behalf of the Association, we would like to thank Mr James for choosing this area to put his efforts and the sponsors for really going all out to give him the financial assistance to make this effort possible to be able to support diabetes and more so juvenile diabetes," Reddock said.
She also expressed sentiments on behalf of the Association's president to work more closely with the Be Fit Movement to raise awareness of diabetes locally.
"Strips are very expensive. It is very expensive to manage diabetes. The hospital, the government cannot do all of it…right now we are doing a project in Stubbs, dealing with self care management for diabetes so that is ongoing and we will continue to do our very best to deal with diabetes in St Vincent and the Grenadines," she said.
Representatives from sponsors Mountain Top Springs Ltd and the National Insurance Services also gave brief remarks at Monday's handover.