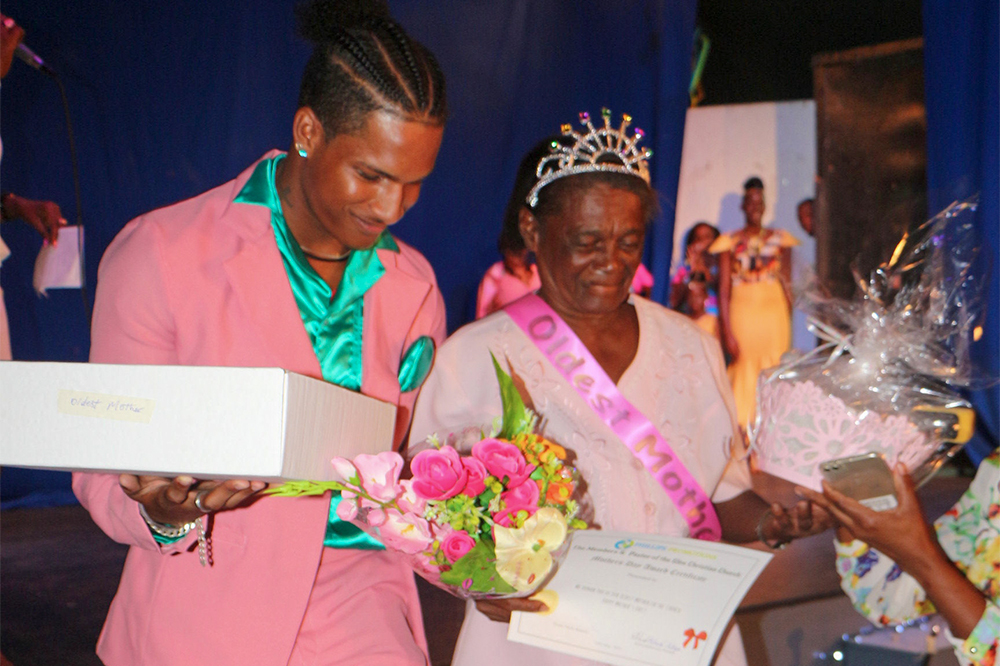 Tribute to Mothers & Grandmothers Pageant
The Prestigious "Tribute to Mothers & Grandmothers Pageant," held under the Theme, "Our Love Is Priceless" is not a beauty pageant, it's a Beautiful Pageant of Love, Bond, Talent, Style, etc, shared between a Mother and her Child.
The Pageant was held on Saturday, May 11 at Peace Memorial Hall, on the night before Mother's Day.
The winners of the competition, Suzette Edwards and her daughter Emma, also won the 'Best Bond & Love' and 'Best Evening Wear' Awards. Their Evening Attire was sponsored, designed and sewn by dressmaker/designer Ikesha Delplesche, owner of Ngozi SVG. Suzette's nails were sponsored and designed by One Stop Beauty Salon and their hair was done by Suzette herself.
Suzette, who is also known as 'Aka' is a physical education teacher at the Girls' High School and her daughter Emma is a student of the C W Prescod Primary School.
In second position were Racheal Davis and her son Odesu. They also won the 'Best Talent' and 'Social Media People's Choice' Award. Racheal also won the award for 'Best Nails'. Racheal's Nails were sponsored and designed by nail technician Racheal Veira, who copped the 'Best NailTech' Award. Their Evening Wear was sewn by Ossie Small. Their attire was self sponsored, while Racheal's hair was sponsored by Jubilee Beauty Salon.
Rachel, who is also known as 'Barefoot Queen' works in Childcare and Costume Design. She is a recent entrepreneur and the owner of Indulgence, a spa treatment centre. Her son Odesu works as a part-time construction worker.
In third place was Melissia Laborde and her daughter Phiunzia who were sponsored by Mary James' Dressmaking & Design. Their hair was done by stylist Carlene Bonadie and Melissia's Nails were sponsored and designed by Kkg Creative NailzNspa.
Melissia, fondly called 'Momo' is a teacher at the Lodge Village Government School and an associate of Bless-Us PreSchool. Her daughter Phiunzia is a student of the St Joseph's Convent.
It was a victorious night for the Cumberbatch/Edwards' family, as Ethel Cumberbatch, the mother of winner Suzette Edwards copped the awards for 'Spontaneous Grandmother', 'the Grandmother of the most Grandchildren', also the 'Grandmother with the most Grandchildren Present in the Audience'.
Curlene Cumberbatch, sister of Ethel, copped the award for the 'Youngest Grandmother'.
The 'Oldest Mother' was 71-year-old Cynthia Mc-Intosh.
Prizes were also awarded to the 'Mother of the Most Children' and the 'Mother with the Most Children Present in the Audience'.
The show was a production of Phillips Promotions and EarthAngel Empowerment.