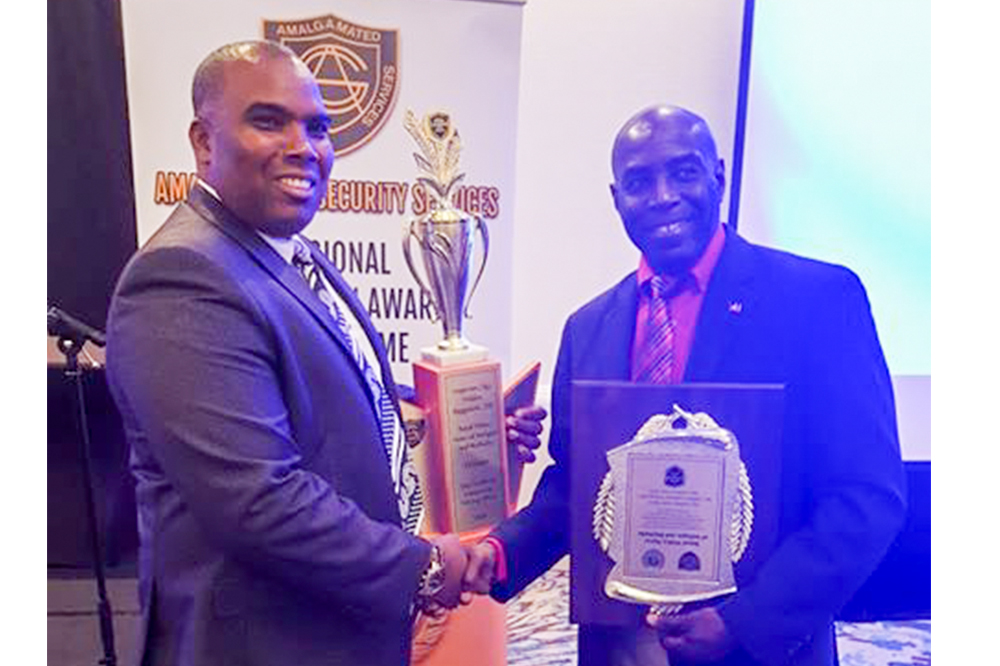 Vincentian Inspector takes the "Top Caribbean Community" Police Officer title
A Vincentian Inspector of Police living in Antigua and Barbuda ranked number one at a regional police awards ceremony last week, taking the "Top Caribbean Community" Police Officer title over 20 regional nominees.
Inspector Veldon Ragguette (OH) took centre stage at the Amalgamated Security Services (ASS)/Association of Caribbean Commissioners of Police(ACCP) regional awards ceremony held at the Westin Grand Hotel in the Cayman Islands on May 22.
Ragguette was born in St Vincent and the Grenadines (SVG), specifically Paget Farm, Bequia, to Yvette Bynoe Ragguette and Stevenson Ragguette.
However, around 27 years ago, Veldon was recruited in St Vincent to join the Royal Police Force of Antigua and Barbuda.
Before this, in 1993, he was attached to the Coastguard, and while there, he was seconded to the Antigua and Barbuda Defence Force until 1996.
"Ah there was no words to describe that…," the Inspector stated, commenting on his win when speaking with SEARCHLIGHT yesterday. "It was one of those moments, one of those moments that you just, want to smile, want to cry, want to get up and jump up or just sit down and just soak it in. It was a really great feeling," he reminisced.
Ragguette managed to cop first place, while the first Runner-Up was Senior Constable Esnard Flavius from St Lucia, and the second runner up, Constable Cerepha Bridgeman of Bermuda. There are only three categories in the awards ceremony, and nine awardees.
The Inspector won a prize of US$5000, which is given to the police force that nominated him.
Ragguette is a very busy man in his community, and it is not the first time that he has been recognized for his efforts. In 2017, he received the National Award of Most Precious Order of Princely Heritage (OH), at the 36th Anniversary of Independence of Antigua and Barbuda.
He is the founder of the "Adopt a Family" charity which provides food packages to the less fortunate, or single parent families, every month.
"We give them everything from toilet paper to chicken, everything, all the staples," he explained.
The charity also runs a soup kitchen at the market in Antigua, that feeds the homeless every Sunday, Tuesday, Thursday and Friday.
The non-governmental organization had merged with the government to create the House Assistance Program for the Poor and Indigent (HAPPI). Whereas before 'Adopt a Family' could only build one house for the poor every year, under HAPPI, they can build 27 houses, even from scratch.