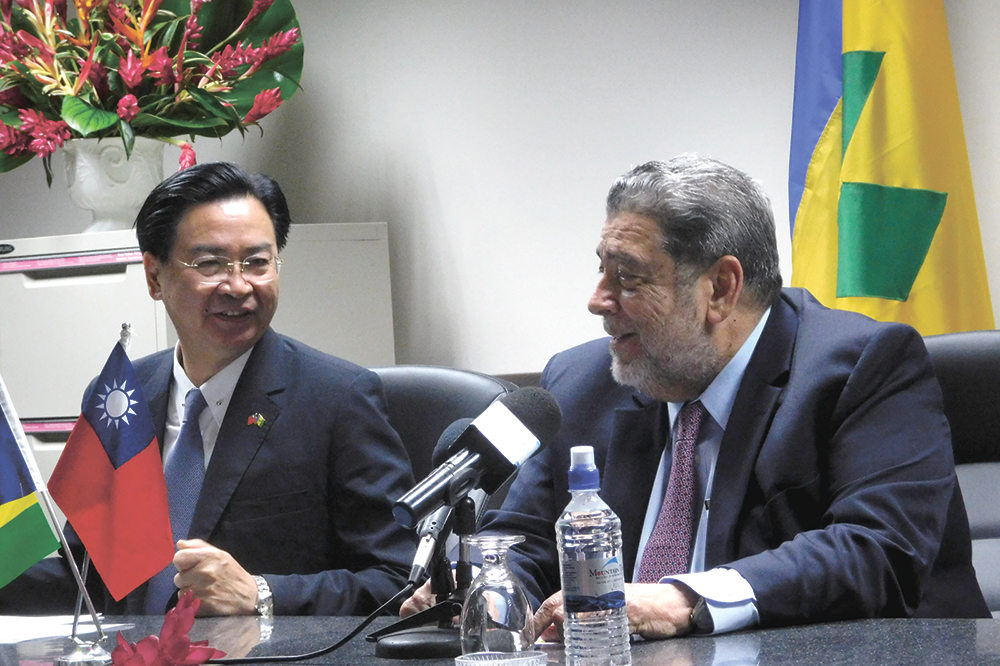 Taiwan donates US$300,000 towards vehicles for police
Taiwan's latest donation to St Vincent and the Grenadines (SVG) has come in the form of vehicles for the Royal St Vincent and the Grenadines Police Force (RSVGPF) valued at US$300,000.
This donation was officially recognised at a press briefing on Wednesday, in line with the visit to St Vincent and the Grenadines of foreign affairs minister of the Republic of China on Taiwan, Dr Jaushieh Joseph Wu, a stop on his official Caribbean tour.
Wu, while speaking at the press briefing, said that both Taiwan and SVG have been working together in many regards over the past three decades.
"One thing that we are always very proud of, in working together with St Vincent and the Grenadines, is to provide Taiwan scholarships for the bright, young people in this country for higher education in Taiwan and we are also very proud to be able to work together with your country to provide opportunities for capacity building…" he said.
The foreign minister said that his country has been squeezed out of international forums, but SVG has and continues to advocate strongly for Taiwan's international participation.
He made reference to a recent speech made by Luke Browne, SVG's health minister at the World Health Assembly and said that Browne was now considered "a rockstar in Taiwan because he has spoken so eloquently in helping Taiwan's international participation".
"It not just me, the minister of foreign affairs speaking of our appreciation to help our international participation and its not just Taiwan's government who appreciates your support, its the people of Taiwan," Wu said. "We were touched by your staunch support of Taiwan's international participation and I certainly hope that Taiwan and St Vincent and the Grenadines can continue to work with each other."
Wu also said that as Taiwan's foreign minister, he will continue to work with SVG to advance both country's bilateral relationship.
Taiwan's donation includes seven SUVs, a car and two motorcycles.
Prime Minister Dr Ralph Gonsalves reiterated Wu's sentiments and said that both countries have had a close and productive friendship over the years.
"We don't have to recite before the members of the media here, the tremendous assistance…material assistance that the Republic of China (on Taiwan) has given to us. Among the most important things in our relationship is the people to people relationship between ourselves and the Republic of China on Taiwan," Gonsalves said.
Gonsalves noted that this country will soon deepen its ties to Taiwan when it opens an embassy there.
And the prime minister asked Wu to "please convey our heartfelt gratitude to your president, the government and the people of Taiwan for the healthy assistance you have given to us".
He also said that he hoped to welcome the president of Taiwan, Tsai Ing-Wen to these shores sometime soon.
And Gonsalves said that the relations between both countries were good and he hoped to continue working together with Taiwan to "build ever more peaceful relations in all parts of this world including in Asia, across the Taiwan straits, in the way in which we see the Caribbean as a zone of peace".
Following the press briefing, Wu and his delegation, which included his wife and other senior officials from the foreign affairs ministry of the Republic of China on Taiwan, went to the Prime Minister's residence for cocktails.
This is his first visit to SVG and he left the country yesterday to continue his official tour of the Caribbean.