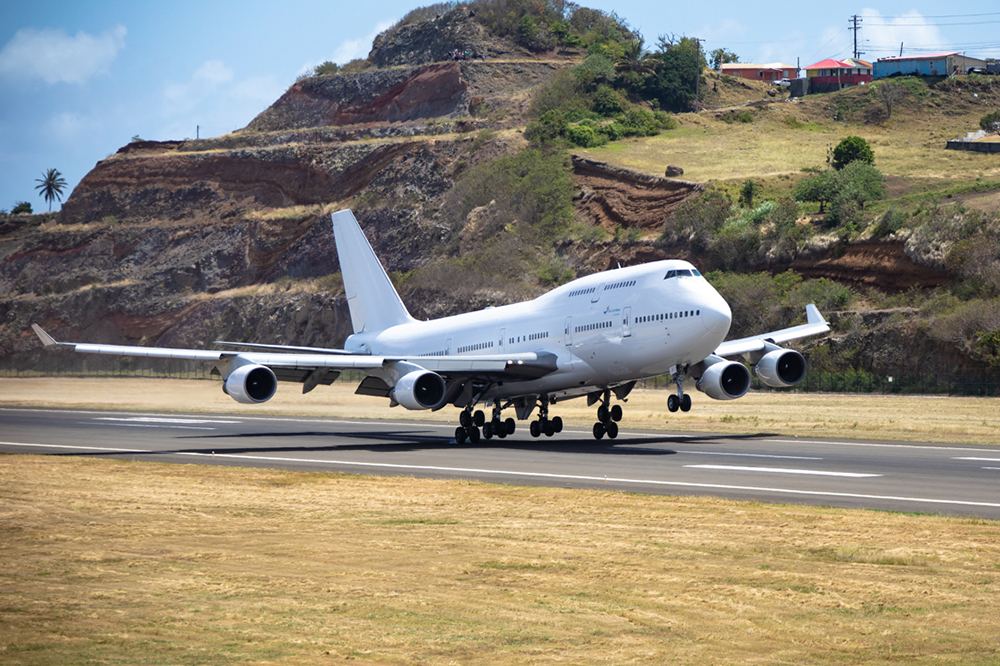 Jumbo Jet to operate routes to Africa, Asia and the Middle East-PM
Once guidelines are satisfied by the relevant authorities, a local airline company will be able to operate on routes from the Caribbean to Africa, Asia and the Middle East, using a jet with the capacity to seat over 400 passengers.
Last Friday, a Boeing 747-400 aircraft landed at the Argyle International Airport, the largest passenger airline ever to have landed in St Vincent and the Grenadines (SVG).The aircraft, bearing the One Caribbean brand, touched down after a six-hour 10-minute flight from Phoenix, Arizona.
"One Caribbean is a local company. Among the principals in that company are two local pilots, Everett Best and Reggie Adams," Prime Minister Dr Ralph Gonsalves said on radio yesterday, when asked about the plane's landing.
Gonsalves said that while he does not have all the details, One Caribbean is attempting to register two aircraft of this size in the Eastern Caribbean Civil Aviation Authority (ECCAA) jurisdiction.
"As I understand it, is that there's an entrepreneur from Nigeria who went to flight school with Reggie Adams and he has some other backers, I met him and they have two 747s," he said.
"Of course, this aircraft, the manuals and everything have to be submitted to ECCAA; pilots are training and everything and they would have to satisfy them about where they will be doing their usual maintenance. All the usual regulatory things which are in the law and also complying with all various international guidelines, because we're a category one jurisdiction and there are certain standards."
The category one jurisdiction allows for direct flights to the United States as long as approval is granted by the United States Department of Transportation, who focus on security and safety issues.
Gonsalves said he was informed that One Caribbean has already made the relevant submissions to ECCAA. And it is expected that the two aircraft will be doing a lot of work between the Caribbean and Africa as well as charters between Africa, Asia and the Middle East.
"…And that's the business which they are going to be in and certainly, persons want to charter them to go to the US or to go to Britain…," the Prime Minister said.
Gonsalves noted that this country's international airport was built to accommodate 747 and 767 aircraft at its highest point.
He added that the government does not have shares in One Caribbean as it is a private sector entity. And he is baffled as to why anyone would criticise One Caribbean's work with investors to have the large aircraft operate out of the Caribbean.
"I am very pleased to see that local entrepreneurs are doing their work and taking advantage of the infrastructure which we have put in place; the physical infrastructure, jet airport in Canouan, international airport in Argyle and the regulatory framework for a category one. I would have thought that once you put the framework in place, ambitious investors would try to take advantage of that framework," Gonsalves said.
Currently, One Caribbean's fleet includes a Beechcraft 1900D (18-seater) which available for larger group charters.
According to the company's website, the company's services are not limited to private charters but also include the best in ECCAA flight test and training, medical emergencies and shopping trips.