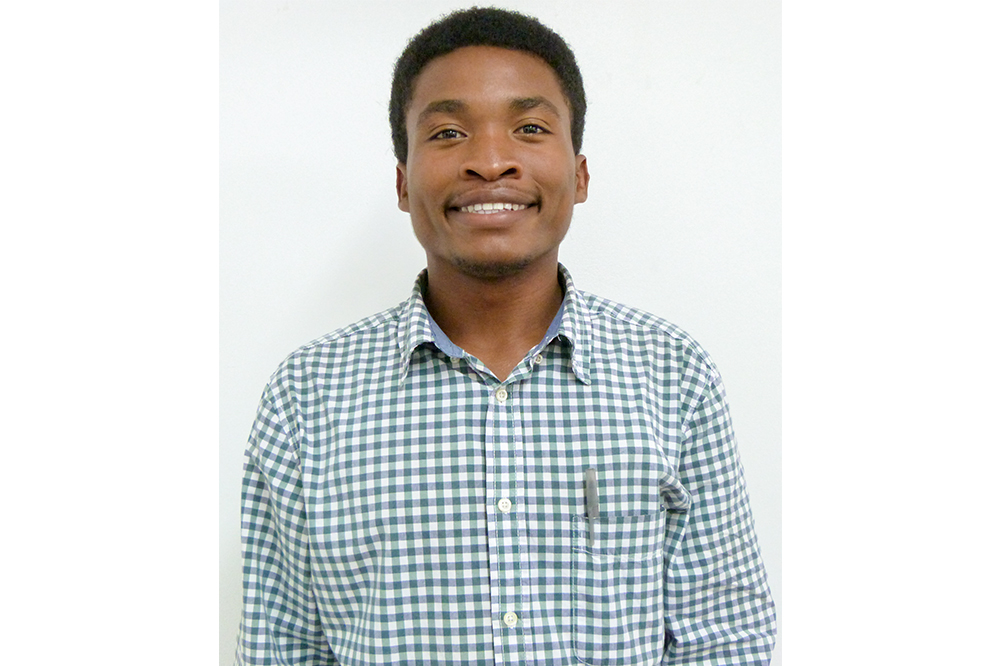 Young entrepreneur turns refuse into revenue
by Katherine Renton
From refuse to revenue, a young man saw an opportunity in the over ripe bananas his grandmother was forced to dump, and now he supplies over 14 establisments with fruits and vegetables.
Josh Mounsey is an aviation security officer at the Argyle International Airport (AIA) for four days a week; but he is also the man who sources produce for five hotels, three bars, four schools, two gyms and even households.
Presently, the 20-year-old is making enough money that he isn't required to work two jobs; but he continues to work in pursuit of his goal of studying Environmental Science.
Mounsey started this business with no capital, and by using Facebook to contact businesses, as he told SEARCHLIGHT in a recent interview.
"I couldn't watch so much stuff riping up, so what I did, I took it upon myself and started to contact various business places," the young businessman, who started his business just last year, explained.
He said one day, after seeing this happening with his 64-year-old grandmother's bananas, he went home, and spoke to his mother about the idea to help.
 "So I ask her, what do you think about me messaging random persons on Facebook…and she said, "okay, oh yeah, why not? Go for it!" And from there on, I just started pushing and pushing and pushing, and step by step, the business just started to grow, and grow, and grow."
 'Fitness Lab' was his first client, Mounsey recalled.
 He says that people still don't believe that he didn't start with any money, and that "it's just bananas I start with."
 "I get free bananas from my granny, get a little $35, and after that I just up it up, up it up, up it up," he noted.
His business is a win-win for everybody involved. In addition to his supplying all of these businesses, institutions and households, Mounsey also presently works with around 15 farmers, and employs someone for delivery.
The young entrepreneur describes himself as a positive person, commenting that he is able to stay this way because "I am not doing this just because of money. I'm doing this to help persons, I'm creating sales for farmers, also I'm creating sales for my delivery person…So, I'm not just doing this for the money, I'm trying to help out each and every person involved in the business."
The aviation security officer and businessman works two nights and two mornings, four days of the week at the AIA. During this time, his clients put in their specific requests, and he sources the produce. During his two days off, he picks up the produce and has them delivered.
His first supplier, his grandmother, thinks just as optimistically as her grandson. "What she normally says is, 'If Josh could do it, anybody could do it'. She will always say, things are not rough in St Vincent, you just have to get like, a focused mind, be determined, and just go for it. Take the risk," Mounsey disclosed.
However, it's not always sunshine and roses for the entrepreneur, as he must battle the weather, which makes matters unpredictable.
 "For example now, sun is very hot so it will be difficult to get lettuce," he mused. "Because if I say to someone, "Yeah I will get 15 heads of lettuce to you," and my supplier will tell me Wednesday night "well I can't get lettuce for you because they are not big enough…," he explained.
While his business remains low input, Mounsey says that there are times when he has to put in a lot of money, "when things are scarce."
However, he describes the business as easy to manage.
"Once you do the right things, and you're not doing it just for money, but you're doing it to remain feeding people," he noted.
The 20-year-old will leave his business in the hands of his elder brother, who is five years his senior, when he goes abroad to study.
Mounsey encourages young persons like himself, especially those who are unemployed, to be go-getters, and not sit at home depending on their parents.
"Even if you're working for a low salary, use that as a pathway to doing better things. It's like, you're on a direction to doing something greater. That's just a start for you in the right direction," he advised.