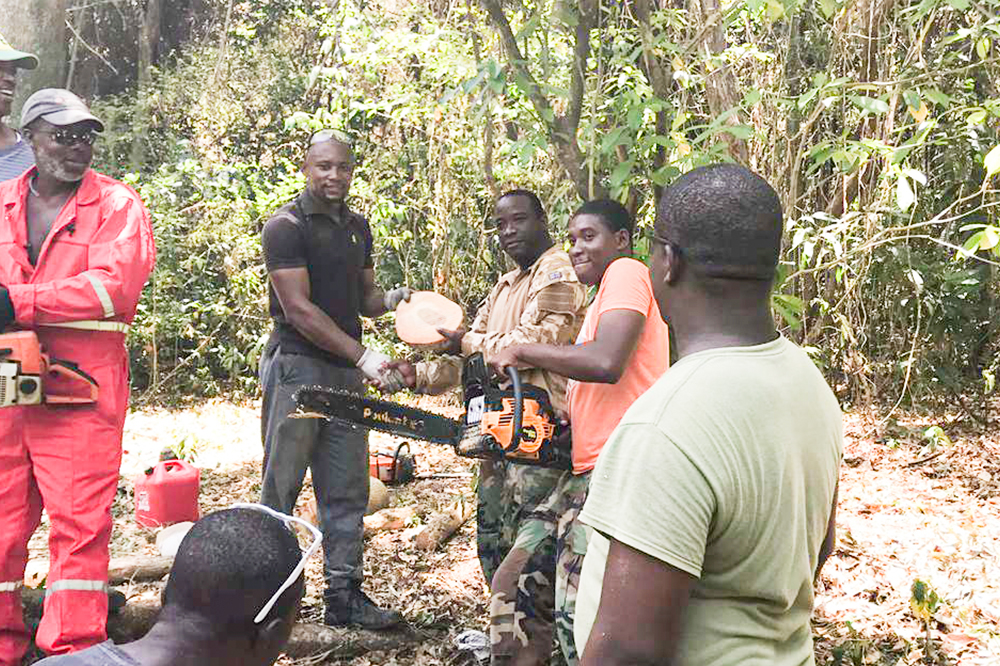 Svg First Responders team up with ssu for chainsaw training
by Don DeRiggs
Sunday, May 26, 2019 saw two first responder organizations working together as they jointly prepare to respond to emergencies not only in St Vincent and the Grenadines (SVG) but anywhere in the Caribbean where their skills are needed.
The training was conducted by Lawson Byam, who is the logistical officer for the St. Vincent and the Grenadines First Responders (SVGFR)team. On this occasion, 10 officers from the SSU were involved with the training along with some new members of the SVGFR.
The training focused on starting and stopping a chainsaw safely, cutting techniques without endangering the operator or adjacent property, and general safe handling and maintenance of chain saws.
The skills learnt would make it easier for first responders and SSU officers to clear roads blocked by fallen trees in the aftermath of any storm, so that vehicles transporting injured persons including ambulances have clear access to transport patients for advanced medical care.
Similarly, the Rainbow Radio League Inc. (RRL), is also in high gear for the 2019 hurricane season which officially begins on June 1. The RRL conducted Operation Fox Mike (terrestrial) on Easter Sunday and will be conducting the maritime phase of the training during the Whitsuntide weekend on June 9.
The RRL is an emergency communications first responder organization made up of radio amateurs. The RRL conducts annual training programs to keep its members in a state of readiness for any eventuality, but in particular for the annual hurricane season. The RRL was also instrumental in assisting the SVGFR to become functional and collaborates with the SVFGR in most of its training activities. Some RRL members are also members of the SVGFR. The focus of the SVGFR is mainly for search and rescue, while the role of the RRL is mainly on emergency communications, both services being critical in times of emergency.