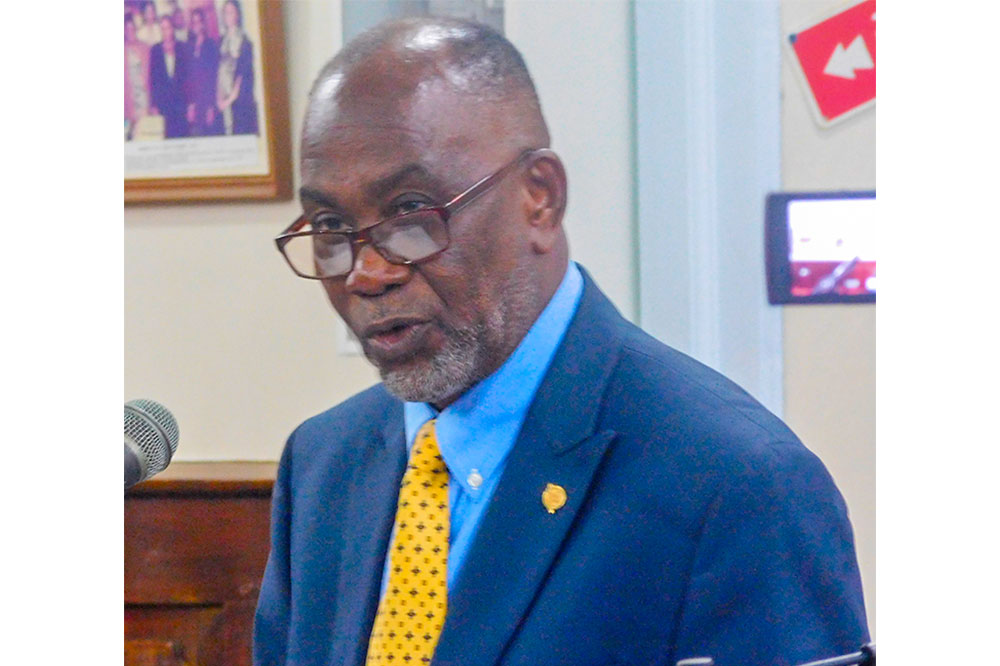 'Major' vows to defend himself against any police officer
St Clair 'Major' Leacock, the parliamentary representative for Central Kingstown says that he will defend himself against any police officer who attempts to manhandle him at the House of Assembly.
He made his declaration this past Monday on the New Times radio programme, when he called in to speak about events that unfolded at Parliament last Friday.
"I'm a legislator. One of the responsibility of the police is to provide me with protection while I am in that legislative House," Leacock said on radio. "If there is any matter there to be decided upon, it's the Speaker of the House who should make such a decision, not the Commissioner of Police or any High Command sitting in their office, monitoring what is taking place in the Parliament and take it upon themselves that they could go beyond the pale of what's happening on the streets of Kingstown and enter the parliament building to manhandle the Opposition party."
Before last week's sitting of Parliament was suspended, Leacock rose in the House to highlight what he said was an increased police presence on the House of Assembly compound.
Both sides were engaged in heated debate on Friday morning, when Prime Minister Dr Ralph Gonsalves moved to amend a Private Member's motion on electoral reform tabled by the Leader of the Opposition.
Leacock said that when the House broke for lunch, he observed extra policemen from the Special Services Unit outside.
He told the Speaker of the House, Jomo Thomas that there was no conduct in Parliament that warranted the summoning of extra police to the compound.
The parliamentary representative for Central Kingstown described the incident as "intimidatory and unnecessary" and called on the Speaker to carry out an investigation into the matter.
"In the first place, I did not summon any police officers, I didn't summon any additional police officers, I don't know if there were any additional police officers on the compound, but those were not summoned by me," Thomas said in response to Leacock's comments.
"I think that we had four hours of contentious, acrimonious debate sometime this morning, and nothing happened untoward, although I thought you and other members from that side were goading me to do certain things which you probably thought would have made for good theatre. But being a veteran of many wars, I didn't allow that to happen," Thomas said.
Prime Minister Dr Ralph Gonsalves, who has ministerial responsibility for national security, also responded to Leacock's comments, saying when he went downstairs during the lunch break, he did not see anything untoward.
"I'm always very happy when there is a sufficiency or adequacy of police officers present to make sure the members of this Honourable House conduct their business in safety and security. That is a call for the Commissioner of Police generally and also Mr Speaker, if you consider that in the House or in the precinct of the House, you require additional police," Gonsalves said.
The Prime Minister also said that "we should not get involved in scaremongering because I honestly didn't see that and I wasn't made aware of it".
And he promised to enquire about the specific issue in his capacity as the minister with responsibility for national security.
Opposition Senator, Kay Bacchus-Baptiste also rose in Parliament to speak on the issue. She said that she also saw an increased police presence.
Bacchus-Baptiste, who is a lawyer, said she goes to the Criminal Court regularly and on that day, she thought that there were more police officers than usual. She said she inquired about if there was a special matter in the criminal court and was told nothing unusual was going on there.
Leacock, on the New Times programme on Monday, said he did confirm that there were extra police officers on the House of Assembly compound on Friday.
If I am ever in the Parliament, I will defend myself in the Parliament you know. I taking no blow from any policeman in the Parliament of St Vincent and the Grenadines. None whatsoever," the parliamentarian said.