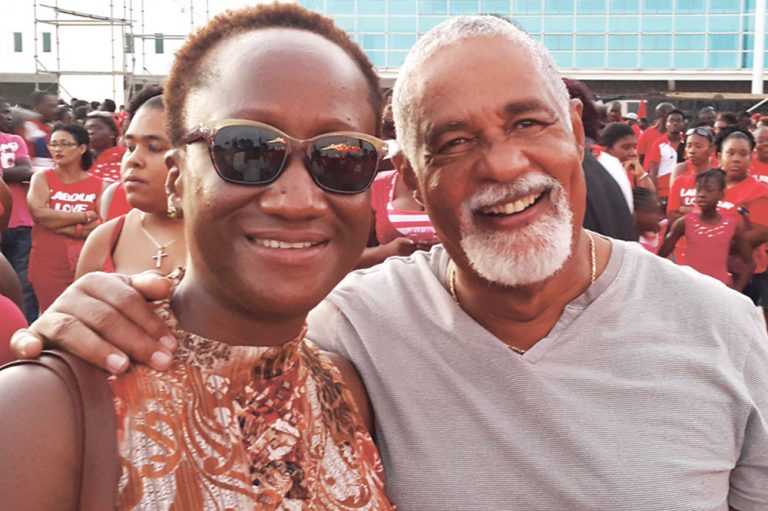 Hoyte was a tower of strength for Searchlight newspaper (+Videos)
by Clare Keizer
It is not an overstatement to say that had it not been for Harold Hoyte, SEARCHLIGHT newspaper would not have developed into the institution it is today.
Harold was my mentor and my friend, and before that, he was my mother's rock.
When SEARCHLIGHT was established in 1995, Harold told my mother, Norma Keizer, that she could lean on him, and she leaned hard. At an event held here in St Vincent on May 19, 2008 to honour Mummy , he related that she had the knack of calling him at the most inopportune moments to pass her problems on to him. He however always made the time for her, or found someone else who could give her the benefit of their experience at the Nation.
Harold felt it was his duty, obligation even, to support fledgling newspapers around the region as had been done for the Nation by Ken Gordon and the Express Newspaper of Trinidad, when the Nation was trying to get off its feet. His support of regional newspapers was his way of paying it forward, and he inculcated this philosophy in the staff at the Nation Newspaper and the Nation Publishing Company Limited.
For the past 24 years, the Nation has provided inservice training and support to SEARCHLIGHT in almost every area of the newspaper business that one can imagine. All it takes is a single telephone call.
I first met Harold in 1995, when, during my vacation as a school teacher, I spent a few days at the Nation receiving training in page planning and design. Ten years later, in May 2005, when Harold heard that I was about to join SEARCHLIGHT on a full time basis, he and his wife Noreen invited me to Barbados to spend the weekend with them.
Harold spent much of the time chatting with me about my new role and responsibilities and what I should expect. He also included me in a course on 'Managing Creative People' that had been organized for managers of the Nation. The climax of the weekend was a concert I attended with the Hoytes at the Wildey Gymnasium, ironically, the same venue at which I will say my final goodbyes to him on May 27.
Harold gave freely of his wisdom and experience, and I knew I could always count on him for sound advice.
In 2015, in the aftermath of the General Elections here, there was a storm in a teacup about a photograph SEARCHLIGHT had published showing protesters at Government House road. Some even called for a boycott of our newspaper because of the publication of the photograph.
When I reached out to Harold, he told me to stand firm and reminded me that the mirror does not always flatter us.
"People do not like to see themselves in a particular light in the public domain, and fail to realise what they do in the heat of the moment.
"We always look worse than we want to in the mirror," he said with a chuckle, adding "It is not the mirror that is at fault. It is what is before the mirror. Fix that!"
His laughter was infectious, and his humour, wit, wisdom, intelligence and general excitement about life made spending time with him a tremendous pleasure.
Vincentians got first hand experience of Harold's wit and keen sense of humour on May 20, 2008, when he gave the feature address at the opening of SVG Publishers. Nonstop, for the first three and a half minutes of that speech, he had the entire audience in stitches.
Harold knew of our dream to establish a newspaper printery here in St Vincent and keeping true to his promise to support us, he convinced the Nation Publishing Company to invest with us, and some other local companies, to set up the printery. He appointed group financial comptroller Noel Wood to sit on the board of the printery, and the rest is history.
In 1997, when we needed help with designing and laying out our newspaper pages, Harold sent Jude Knight, whom he described as the "fastest person on a computer" to spend two days a week with us. So Jude worked part time at SEARCHLIGHT, and part time at the Nation. After a few years of shuttling back and forth, Jude resigned his job at the Nation and took up full time employment at SEARCHLIGHT as chief sub editor. Today, he is still with us. Harold often joked that stealing Jude was the one thing he held against my mother.
Jude was joined here in 1998 by Neal Jackman, who, while still a graphic artist at the Nation, designed SEARCHLIGHT's first masthead. Neal is also still a staff member.
For one year, Walter Roberts, an experienced printer at the Nation, travelled to St Vincent on a weekly basis after the printery was set up to train our young press men.
Vincentians also travelled to Barbados for training over the years; our senior reporter Lyf Compton had the longest sojourn there, benefiting from three months in service training in 2001.
Whenever opportunities for regional or international training, or attendance at conferences came up, Harold, and after him, former CEO Vivian-Anne Gittens, ensured that SEARCHLIGHT was always included.
Lest readers get the impression that Harold gave SEARCHLIGHT special attention, as I mentioned earlier, he did it because he felt he had an obligation to stand up for newspapers in particular, and the media in general.
When the Stabroek News of Guyana was being starved of Government advertising, Harold was among a group of respected regional journalists who travelled to St Vincent in February 2007 to intercede with then president of Guyana Bharrat Jagdeo, who was here for the 18th Inter-sessional Meeting of the Heads of Government of CARICOM.
Harold loved politics and kept abreast of developments around the region. Whenever general elections were called in SVG, he would visit on the last weekend before the poll "to feel the temperature on the ground". He visited in the days leading up to the 2015 general elections, and before arriving, made his usual telephone call to me to arrange for taximan Kingsley DeFreitas to be his driver for the duration.
He was thrilled about the opening of the Argyle International Airport and accompanied by Noreen, he returned for the grand opening on February 14, 2017.
On behalf of the Chairman, Board of Directors, Management and Staff of Interactive Media Limited and on behalf of the Chairman, Board of Directors, Management and Staff of SVG Publishers Incorporated, I extend my sincere condolences to the entire Hoyte family, especially Noreen, Tracey and Bobby; the entire Nation family and the people of Barbados.
Rest in peace, my friend. Job very well done.