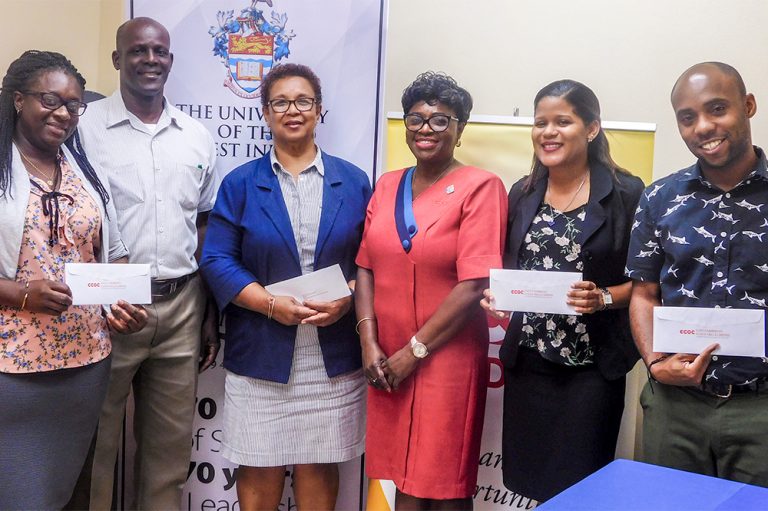 Four receive bursaries from ECGC Foundation
Recipients of bursary awards from the East Caribbean Group of Companies (ECGC) Foundation Inc. say that the organisation has helped to significantly alleviate some of their financial burdens.
Four students pursuing studies at the University of the West Indies (UWI) Open Campus: Shonette Gurley, Natasha Seales, Damien Williams and Morol Williams are this semester's recipients of bursaries valued at EC$2000 each.
Deborah Dalrymple, head of site said that the ECGC Foundation has been sponsoring bursaries for some time to eight students per year.
And she expressed appreciation to the corporate entity for helping students with their financial obligations.
"We know often that the awarding of a bursary is the difference between doing an extra course or indeed registering for a year. We all know as students that sometimes, finances is what throws you back…" she said.
Dalyrmple expressed hope that the company's support will continue into the future.
Phyllis James, a representative from the ECGC Foundation said that the Foundation is the brainchild of Osmond Davy, the chief executive officer and was created with the intention of creating and enhancing opportunities for education, healthcare and overall welfare of Vincentians.
"Today, we are actually presenting bursaries to our fifth cohort from the UWI Open Campus SVG. Annually, our Foundation donates $16,000 to eight students of this educational institution," James said. "Though the amount may seem small comparatively with the total cost of the programme, nonetheless, as an organization, we do recognise the hardship being borne by many of our students and as such have decided to stretch the reach to assist as many students as we can."
During the short ceremony on Tuesday, recipients expressed gratitude for the bursary award.
Natasha Seales, who is pursuing a bachelor of science degree in Management Studies (Human Resource Management) said that the bursary will help to reduce some of her financial strain and reduce the amount she has to pay back to financial institutions servicing her loan.
Also pursuing a bachelors of science degree in Management Studies (International Management) is Shonette Gurley.
The mother of two said she was grateful for the bursary, which will help her a lot because she did not want to take a large loan that would put her in expense.
Damien Williams, a psychology major said a loan can be debilitating on one's future and he too was grateful for the bursary.
"So even though this is small compared to full tuition amount, it really does help and its more symbolic for persons to know 'I have support'," he said.
The other recipient, Morol Williams, who is pursuing a bachelor of science degree in Social Work, was not present at Tuesday's ceremony.