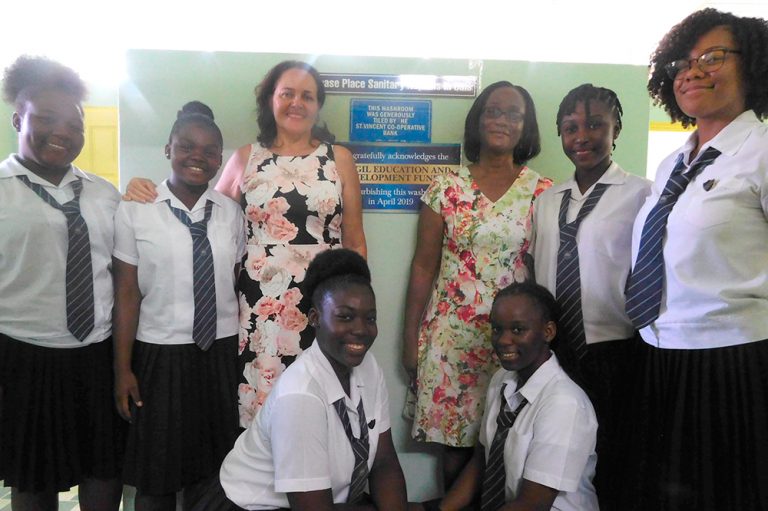 Bathrooms at GHS get much needed facelift
The bathrooms in the Grimble building at the Girls' High School have received a much-needed facelift, thanks to the intervention of the Yanagil Education and Development Fund.
Louise Mitchell, the managing director of the Fund told students during general assembly on Tuesday that her attention was drawn to the conditions of the bathrooms by her daughter, who attends the all-girl institution.
When she spoke with Gilbert Weekes, a Vincentian who founded the Fund, he too said that he was aware of the conditions of the bathrooms.
"Your environment, where you live, where you study is a reflection of you. So please look after your facilities in the same way you look after yourselves because this is your environment. You have to take ownership of the condition of your school. And remember that even though you're young, if there's something that's wrong with your school, you can also do something to change it," Mitchell said.
And she appealed to the girls to look after the washrooms as raising money for projects like this one is not an easy task.
The toilets and doors for the bathroom stalls were replaced during the refurbishment, which cost US$11,000. Mesh was also placed over the fancy blocks in each stall and mirrors were to be installed this week.
Headmistress, Michelle Beache told SEARCHLIGHT that the school was grateful to the Fund for refurbishing the bathroom.
"It's something that we have been asking for, for quite a while and we want students to feel comfortable to use the bathrooms," she said. "There are students that would hold whatever for the entire day and that is not healthy".
Beache said that the school has embarked on a "Clean School" campaign and she hopes the refurbishing will motivate students to keep their environment clean.