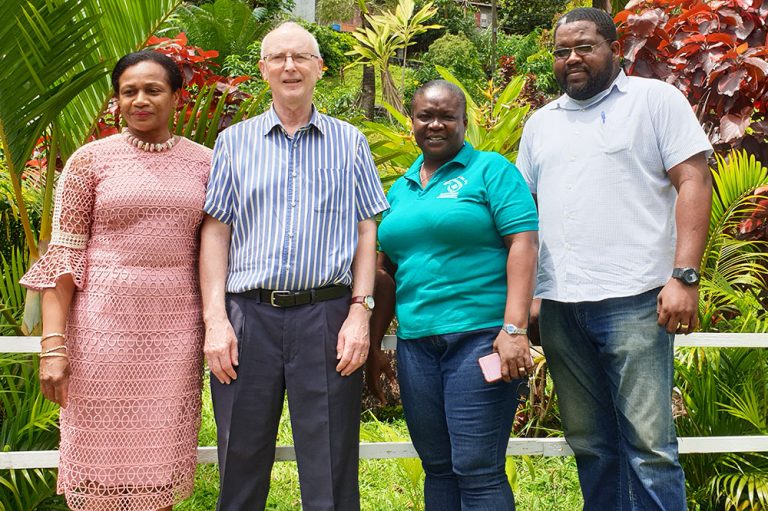 UK couple adopts Lowmans Windward Anglican School
A United Kingdom (UK) based couple, Delores and Colin Greene, have adopted the Lowmans Windward Anglican School.
The couple have since 2017, been using their personal funds to spruce up the school as well as equip students with some of the tools they need to be successful at their studies.
On April 9, Colin, speaking to SEARCHLIGHT from the school compound said that when he and his wife were building a house here a few years ago, they were so impressed with the skill of the workmen that they decided they wanted to give something back to them, so they decided to support a school in the community from which the men originated.
The couple sought the advice of the Ministry of Education and they were pointed in the direction of the Lowmans Windward Anglican School.
Colin said they chose to help a school because they noticed that the workmen were highly skilled with their hands, but their lack of formal schooling was holding them back.
"I am really passionate about education and I have seen the changes happening in St Vincent with the education revolution, so I wanted to give something back…this is an ongoing project and our aim is to make the school one of the best in St Vincent," said Delores, a teacher.
Delores, who is originally from Belmont, St Vincent, added that her husband is very supportive, and they are invested in the school with their aim being to help every child receive a proper education.
In 2017, the couple provided paint for all the classrooms. They were given a discount on the paint by Coreas Hazells Inc. In 2018, the top students were given bookbags while all students were given stationery. This year so far, the couple has provided funds that were used to refurbish the bathroom. The work was carried out by the Buildings Roads and General Services Authority (BRAGSA).
The couple has pledged to stick with the school and do all they can to help the institution.
Commenting, principal Donet Johnson said she is elated about what the couple is doing.
"We know that research says that once the environment is clean and good the children will perform better academically, and we have to see some improvements," said Johnson.
The school has 73 students and nine teachers on roll.
South Central Windward area representative Saboto Caesar says that the residents and the government are grateful to the Greenes for their contribution.
"It's really good to see persons from the community make such contributions to the young people, the future generation," said Caesar.