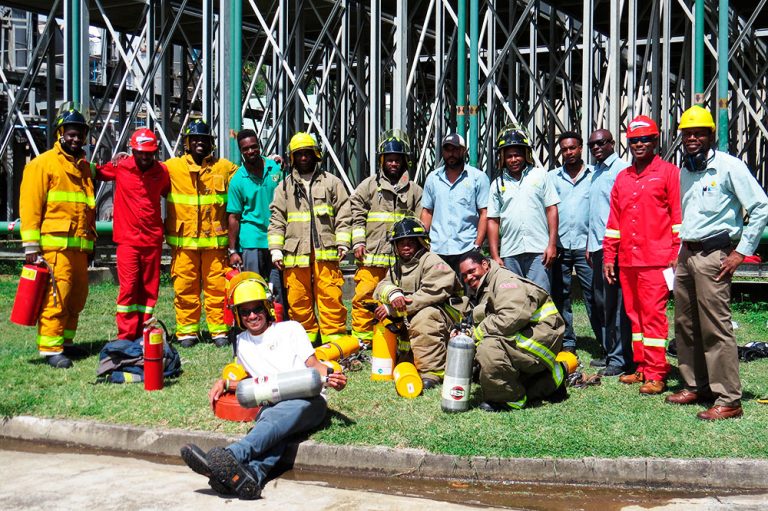 VINLEC staff receive training in industrial firefighting
FOURTEEN EMPLOYEES at St Vincent Electricity Services Limited (VINLEC) were involved in one-week of Industrial Firefighting training which was completed on Friday April 5, 2019. Jaric St Vincent Limited conducted certification training in Industrial Firefighting for staff who are stationed at diesel Power Plants throughout the country. The advanced firefighting training allowed the participants to be re-tooled in industrial firefighting techniques so that they can skillfully serve as first respondents to a fire.
On the first day, participants examined OSHA and National Fire Prevention Agency (NFPA) Standards, the Chemistry of Fires, Fire Procedures and Equipment Audits and reviewed the Incident Command System. Throughout the week, the participants were involved in varying theoretical and practical courses relevant to the principles of industrial firefighting. Some of these pertinent courses were Self Contained Breathing Apparatus, Foam Appliance and Application, Dry Chemical Agents and Application, Personnel Protective Equipment, Fire Hose Handling, LPG Complex and Rescue and Live Burn Practice.
The firefighting practical sessions focused on fighting different types of fires namely electrical fires, flammable liquids fires, combustible metal fires and fires from ordinary combustible products. The advanced firefighting course is expected to strengthen the Company's readiness and ability to respond to fires at the diesel Power Plants, if such an event occurs.
These sessions are in keeping with VINLEC's thrust to operate in a safe and healthy work environment. In 2018, a firefighting simulation was conducted at Lowmans Bay Power Plant as part of Environmental Health and Safety Awareness month in conjunction with the local Fire Service.