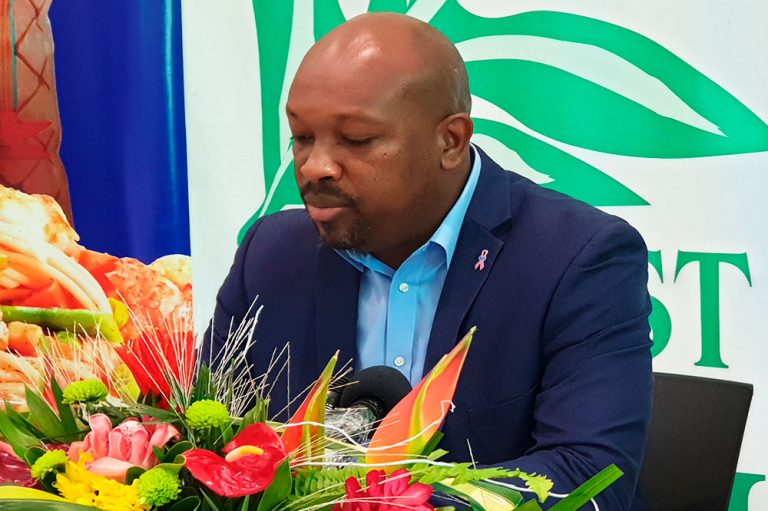 Fisheries sector created 100 new jobs in last 2 years – Caesar
OVER THE past two years, the fisheries sector has managed to create 100 new jobs in St Vincent and the Grenadines (SVG). Also, the decision by the government to make fully operational, fisheries plants in Owia, Bequia, Canouan, Union Island, Barrouallie and Calliaqua, has caused a 100 per cent increase in the export of fish and fish products.
"It is a marvellous story and something that is unfolding," Minister of Agriculture and Fisheries Saboto Caesar told persons at a contract signing event at the Argyle International Airport (AIA) on Wednesday.
The event saw Prime Minister Dr Ralph Gonsalves and Chief Executive Officer (CEO) of the Jamaica based Rainforest Seafoods Brian Jardim sign a contract for the establishment of a seafood facility here valued at EC$10 million.
The Minister of Agriculture said that Rainforest Seafoods will bring even more prosperity to local fisherfolk and the agreement is part of the Ministry's push (which began in 2014), to establish an Agri-export strategy initiative.
He said that as the country diversified, government wanted to ensure that a proper export arm was in place, so they went looking for local stakeholders, persons in the OECS, and CARICOM who were showing an interest in investing in SVG and they found Rainforest Seafoods.
Caesar added also that his ministry will soon send out a request for proposals to establish in SVG, a fishing fleet as part of a 2019 to 2025 fleet expansion program aimed at further boasting local fisheries operations.
"Also, we are seeking investors who will come to SVG who will have an interest in establishing five modern fish farms to sustainably harvest resources from the blue economy," revealed Caesar.
He added that Rainforest Seafoods must be complimented for their investment and added that the contract signing was made possible through the work of the department of fisheries, the OECS secretariat and the Caribbean Regional Fisheries Mechanism (CRFM), entities that worked in the early stages to ensure everything was within the legal framework.