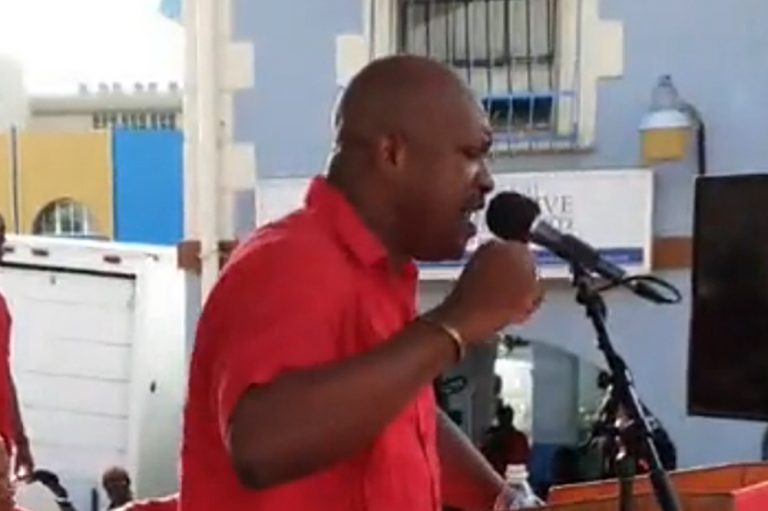 If you want to talk about agriculture come and talk to me – Caesar
Minister of Agriculture, Forestry, Fisheries and Rural Transformation Saboto Caesar says that under the Unity Labour Party (ULP) government, this country has seen a boost in agriculture and fisheries.
"If you want to talk about agriculture come and talk to me, the longest serving minister of agriculture in the OECS and CARICOM," Minister Caesar told a gathering at Heritage Square last Thursday, April 4.
The Minister was speaking during the ULP's 18th anniversary celebration rally and identified strides he says that country has made over the years the ULP has been in power.
He said that apart from the several learning resource centres and playing fields that the government has built, his ministry has strengthened the farming community with numerous initiatives.
Giving examples, Caesar said there has been a revival in the cocoa industry and before 2020, this country will have 1000 acres of cocoa, while we are currently exporting one of the best chocolates in the world.
He noted also that over the last few years, there has been an over 100 per cent increase in fish exports and this has created over 100 jobs through the leasing, to private entities, of the local fisheries centres. He said part of the increase is as a result of the Argyle International Airport (AIA) and the fact that SVG is now exporting live lobsters.
Expanding on fisheries, Caesar said that on Wednesday, April 9, a Jamaican company will visit SVG to move forward with the development of a seafood facility in Calliaqua. He said that SVG was chosen for this project because of our improved air access through the AIA.
Caesar also noted that before August 2019, the Agricultural Input Warehouse (AIW) will be in possession of two long liners that will enable that company to engage in fishing.
Moving to livestock and agricultural produce, the Minister said: "The NDP closed the Diamond Dairy and now we are the largest exporter of livestock in the OECS. If you want to see the quantity of produce leaving SVG, go by Geest shed on a Monday morning…truckloads and truckloads leaving the county. We have the most diversified production platform of agriculture…that is why 98 per cent of the root crops going into Trinidad originate in the breadbasket of the southern Caribbean, St. Vincent and the Grenadines," said Caesar last Thursday.
He noted that all these positive changes that allow persons to make an honest living have come under the leadership of Prime Minister Dr Ralph Gonsalves.