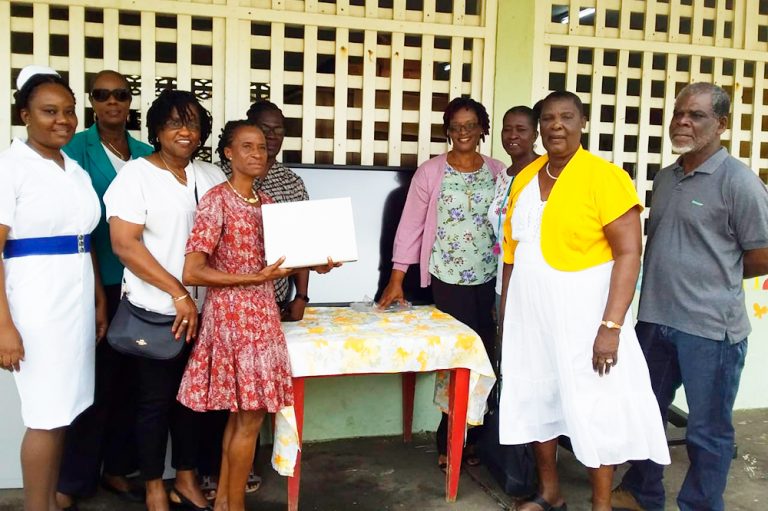 Diaspora gives back to the Biabou community
Tuesday, March 12 marked a special day in the lives of the staff and pupils of the Biabou Methodist School and the Staff of the Biabou Health Centre.
The St Vincent and the Grenadines (SVG) Diaspora handed over six filing cabinets along with files to the Biabou Health Centre and a 52" smart television and a computer to the Biabou Methodist School. These gifts were realized as a result of the thoughtfulness of Daniel Pope, a member of the team, who is also a resident of Biabou and based in the UK.
Pope, consulting with the other team members, felt the need and intense desire to give back to the community that helped to nurture him.
His proud mum, Robertha Pope and his sister, Lydia, were present to witness the grand ceremony. Principal, Rouna Burke, on behalf of the staff and students expressed their joy, heartfelt thanks and appreciation to Daniel Pope and family for the very significant contribution. The staff nurse overwhelmingly expressed the same. The team says, "Kudos to you, Daniel, for such loving concern."
Daniel, may God's richest blessings accompany you and to Him be the glory.
The SVG Diaspora team consists of Monty Browne, Rawle Caine, Kayon Keir, Pauline Charles, Roxanne Wilkes, Hassan Matthews, Gloria Regisford (USA), Anthony Maloney (USA), and Daniel Pope (UK).