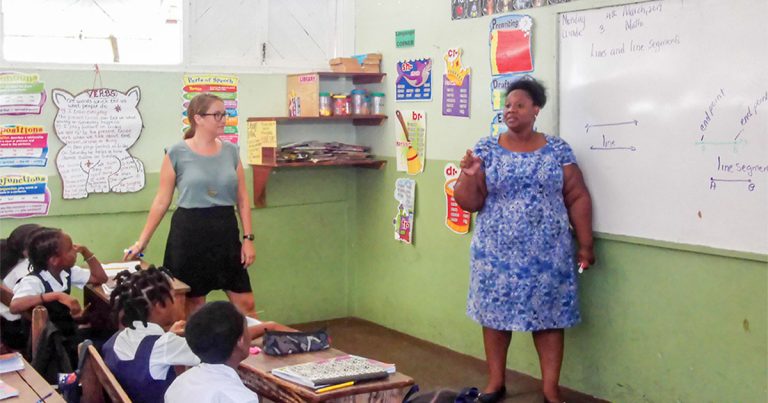 Corps Values: PCV in Layou collaborating with, and learning from, counterpart
by Lainie Steelman
Peace Corps Volunteer Myranda James always knew she wanted to serve in the Peace Corps someday. After graduating from college and spending a few years in the business professional world, she knew the time was finally right.
"It finally got to the point where it was the right time in my life to go, because I've always wanted to (serve in the Peace Corps)," Myranda recalled during an interview at Layou Government School. "I was looking for a different direction into non-profit work."
Myranda, who is from a small town in eastern Kentucky that she says is actually smaller than Layou, says has learned a lot about herself since arriving in St Vincent last summer.
"I've learned that I'm way more outgoing than I thought I was," Myranda said. "I thought I was an introvert my whole life, until I came to Layou, and I'm way more of an extrovert than I thought. I learned that pretty quickly."
Myranda has also learned a few things from her counterpart co-teacher Chericia Jeffers-Connell, with whom she collaborates in teaching literacy to third-grade teachers, among other projects.
"The main aspect I've taken away is how to say 'no' to the kids," she said with a laugh. "I've learned a lot of classroom management techniques."
Of collaborating with Myranda and other Peace Corps Volunteers, Jeffers-Connell said, "For me, it's bringing their experiences, in terms of teaching strategies and different ideas, for making literacy fun for the children."
Along with co-teaching, Myranda and Jeffers-Connell are working to get a school library up and running. They recently finished painting the shelves and walls, and they next plan to work with Hands across the Sea to obtain books. Hands across the Sea is an aid organization that works to develop libraries in schools across the Caribbean region.
The students of Layou Government have played a significant role in determining the look of their new library. Myranda and Jeffers-Connell recently held a literacy week that culminated in an art contest to solicit ideas for murals and a logo to be painted on the walls. The winning entries will be painted on the library's walls with the winning logo, "Reading Takes You on an Adventure."
Myranda has also started a cheerleading club at her school. The club focuses on much more than just learning cheers.
"Two days a week the girls stay behind for about an hour and we work on some leadership-team building activities," Myranda explained, 'and then we do cheerleading and yoga as well. They have a lot of fun with that."
While most of Myranda's time is spent at her school, she is also engaged in a secondary project with another Peace Corps Volunteer. Myranda and Ford Boozer can be heard on 96.7 FM Nice Radio at 9:30 a.m. every other Wednesday for their live interview programme.
Lainie Steelman is a Peace Corps Volunteer serving in Saint Vincent and the Grenadines.