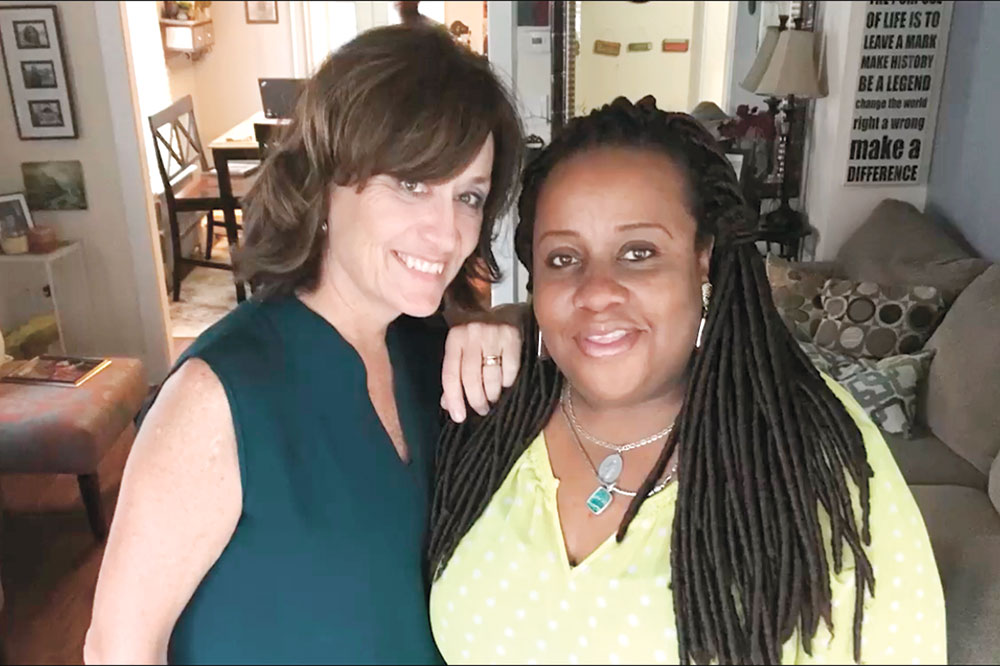 Searchlight columnist joins forces with Mary Murphy in 'Island Girls'
Two friends with roots on opposite sides of the world have joined forces to create a show that will seek to highlight that "we're more alike than we are different".
Roseanne Small-Morgan, author and SEARCHLIGHT columnist and Mary Murphy, PIX11 television journalist have teamed up to create 'Island Girls'; a show that will air for the first time at the end of this month.
In an interview with SEARCHLIGHT, the two explained that one of the objectives of the show is to bring people together, by highlighting the things that they have in common.
"I think a lot of times because we may look different or come from a different cultural background, we tend to forget that we are all human beings. We want the same things for our families and our children; quality of life, to be respected," said Small-Morgan, who was born in St Vincent and the Grenadines.
She added that "nobody wants a handout, nobody wants to be felt as though they are second class so I want to highlight that be it you're from an island or St Vincent, from Guyana, from Norway, it's the same needs, same desires, same wants. We are more alike than we are different. We want to break down those walls."
Murphy, whose parents migrated to the United States from Ireland, echoed similar sentiments to her friend, and said that with the division that is present in the USA, it seemed appropriate for a show like this one to be launched this year.
Murphy and Small-Morgan's friendship began two and a half years ago after Murphy travelled from New York to Kingstown, St Vincent to follow up on a story with tentacles in both cities.
They both expressed hope that their show will be diverse and thought-provoking. On one hand, the pair plans to have guests of varying backgrounds who have left indelible marks, whether in the USA or Caribbean. But viewers can also expect that "hard-button" subjects will also be addressed.
"As someone who has told stories for more than 30 years, the best stories involve people who have dealt with pain in their lives and overcome that pain to the best of their ability that they could and then make something of themselves and made a difference," Murphy said.
The television journalist also revealed that the first guest will be Hazell McKenzie, a Vincentian born woman who won US$25,000 after competing in a show; "Worst Cooks in America".
"I think you're going to be surprised at some of the guests that will come to the show," the "Hey Rosie" columnist teased. "So not only will it be sometimes fun where it's a popular artist, music artist or whatever but they will also have a story as well…we want to kind of get to know the people and for the public to feel as though they're getting to know the different guests that come to our show."
Murphy told SEARCHLIGHT that the goal of any good show is to appeal to as many people as possible.
As such, she said that "Island Girls" will appeal to people of all ages.
"We want to be a release for people. We want to be a destination where they can have some fun," Murphy said. "If you look at the successful talk shows that are on broadcast television, especially some of the morning shows, they navigate between hard-hitting news and things that are fun and cooking segments and they have to navigate through the different things that make up everyone's lives.
I think we'll attempt to do that."
Because the show is somewhat influenced by the island background of both hosts, they hope to visit some of the islands and do shows from those destinations.
Small-Morgan expressed pride as a Vincentian and by extension a West Indian, to have the opportunity to be a part of a "new and cutting edge" project that positively highlights the Caribbean community.
And she took the opportunity to invite everyone to join her and Murphy on their journey when the show airs online for the first time next Friday, November 30.
The 'Island Girls' pilot episode will air live at 8 p.m. EST (9 pm in SVG) on the PIX11 Facebook page as well as on YouTube and the Island Girls Facebook page.