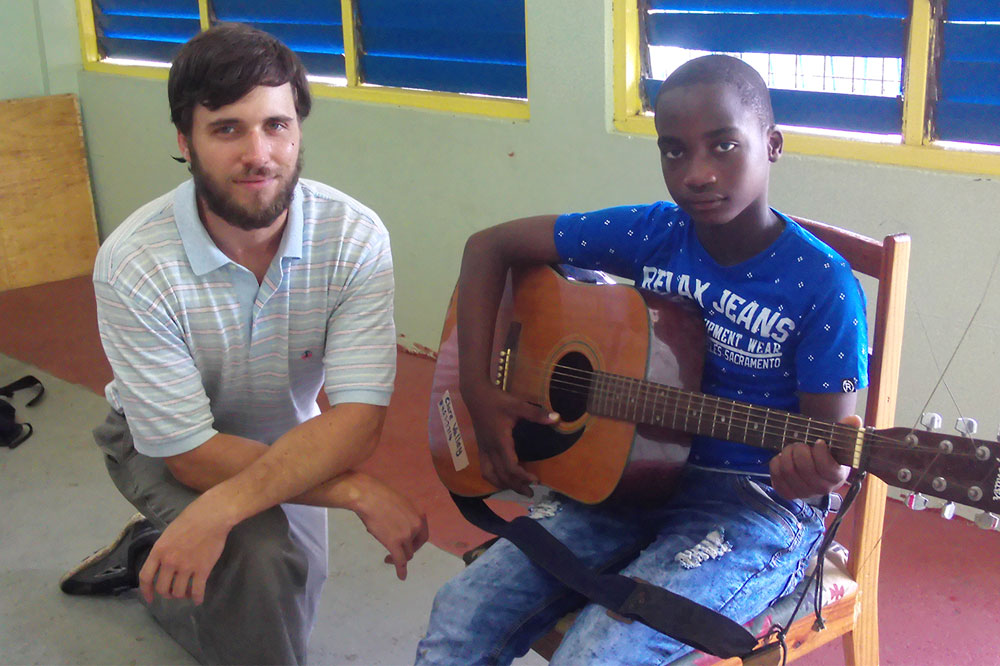 PCV at Clare Valley Government School blends music, literacy (+Video)
by Lainie Steelman
Welcome to the very first Corps Values column, which will appear monthly in the Searchlight. The Corps Values column will share information about the United States Peace Corps activities in St Vincent and the Grenadines (SVG), and in the process share about who we are as Volunteers and as an organization.
The US Peace Corps has three goals: to help the people of interested countries in meeting their need for trained men and women, to help promote a better understanding of Americans on the part of the peoples served, and to help promote a better understanding of other peoples on the part of Americans.
Among those working toward Peace Corps' goals in SVG is PCV Ford Boozer, who is assigned to Clare Valley Government School. Ford, 29, is from the state of Alabama, where he studied economics at the University of Alabama. He's using his love of music to not only share American culture with his young students, but also to improve students' reading skills.
Ford has been playing guitar since he was 14 year old. Folksy American rock songs of the singer-songwriter genre, Joe Cocker's "Feelin' Alright," Fleetwood Mac's "Landslide," and John Prine's "Angel from Montgomery," are Ford's favorite songs to share with his students.
"It basically comes from my library of music that I'm familiar with playing," Ford said of the music he shares with students. "Typically I'm most comfortable with that style guitar-wise, so I typically try to stick to my style that I've been playing since I started."
The lyrics of popular American music, Ford says, are a good tool for teaching elements of reading, including phonics and sound blending. Using the lyrics of Joe Cocker's "Feelin' Alright," for example, Ford taught his students about the silent "e": "Seems I got to have a change of scene," the song begins. After teaching a particular sound or blend, Ford then picks up his guitar and leads his students in a sing-along.
Ford's work with using music to improve students' reading skills aligns with another focus of Peace Corps Volunteers' work in SVG: The Primary English Literacy Project. The PEL Project, which is conducted in cooperation with the Ministry of Education, aims to boost student success, enhance teaching practices, and improve school, family and community partnerships.
A guitar drive in the US. recently netted Ford three new guitars for his school, and he'll soon begin guitar lessons with several students.
One of the students who is already benefiting from guitar lessons is sixth grader Josh Bruce, 11.
"He shows me the chord first, then we play the song," Josh said of how Ford teaches him to play the guitar.
Josh said his interest in the guitar came from his aunt, who plays the instrument.
"He comes to find me every chance he gets," Ford said of Josh.
Some students just like to sing along while Ford strums. Fourth grader Talyah Diamond, 9, said she typically sings with Ford once a day, often in the library where Ford works one-on-one with students.
Talyah's favorite song that she learned from Ford is "Angel from Montgomery," a 1971 John Prine song.
"It's a pretty song," Talyah said.
In the future, Ford plans to look for ways to showcase his students' newfound musical talents, and perhaps put on a concert for the Clare Valley Government School community. In addition to his work with music, Ford co-teaches in a fourth-grade classroom and coaches a soccer team.
Lainie Steelman is a Peace Corps Volunteer currently serving in SVG.