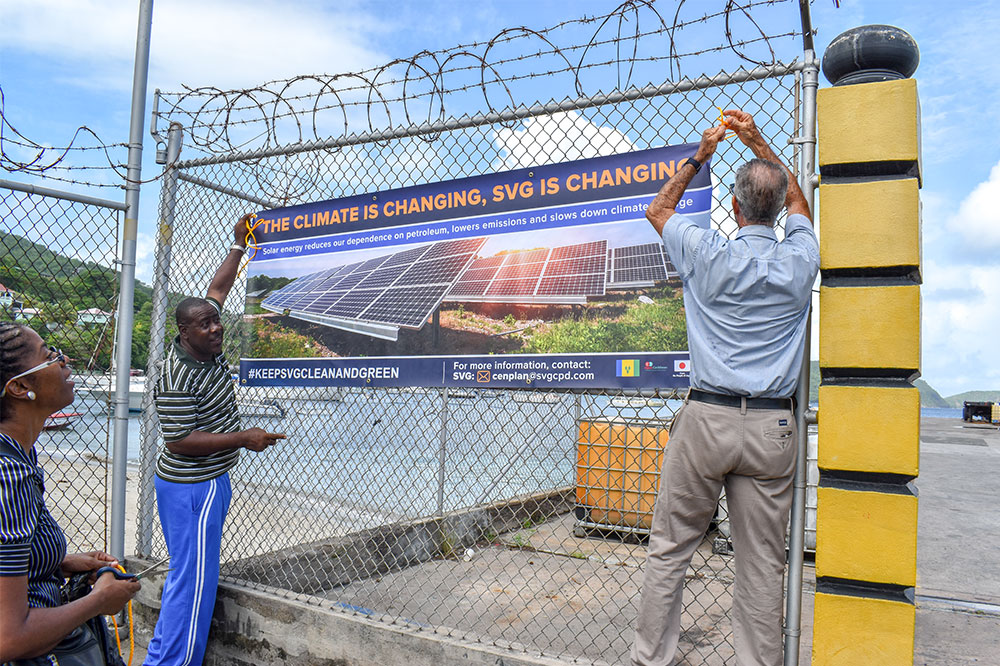 SVG Climate Change Campaign kicks off in communities
Three places in St Vincent and the Grenadines (SVG) – Mesopotamia, Vermont and Bequia – will be the kick-off spots for a climate change public education programme. This programme is being implemented by the United Nations Development Programme's Japan Caribbean Climate Change Partnership (UNDP J-CCCP), in collaboration with the Government of SVG.
The campaign will commence in the three communities with the dissemination of posters and the raising of banners, highlighting specifically tailored climate messages, as well as engaging with community members on climate impacts. The engagements are scheduled for July 25-26, 2018, and will be followed by the promotion of a climate song and video entitled, Climate Action, on local radio and television stations. The song was written by Demion McTair and fellow artiste Adrian Wright, and features local songstress Danielle Veira.
"Public awareness and public education is an important component of the push to integrate climate change considerations into every aspect of life of the Vincentian populace," said Nyasha Hamilton, Environmental Educator and National Climate Change Focal Point in SVG.
The campaign has also seen engagement among the youth with a photo and video competition and several school visits sensitising the young people about climate change.
Climate change – the long-term changes in the weather associated mainly with natural and manmade activities – is viewed as perhaps the greatest threat to national development, especially for Small Island Developing States. Islands like SVG have been impacted by stronger hurricanes, longer droughts, frequent flash flooding and sea level rise in the last 20 years. In December 2013, for example, damage from the troughs impacting the island was estimated at US$93.3 million (13 per cent of its Gross Domestic Product).
The campaign aims to provide Vincentians with information on what climate change is and how people can adapt to it. The campaign was informed by a Knowledge, Attitude and Practise (KAP) survey completed in January 2017 and commissioned by the Japan Caribbean Climate Change Partnership. That survey showed that 89 per cent of Vincentians felt that it was important to increase public education about climate change and 85 per cent wanted to see more community participation in climate adaptation.
"We want to support communities in actively playing their part in helping the country adjust to climate impacts," said Stephen O'Malley, UNDP's Resident Representative for Barbados and the OECS. Noting the importance of participatory processes, he added "this process was entirely led by communities, with support from the Government of St. Vincent and the Grenadines."