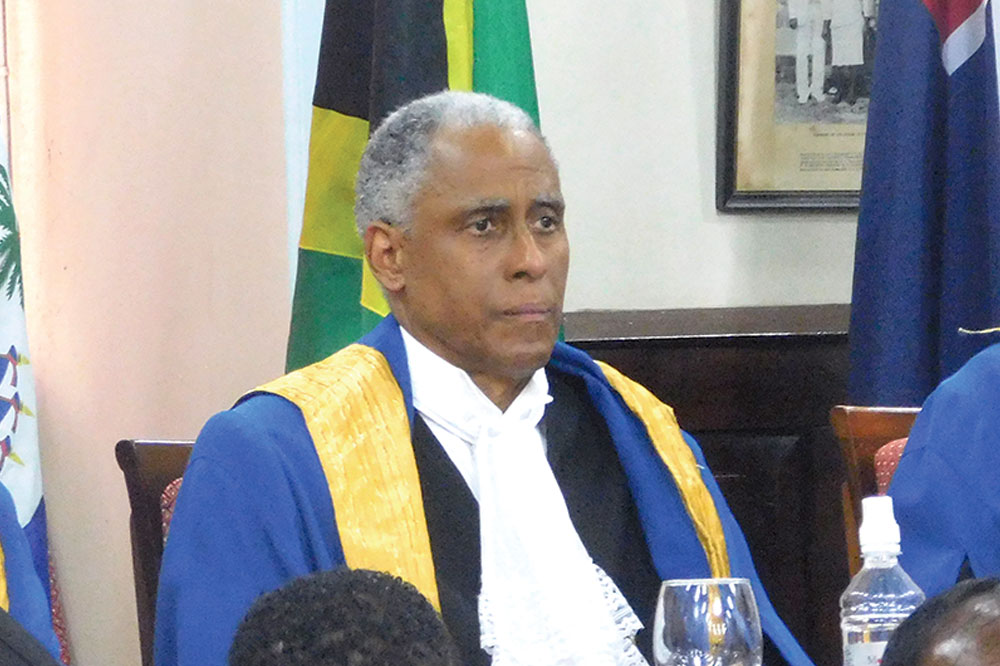 New Head of CCJ appeals for CCJ to be SVG's final court
The Caribbean Court of Justice (CCJ), for the first time in its 13 years of existence, held a sitting in St Vincent and the Grenadines.
The special sitting was held last Friday in celebration of Vincentian-born Justice Adrian Saunders, who was recently appointed President of the court.
Saunders, in his remarks, expressed appreciation for those who extended kind gestures and congratulations since his appointment.
"The outpouring of support, congratulations and well wishes I have received, since my appointment as President of the CCJ, has been overwhelming. I have tried, as best I could, to acknowledge the many letters, email messages, flowers, gifts and other expressions of congratulations," he said.
The judge noted the significance of the CCJ sitting in St Vincent as it provides an opportunity for citizens to see and meet the judges of the court.
He declared that the CCJ is a "fundamental pillar of our civilization, touching the lives and helping to shape the future of Caribbean people."
Justice Saunders said that there was scope for the court to do even more in the region.
And he made an appeal for why it should be the final court of appeal for Caribbean countries, particularly those that have retained the Privy Council in the United Kingdom as their final court of appeal.
"Today we take for granted the fact that we should administer and govern ourselves; that we should make our own laws. Equally, it is only natural that we should also have the final say in the interpretation of those laws," he said. "Today, an ambitious political activist can aspire to be Prime Minister of SVG. But a serious, dedicated judge cannot aspire to be a judge of her apex court. That is a role we have chosen to reserve for British judges."
Other speakers at Friday's sitting expressed similar sentiments of making CCJ the final appellate court of St Vincent and the Grenadines, especially in the 7-year period when Saunders holds the presidency.
Prime Minister Dr Ralph Gonsalves, in his remarks, expressed willingness to take the necessary steps into making the CCJ this country's final court of appeal.
Similarly, Jomo Thomas, Speaker of the House of Assembly, said that it is his wish for St Vincent to join the CCJ in its appellate jurisdiction.
The House Speaker revealed that he has known Saunders for all of his adult life. He further credited the judge as being the catalyst for his returning to school after dropping out in high school.
"Some people can harm your life chances, others can change your life for the better. Adrian Saunders changed mine. I am sure there are countless others who can offer a similar testimony," Thomas said. "He has used his training, both as a lawyer and as a judge, to help change our society for the better. But he has much more work to do and St Vincent can help him to do this work by becoming a part and acceding to the appellate jurisdiction to the Caribbean Court of Justice."
Stephen Huggins, Saunders' founding partner in the law firm Saunders and Huggins, also credited the judge for the success he achieved in private practice.
The lawyer described the judge as a selfless man who often gave of his time, money, knowledge and wisdom, both cheerfully and willingly.
"While others may recognize him for his judicial prowess, to us, Justice Adrian Saunders is much more than an imminent jurist," he said. "We think of him as a big brother, and father of our law firm. It is to his example that we look as a guide to the manner in which we should compose ourselves as lawyers and indeed, as human beings."
Other speakers at Friday's special sitting included judge of the CCJ, Justice David Hayton; Justice Dame Janice Pereira, Chief Justice of the Eastern Caribbean Supreme Court; Jaundy Martin, Attorney General of St Vincent and the Grenadines; Reginald Armour, Chairman of the Council of Legal Education; Jennifer Astaphan, Deputy Chairman of the Regional Judicial and Legal Services Commission; Ruggles Ferguson, President of the Organization of Commonwealth Caribbean Bar Associations; Rene Baptiste, President of the Bar Association of St. Vincent and the Grenadines; Queen's Counsel, Parnel Campbell; Senator Kay Bacchus-Baptiste and Sebastian Alexander, director of Interactive Media Limited.
The CCJ normally sits in Port-of-Spain, Trinidad, where the court is headquartered. But other sittings have been held in Barbados, Guyana, Jamaica, Belize and Antigua.