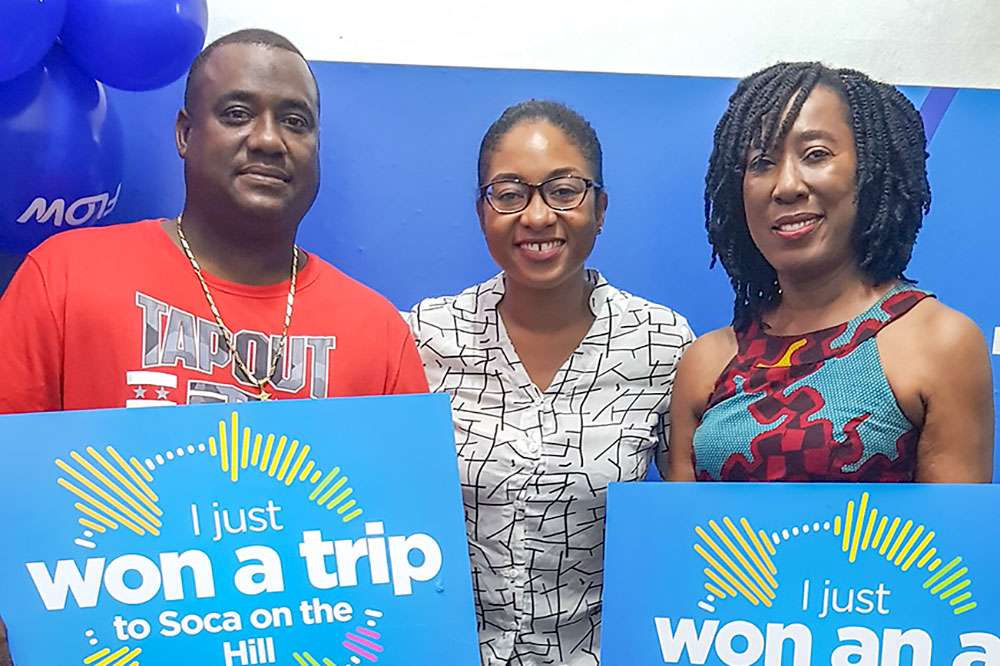 Flow's Scratch N Win grand prize winners receive complimentary trips
They scratched and they won! That was the case of Bernice Coombs and Pansie Vassel-Ambrose, Flow's grand prize winners who took part in the carnival Get Pump'd Scratch n Win promotion.
The promotion, which went into gear from the beginning of the carnival season, saw thousands of customers winning instant prizes and also being placed into the final draw to win the grand prize of an all-expenses-paid vacation trip (to a destination of the winner's choice), a trip for two to Soca On The Hill in Barbados, and also to complete the grand prize, the vendor who sold tickets was placed in the draw and was also awarded a trip to Soca On The Hill.
Bernice Coombs, who won an all-expenses-paid vacation, spoke recently to Flow representatives and divulged that when she initially received the call and was informed of her winnings, she was in disbelief. She added that though unexpected, she is overwhelmed to be one of Flow's grand prize promotion winners. When asked where her destination of choice will be, though she did not confirm, said she is thinking of visiting the land of her birth, Aruba.
Canouan resident Pansie Vassel-Ambrose too was in total disbelief and shrieked with excitement when she was told the good news of her unexpected trip for two to Soca On The Hill (SOTH). She took along her close friend to experience the much raved about SOTH, which took place last weekend at Farley Hill, Barbados.
Vendor of roughly 13 years, Cheyenne Smith of Georgetown said that he was more than happy to be the winning vendor "who gets to experience SOTH". Smith, added that the winning trip came in a timely manner as he also celebrated his birthday on July 21st, the same day he travelled to Barbados for the weekend.
When asked about the experience, he thanked Flow for the opportunity to have an incredible weekend. Not only did he celebrate his birthday in fine style, Smith said it gave him the opportunity to catch up with longstanding friends.
Smith and Ambrose, who travelled on Saturday, returned late Monday evening.
Meantime, Flow's Consumer Sales Manager Andrea Liverpool said the Scratch n Win carnival promotion saw many customers winning scores of gifts and paraphernalia to get persons 'pump'd' for the big carnival weekend. She added, the carnival scratch and win promotion allowed the Flow team to excite the market and build on the Carnival momentum, ensuring all customers had the opportunity to benefit from the company's partnerships.
Stating that she is happy for the winners, Flow's Marketing and communications lead Nikala Williams mentioned the Scratch N Win promotion not only rewarded its loyal customers, but it catered for the vendors, many of whom have been a part of the Flow team for several years. She added that Flow will continue to offer customers the best value for their money, while continuing to reward them for their loyalty.