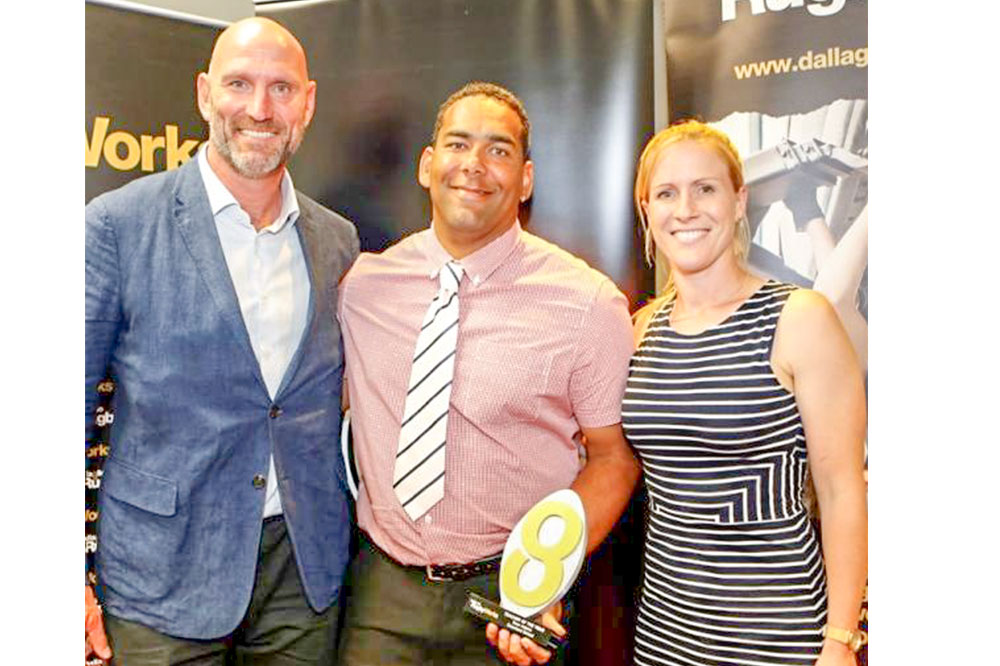 Inspirational Devizes teacher praised by rugby legend
Joanne Moore
A Vincentian-born teacher, Sean Adams, has been praised by rugby legend Lawrence Dallaglio for his work at a Devizes school, after he won a top award at a glittering ceremony in London.
Adams, who went to school at Mountain View Academy in St Vincent, works at Downland School, and was named Teacher of the Year at the Dallaglio RugbyWorks on awards night. The school has been part of the RugbyWorks scheme for a number of years and is no newcomer to success.
Last year Downland pupil Cory Slater was named Young Person of the Year at the same ceremony and the school was awarded Team of the Year at the Engage in Their Future awards in Newcastle.
Adams, who lives in Calne, has been working closely with Dallaglio RugbyWorks staff who come into Downlands each Friday. The awards celebrate the successes of the RugbyWorks programme, which supports teenagers outside of mainstream education into sustained further education, employment or training.
The programme works with 14 to 17-year-olds over a three-year intensive period within alternative provision schools.
Both Downland and Springfield work with the Bristol Bears Community Foundation to deliver the RugbyWorks programme. Programme manager Geraint Lewis said: "This is fantastic news and testament to the hard work of both the schools and pupils nominated this year."
Dallaglio is determined to do his bit to help vulnerable children and says he knows what it is like to feel lost. His sister died in the Marchioness boat disaster on The Thames when he was 16.
He said: "I became quite lost as a young man. Rugby came into my life at a time when I really needed it – I had wonderful parents who would try to explain what was right and wrong. The thing about rugby is we would celebrate difference. You aren't singled out in a negative way – it doesn't matter if you are a different size to the person next to you."
"I have seen first-hand the impact sport can have on a life which is why I set up Rugby Works. I set it up 10 years ago but specifically started to work with vulnerable young people about five years ago."
"We aim to help them achieve sustained education and employment – it's about delivering high impact support."