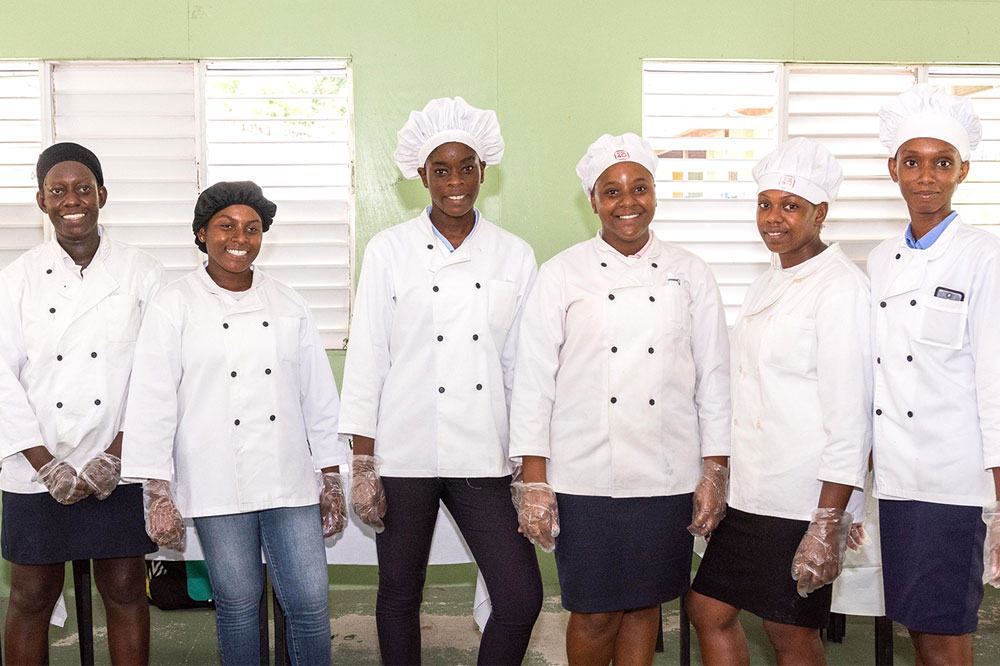 Barrouallie Technical Institute students showcase skills at job fair
The Barrouallie Technical Institute held its inaugural Job Fair on June 12.
This event, which was sponsored by the Mustique Charitable Foundation (MCF) had as its objective to have students interact with potential employers and small business owners, and for them to showcase the products and services which they are trained to produce.
Students are presently being trained in Caribbean Vocational Qualifications level1; Commercial Food Preparation, Food and Drinks Service, Data Operations, Building Construction and Garment Production courses.
The trainees in the Commercial Food Preparation and Garment Production programme also used the opportunity to test the market with products which they developed with the intention of starting their own business upon completion of the course. The products were well received by those in attendance and the trainees were encouraged to continue striving for excellence.
Project Director of the Mustique Charitable Foundation Lavinia Gunn congratulated the Principal and staff of the institute for their proactive approach to training the nation's youth and pledged their support in other ventures as long as the criteria is met. She also highlighted the assistance which the foundation has given at the institute for the year.
Principal, Pearlette Primus-Hannaway thanked the MCF for their financial and technical support and reminded the trainees that the success factor for our country's development is young, educated persons, equipped with the relevant skills, knowledge and attitude who are prepared to take positions that form building-blocks in a sustainable future. She therefore urged them to use their skills to improve their station in life. These sentiments were also echoed by Past Director of the National Qualifications Department, Dwight Lewis, Senior Education Officer TVET, Endall Johnson and Gideon Nash, Managing Director of Nature Care SVG.
Twenty trainees at the Institute are scholarship recipients from the Mustique Charitable Foundation, the Foundation also purchased a quantity of tools and equipment to assist with the delivery of the Building Construction Programme.
The principal and staff of the Barrouallie Technical Institute wish to express heartfelt thanks and appreciation to all the participants who accepted the challenge to partner with the institute to help make a difference in the lives of our country's most valuable resource.