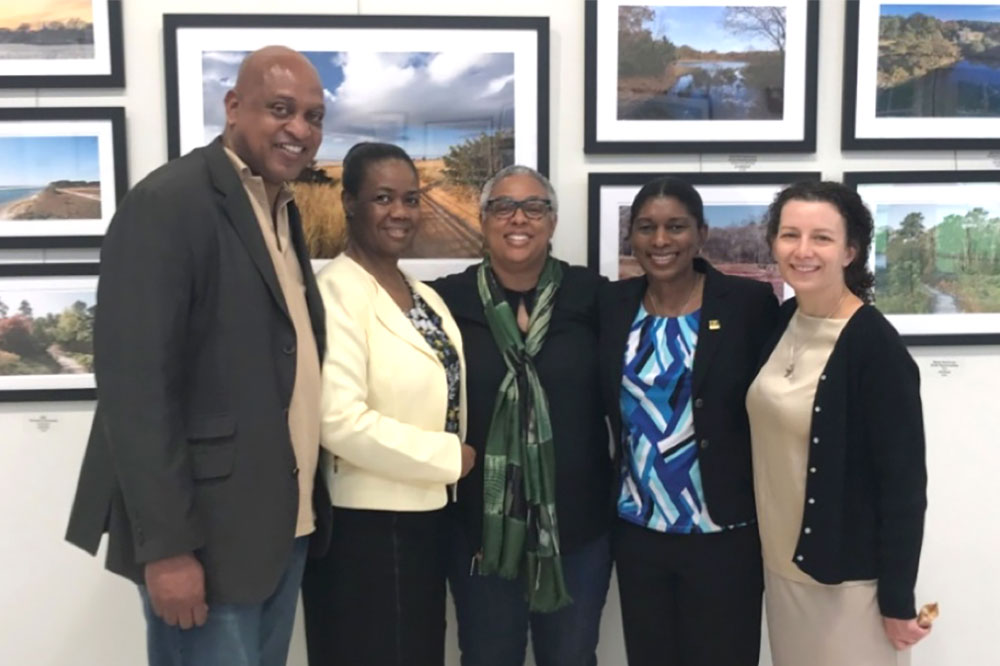 Vincentian delegation visits Martha's Vineyard, strengthens connection
An official delegation led by Lou-Anne Gilchrist, Ambassador of St Vincent and the Grenadines (SVG) to the United States visited the Martha's Vineyard from June 14 to 15, 2018.
The mission served to bolster the cooperation and solidarity between both islands which was formalized in 2014 through a Memorandum of Understanding (MOU).
While on the island, Ambassador Gilchrist met with various officials including Martina Thornton, County Manager of Dukes County and officials in health, education, fire and emergency response and tourism. During the different meetings, both parties reaffirmed their commitment through various initiatives which will provide for mutually beneficial exchanges so as to foster new partnerships.
These initiatives included the donation of firefighting equipment, and the donation of books from the West Tisbury Library. Other initiatives considered included the possibility of having further exposure for Vincentian Chocolate and also an exchange between the only Sea Salt manufacturer on the Martha's Vineyard and our local Sea Salt producer (Wild Grenadines Sea Salt), as well as the opportunity for local artist to host workshop at the Featherstone Center of the Arts, and to train local children in the art of tropical realism.
The possibility of a visual arts and crafts festival with food and drink is likely to take place next year summer 2019 at Martha's Vineyard giving Vincentians an opportunity to showcase their talent that will promote the culture of Saint Vincent and the Grenadines and provide greater exposure for the visual arts and crafts sector.
Officials from Martha's Vineyard noted the skills and creativity of Vincentian musicians and artistes that performed during Martha's Vineyard Inaugural Trade Fair exhibition held in 2016. Residents and visitors to the island are reported to have been impressed and have shown interest in receiving CDs with more Vincentian music and exploring the prospect of having local bands stopover on the island while on US tours in states close to Martha's Vineyard. The Inaugural fair also opened a window for VincyKlus and other cluster members to advance to export ready status.
In the area of tourism, future collaboration in eco-tourism sector is highly promising. The thriving eco-tourism sector of Martha's Vineyard provides an avenue for knowledge transfer and the possibility of Martha's Vineyard eco-tourism operators establishing business in Saint Vincent and the Grenadines.
The delegation from SVG also included Consul General, Howie Prince and Trade and Investment Promotions Officer at the Consulate of SVG in New York, Bernadette Ambrose-Black.