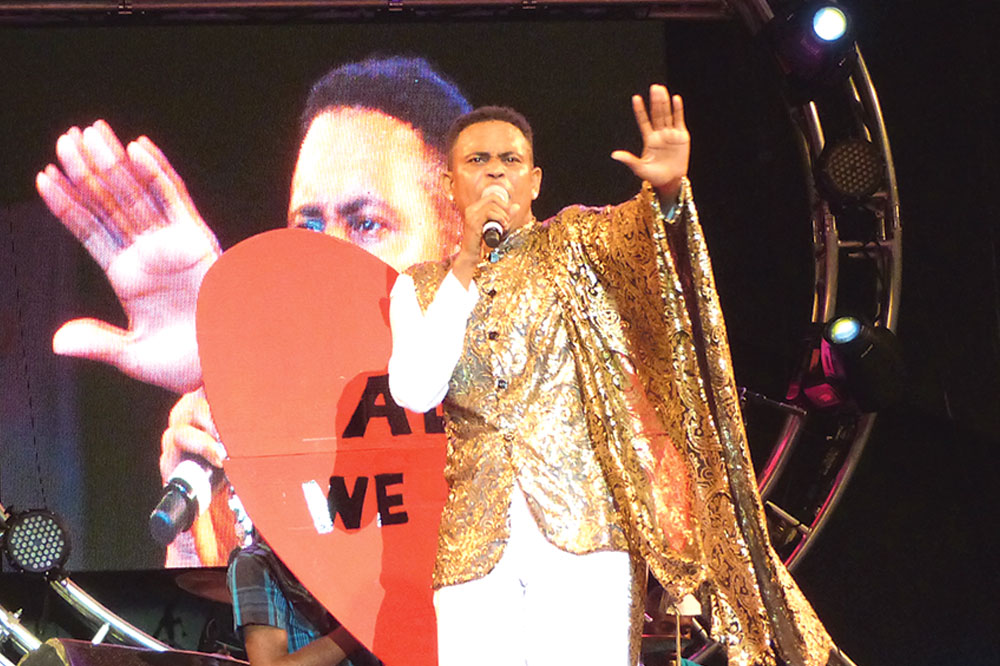 'Man Zangie' wins fourth Calypso Monarch crown
Zamfir 'Man Zangie' Adams, with a fourth calypso crown under his belt, is hoping to visit countries where the Garifuna people call home.
On the night of Dimanche Gras, Man Zangie claimed his fourth calypso crown with two songs, "Hail Garifuna" and "All we need".
He told SEARCHLIGHT shortly after being crowned that between now and 2019, he is hoping to visit places where the Garifuna legacy is strong like Balliceaux, Belize, Honduras and Nicaragua.
"The Garifunas there are asking for the anthem and therefore I have to go there and give them it," Man Zangie said while smiling.
"I am excited at the moment. I am not shocked, but I am excited and happy that I got the opportunity now to wear the crown, delivering a song called Garifuna which is our own our historical background, our ancestors which we are welcoming home," Man Zangie commented.
He added that he knows his song has made the Garifuna people happy and he sees it as a sort of anthem.
"I know how they are feeling right now, the ones in the Diaspora are happy right now and supportive," said the calypso king.
In relation to his second song, Man Zangie said "All We Need" speaks about some of the challenges that he went through last year and some things that happened in the country. The song spoke about hatred, envy, bad-mind, jealousy and the importance of love.
"I took the opportunity to bring some of the things (that happened to me and in the country) forward and put it in a song," Man Zangie explained while adding that the ideas for the songs were his, while the writing was done by Sheldon Nugget.
The second-place spot was taken by Shaunelle McKenzie with her two songs "Changes in Men" and "Life Isn't Fair". Third position went to Kenneth 'Vibrating Scakes' Alleyne with "Miss Carival" and "Portrait of a True Nation Builder".
In fourth place was Maxwell 'Tajoe' Francis with his controversial "For King Calypso" and "The Calypso Rod".
Fifth position went to Fitzroy 'Brother Ebony' Joseph with "Bandit" and "The same people" while sixth position was claimed by Glenroy 'Sulle' Caesar with "Rape yo self" and "Fill in the blanks". In seventh was Cleopatra Hendrickson and her "Criminal Intent" and "Common Sense", eighth was Elvis 'AbiJah' Abbey with "De World Nah Level" and "Vision", ninth was Shena Collis with "Come Guide Me" and "Caribbean Angels", tenth was Kingsley 'Hero' Roberts with "For love of Country" and "The Obedient Boy" and in eleventh position was Adolphus 'I Come' Miller with "The Opposition" and "Me Nah Know".
Shernelle 'Skarpyan' Williams was the reserve artiste and appeared as a guest performer.
The 2017 monarch Lornette 'Fya Empress' Nedd did not defend her crown due to illness.