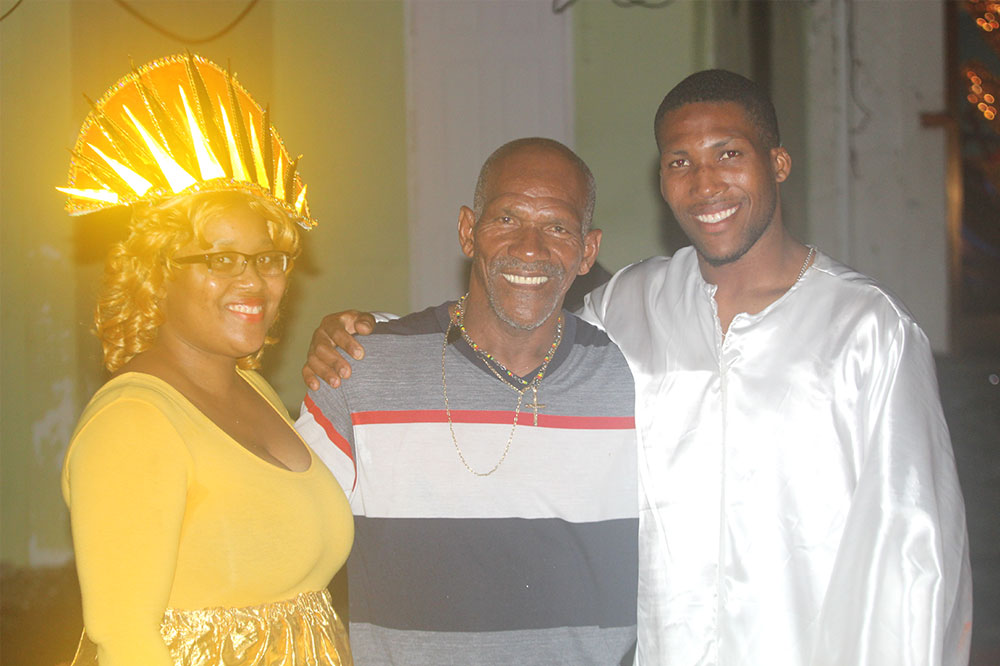 Brother/sister crowned King and Queen of the Bands
A brother/sister duo has created Vincentian history by winning the King and Queen of the Bands competitions on the same night in costumes built by their father.
The win was recorded last Sunday, July 8 during Dimanche Gras when Ateisha Lockhart with her portrayal "Moon Run Til Day Ketch Um" from Owen Ralph and the Professionals's "Things people say," was crowned Queen of the Bands.
Ateisha tied for first-place with Semone Richardson of BMC Amerijet Magic 103.7 FM Blondie Bird & Friends whose presentation was "Lepidophobia – Fear of Butterflies" from their 2018 presentation "Phobia".
Ateisha's brother Atiron Lockhart was first in the King of the Bands competition with his portrayal of "Elements of Natural Disasters" from Lynx Mas Band and their 2018 presentation "Devastating Elements".
Ateisha and Atiron's costumes were built by their father Oxley "D-Giddy" Lockhart of McKies Hill and in an interview with SEARCHLIGHT after the results were announced, Oxley said that last year he failed to achieve the son/daughter win, so he decided to try again this year. Last year his son and daughter were second and third respectively in the competitions.
"I came back to try and do what I set out to do and thank God I achieved this," said Oxley, whose creations have won in the Queen and King of the Bands competitions on several occasions including winning four times while designing kings for Blondie Bird and Friends and other wins in 2007, 2008 and 2009.
"I am proud of what I do, and my main concern is trying to uplift the standard in St Vincent and the Grenadines. When I build, I focus on the foreigners so when they see a Mas they can say to their friends, 'you will have to come to see this'," Oxley explained.
Commenting on the historic win, Atiron noted that this is his third time playing senior King of the Bands and the first time he has won.
"I feel very overwhelmed. I am very excited because all the hard work and sleepless nights we put into this costume has finally paid off," said Atiron who has won four junior King of the Bands titles.
"I will continue playing king because we have a legacy from junior king to now," said Atiron who added that he was very confident that he would have won the title, "because I know what I have."
Ateisha described her father as a "master builder" and said she expected to win.
"It is a splendid costume. I wasn't looking at anyone, but I was confident," stated Ateisha who added this is her third time playing senior queen and her second time winning. Last year she was third in the competition, but won in 2016 with a presentation called "Pan – Musical Instrument of the Caribbean" which was also built by her father.
"He (Oxley) brings costumes to life and he is never flat, if he is bringing a dog, you will see a dog," commented Atisha.
In third place in the Queen of the Bands competition was SVG Players International Mas Band and "Sugar Mami – Hance" portrayed by Jenilee Glasgow.
Second place in the King of the Bands competition was Blondie Bird & Friends "Icthyophobia – "Fear of Fishes" portrayed by Jelani Niles while third went to Nelson Bloc and "The might of Africa" portrayed by Chewalee Johnson.
[UPDATED on July 18, 2018 at 3:26 pm: to correct the first name of the winner of the King of the Bands competition to Atiron. He has participated in the competition on three occasions.]