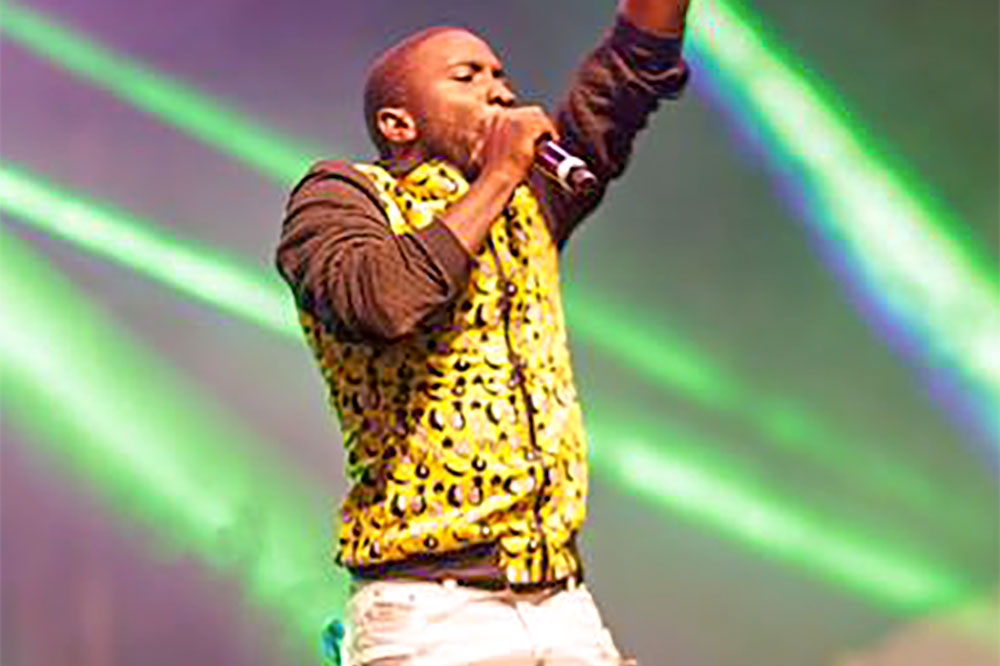 Hance ready to defend his crown, add one more
Reigning Ragga Soca monarch Hance John has promised dynamic, energetic and creative performances in both the Ragga Soca and Soca finals on Saturday night.
Hance won the Ragga Soca crown (with his song 'Sugar Mami') last year and placed second in the Soca monarch competition (with 'Jab') and this year is looking to successfully defend his crown and add the Soca crown to his collection.
"It is a great feeling defending the crown and once God gives me health and strength and everything goes as planned, it would be a great one to look forward to," Hance told SEARCHLIGHT on Tuesday at the Victoria Park while viewing the Junior Calypso and Soca competitions. He won the Junior Soca crown on four occasions.
"Nothing but the best, the usual performance from Hance. I have something in the bag, a little surprise and it would be something to remember in terms of the performance and the delivery and I am looking forward to it," the reigning king told SEARCHLIGHT when asked what to expect on Saturday.
Hance will be performing in position number 12, right after Delroy "Fireman" Hooper.
"I see myself as the biggest threat because if I am defeated within myself before the competition starts, right there and then automatically I am defeating the whole purpose of performing and competing," Hance commented.
While he would be performing his song 'Bad So' (on the Barbwire Riddim) for the Soca segment, he said he has not decided which Ragga Soca song he is defending with, but some have opined that 'Love of Pan' featuring Rodney Small is what patrons are going to hear.
"It is a surprise," Hance said, while smiling on Tuesday.
He added that Vincy Mas 2018 has been great to him so far.
"I have increased my supporters and the amount of shows, the numbers have also increased. Vincy Mas is having a good one in terms of music and we are raising the bar and the young artistes are putting in more effort."
He called on Vincentians to continue embracing our culture and supporting local.
"Let's go out there and support every artiste and put country first."
Coming up against Hance tomorrow in the Ragga Soca competition are: Ozarie Matthews, Kamara 'Keido' Foster, Shane 'Hypa 4000' Husbands, Samantha 'Sunshine' Bryant and Nadine 'Nadiva' Bryant, Nickeisha 'Nicki' Pierre, Jamalie 'L-Pank' Stapleton, Shernelle 'Skarpyon' Williams, Shena Collis, Fimber 'Fimba' Jardine, Chewalee Johnson and Delroy 'Fireman' Hooper.
The prize money for the Ragga Soca monarch has been raised from EC$9,000 to EC$15,000 while the Soca Monarch's purse remains at EC$25,000.
Hundreds of patrons will also gather at the Victoria Park to see if anyone can dethrone reigning Soca Monarch Delroy 'Fireman' Hooper in the Soca Monarch competition.
Chosen to compete against Fireman are Joel 'Tha Fugitive' Bibby, Johnroy 'Mad King' Haywood, Keith 'Grabba Finese' Charles, Tracy 'Scarbz' Cozier and Kesslon 'Sicko' Shallow, Kester 'Flanka' Chapman, Chewalee Johnson, Recardo 'Recka' Wilson, Dennis Bowman, Gamal 'Skinny Fabulous' Doyle, Hance John, Antonio 'Small Circle' Edwards and Shane 'Hypa 4000' Husbands.
This group has three former Soca Monarchs in the form of Dennis Bowman, Gamal 'Skinny Fabulous' Doyle and Shane 'Hypa 4000' Husbands.