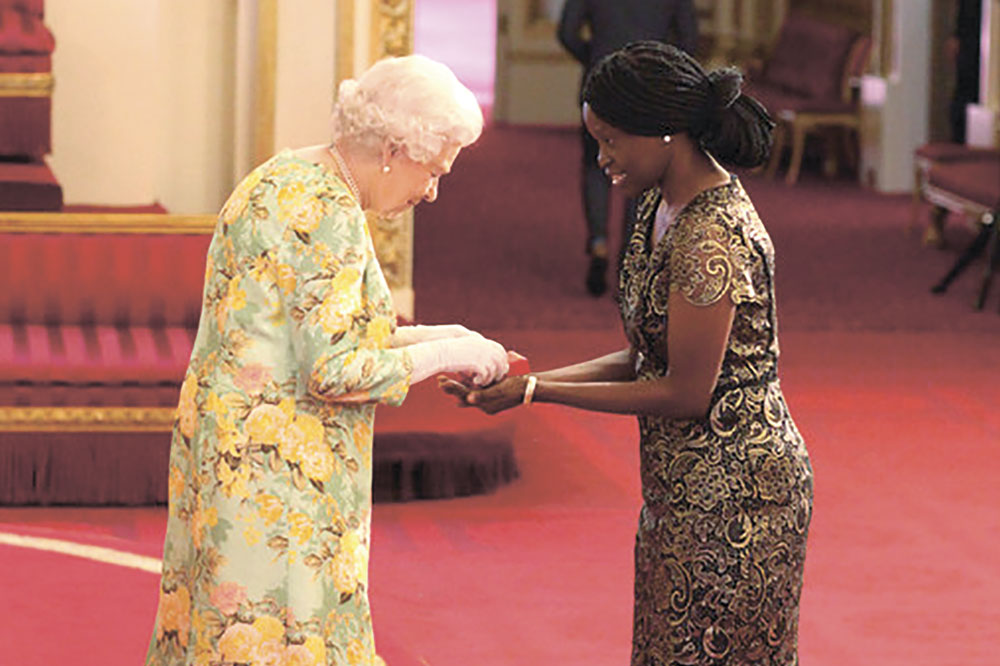 Vincentian teacher receives Queen's Young Leaders Award
Her Majesty The Queen on June 26 presented Jodie Dennie from St Vincent and the Grenadines (SVG) with a Queen's Young Leaders Award at a special ceremony at Buckingham Palace, London, in honour of the work she is doing to transform lives in her community.
The Queen was joined at the Award ceremony by Their Royal Highnesses The Duke and Duchess of Sussex in recognising their success.
The Queen's Young Leaders Awards programme, now in its fourth and final year, celebrates the achievements of some of the most exciting young change-makers from across the Commonwealth. This year's cohort from 38 Commonwealth countries are finding solutions to global issues such as climate change, food scarcity, gender-based violence, mental health, and access to education.
Guests including David Beckham OBE, Sir Lenny Henry CBE, Nicola Adams OBE, Neelam Gill, Caspar Lee, Tina Daheley, Ore Oduba and Chairman of The Queen Elizabeth Diamond Jubilee Trust, Sir John Major, joined Award winners at Buckingham Palace to congratulate them on their remarkable achievements.
Speaking at the Awards ceremony, His Royal Highness The Duke of Sussex, who was recently named a Commonwealth Youth Ambassador said: "In this rapidly changing world, it is heartening to meet so many inspiring young people gathered here today, who have already stepped up as leaders and improved the lives of so many people across the Commonwealth. You are the hope and optimism the world needs and we will all do whatever we can to support you in it."
Jodie, a teacher at the St Vincent Girls' High School, received a Queen's Young Leaders Award for the work she is doing to champion the issue of mental health in her community.
Jodie, 29, said: "Thank you for this Award. I feel honoured to receive it from Her Majesty The Queen for the work that I am doing in St Vincent and the Grenadines. I am grateful for the experience of being in the UK and meeting people who are doing amazing work to improve the lives of others. I am thankful to be a part of the Queen's Young Leaders network."
As a Queen's Young Leader, Jodie has gained access to bespoke mentoring and training through the University of Cambridge's Institute of Continuing Education, designed to develop their leadership skills further and ensure they are best placed to lead the way in the future to tackle some of the world's most pressing issues.
The now complete Queen's Young Leaders network forms a unique, dedicated and powerful group of young people from 53 Commonwealth countries who will connect, collaborate and change lives together for years to come. To further support them in their future endeavours, a £200,000 Legacy Fund has been created. It will be open to all 240 Queen's Young Leaders and 282 highly commended runners-up to apply for grants that will help elevate their work and enable them to work together to tackle some of the most pressing issues facing the Commonwealth.
To see a full list of Award winners and highly commended runners up, and to learn more about their stories and how they are changing lives across the Commonwealth, please visit www.queensyoungleaders.com