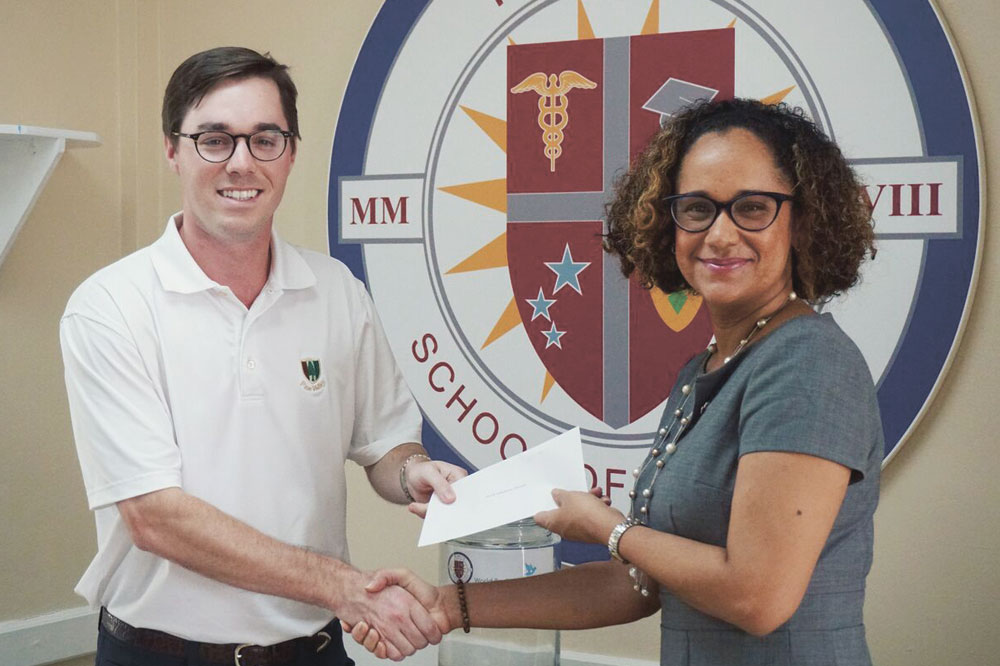 Trinity donates to WPP
The Trinity Society of Medicine and Surgery (SMS) has donated a sum of money to the World Pediatric Project (WPP) Eastern Caribbean Office in St Vincent and the Grenadines.
Last Friday, June 29, David Hobby, president of SMS handed over the cheque to Lauren McIntosh, executive director for the Eastern Caribbean of the WPP at the Trinity campus in the presence of Dean Adkinson and other members of the SMS Executive.
"Over the past few weeks we have been wanting to give back to the WPP," Hobby said.
"With the close relationship between Trinity and the WPP, we get to do clinical rotations together, and engage in other learning activities while they're here. The WPP does a great number of surgeries on youths throughout the region and they are extremely effective in changing lives for many people. It therefore, made sense to give back to the very organization that is giving us a lot of exposure to health care and also an organization that does something local."
Hobby said no matter how much a medical student reads, greater mastery is achieved when there is hands on experience. He expressed appreciation for the opportunity to deal with patients as soon as possible. He said the SMS starts rotations from the first week, which is one of the biggest benefits of the Trinity School of Medicine.
The donated funds were raised through student activities.
Lauren McIntosh of the WPP was very appreciative of the gesture. "This is great and we're very appreciative of it," she acknowledged.
Lauding the close working relationship between the two entities, McIntosh called to mind the continuing medical education seminars offered to Trinity fifth term students, and the interactions with medical and surgical experts and patients on WPP clinic days. She also implored others to contribute similarly.
Dean Adkinson also expressed her gratitude to the WPP.