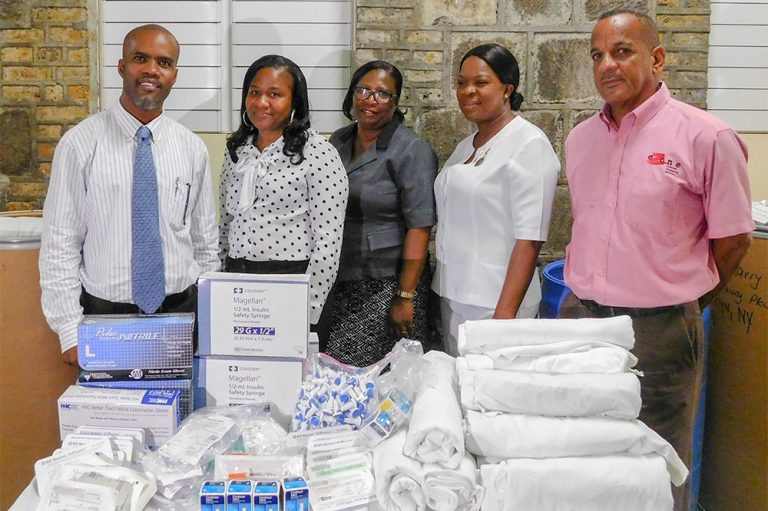 MRI6 group makes another donation to MCMH
For every ticket purchased to attend the all-inclusive party 'Carnival Escape' this Sunday, patrons will be contributing to the continuous improvement of the local health sector.
This is the goal of MRI6, the group that hosts the party every year.
And this week, the group donated approximately 300 bed sheets, clothing and other medical supplies to the Milton Cato Memorial Hospital.
"This is going to be the second donation to the hospital for this year, the first one being sometime around Easter when we had donated a number of items," said Keith Boyea, one of the MRI6 group members. "We had a request from the hospital for linens. They said [there was a] scarcity and it would help so we went back and made another purchase."
Boyea also said that the group spent over $40,000 on the items they donated on the two occasions to the hospital.
"We do two big functions a year. We do the Carnival Escape which is coming up this week. It's going to be out at Balcombe's [Estate]. It's a great party, meet a lot of friends from overseas, good food, good security; a time to have fun, but in doing that, raising money to help St Vincent and the Grenadines," he said.
Andrew Williams, the deputy administrator of the hospital thanked the group for their donation and said the supplies would help "do justice to our patient care and help to increase and improve the service that we offer to our clients that visit us here … [daily]."
Departmental manager for paediatrics, Suzette Jackson also expressed thanks, saying that sheets are one of the major issues at the hospital as they are easily worn because of daily washing.
She also said that other donated supplies, like clothing, will be used to provide comfort and warmth to patients who are sometimes on the wards without clothes.
And in a press release, the MRI6 group, which has made over $100,000 worth of donations since its establishment, expressed thanks to the public for the support of the various events held over the years.