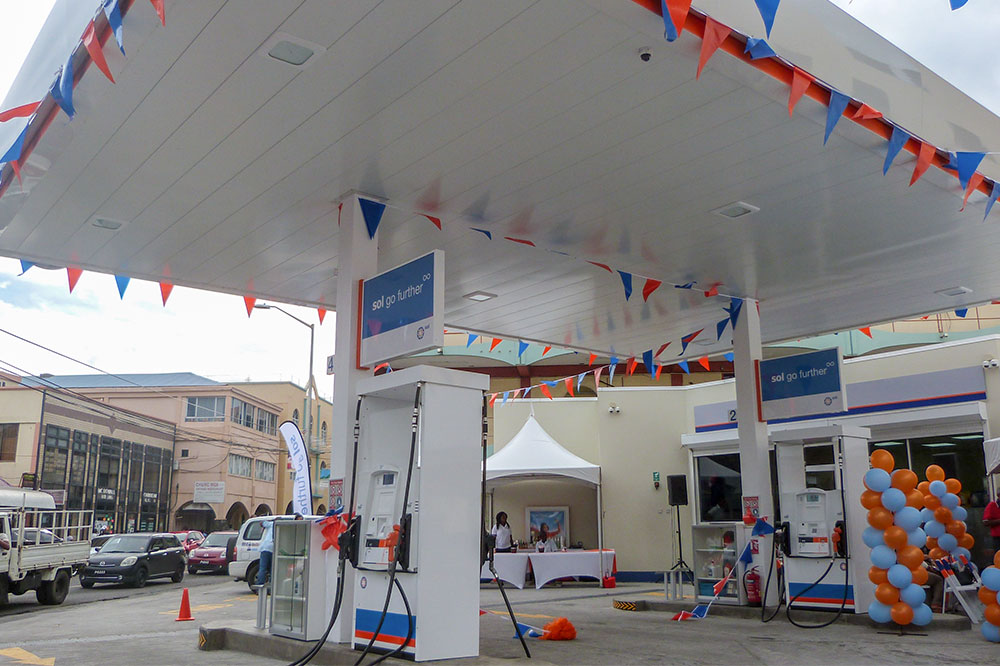 Banfield Service Station reopens with accommodation for more vehicles
The Banfield Service Station officially reopened last Friday, with boasts of an 'appealing facelift', and an increased capacity to accommodate more vehicles.
These changes to the Service Station, which has been located on Grenville Street in Kingstown since the 1960s, were among the objectives set before the refurbishment of the station began this January.
Manager of the station, Robert Banfield spoke of the "much needed and greatly anticipated upgrade."
He described that the now visually appealing station, also has attached to it a small shop which sells snacks and drinks, alongside the automotive products that they are used to providing. He indicated that in the future, SOL cooking gas will also be sold at the station.
"The flow of traffic through the service station is much smoother, thanks to our new layout, which should have cut down on the congestion at this busy intersection," he stated as another change.
The details of the project were given by the General Manager of SOL EC Ltd, Steve Francis. Glenford Stewart of Stewart Engineering Ltd, construction supervisor for the project, and Sea Operations Ltd the main contractor, were 'main players' in the project, he noted.
"The project involved the removal of six fuel storage tanks, and these were replaced by two large tanks. This allows us to store more gasoline and diesel than we previously did," Francis informed.
However, he noted his previous announcement still remains, wherein Kerosene will no longer be sold at the station, previously the only provider of the fuel in St Vincent and the Grenadines (SVG).
He listed the objectives set for the project, which he said had all definitely been achieved. Firstly, like Banfield, he indicated that the station was more aesthetically pleasing, noting the 'meaningful' greenery at the front.
Secondly, he stated that there was an '100 per cent increase' in accommodation for more vehicles on the forecourt, thanks to the realigning of the pump islands. In the past it had been, "two vehicles at any given point in time, now we can do four and possibly more," he stated.
He, like Banfield, mentioned the decrease in congestion, and the inclusion of a shop.
Area Representative for Central Kingstown, Major St Clair Leacock, delivered his congratulations at the ceremony, after following the stages of the project.
"Simple as this project appears, it is one of the most complex projects that I've seen in Kingstown. It, literally speaking, employed all the aspects of engineering," Leacock stated.
"There was civil engineering, there was structural engineering, there was mechanic engineering, there was electrical engineering, there was the chemical side of engineering, and all of these had to interface sometimes in competing ways on the same day for this project to go forward," he said, while praising the "remarkable job" in transforming that part of Kingstown.
Permanent Secretary in the Ministry of Foreign Affairs and Trade, Sandy Peters-Philips, present on behalf of Minister Louis Straker, commented, "The Ministry recognizes the significant contribution the SOL group and its partners have provided in relation to investment and job creation throughout St Vincent and the Grenadines…and for that reason the Government is pleased to join in celebrating this major achievement with SOL EC Ltd and with its stakeholders."