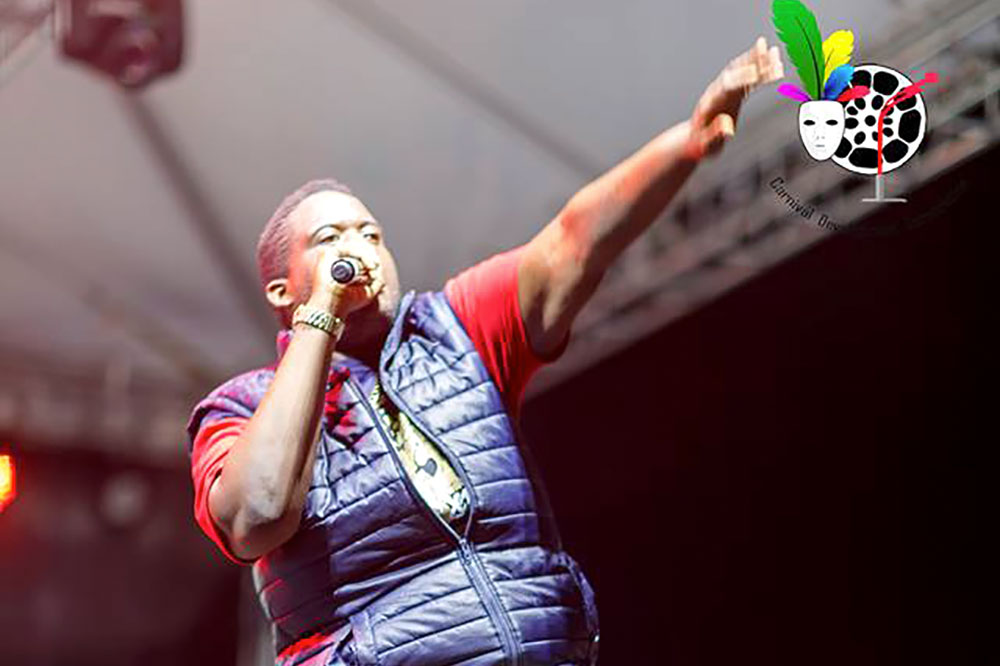 Grabba Finesse spills the beans on Peaches' mother
Keith "Grabba Finesse" Charles is all about the music and wants to make sure his skill is used to put this country on the map.
The "Peaches", "Sick Bad" and "Madness" artiste has two of the biggest Vincy Mas tracks this year and is a finalist in the National Soca Monarch competition slated for Saturday July 7.
Involved in a bit of controversy a few weeks ago, Charles said that has been sorted out and he is only about positive vibes.
He expressed delight with having been embraced by the Vincentian public, adding that he is not only pushing his music, but Vincentian music on a whole. A few weeks ago, Grabba Finesse reported to YouTube, a channel run by "Vincy Connect", alleging that his music had been used without permission.
The channel was closed down, following which another controversy arose in which Grabba Finesse was accused of not paying the producer for the "Peaches" riddim.
"That controversy sorted out, but I think it was about jealousy with certain artistes," said Grabba Finesse while noting that Hakeem Productions, the producer of the Schmoney Belt riddim on which "Peaches" is sang did not understand certain things.
"Vincy Connect understands that he was wrong," he also said. "I represent St Vincent 100 per cent.
My work is making the St Vincent and the Grenadines music industry big… putting the country on the map, taking us from that small dot to making us something big that people can embrace and come and see the culture and see the country and love the vibe and spread the music worldwide," Grabba Finesse told SEARCHLIGHT on Monday.
He said that he wants music to play the role of making persons look at SVG and realize that we have a great festival and we now have an international airport that can bring persons to a great country with great entertainment.
Part of his song, "Sick Bad" speaks about catching a flight at the Argyle International Airport (AIA) and being able to fly straight to places like New York.
Grabba Finesse said he is also proud that for the second time he has made in into the Soca Monarch competition. "I feel good, I feel blessed and happy and proud to represent my fans, country and mother at Soca Monarch," said the artiste whose song "Peaches" is a household piece, sung by children and adults alike.
Explaining "Peaches", Grabba Finesse said he was in a relationship with a young lady called "Peaches" who grew up in a Christian home, so her mother did not approve of their friendship. "A whole lot of anger was in me when I wrote that track. It is about my girlfriend's mother and a whole lot of vibes," Grabba Finesse commented.
He had to be prodded to tell the whole story. "Peaches never used to go out late night clubbing and things like that, so she mother never approve of me carrying she and people would call her mother and tell her they see she daughter and she would be calling me and calling Peaches and getting vex and talking a whole heap of stuff," Grabba Finesse explained, while adding that he and Peaches have since parted ways, but she has indicated that she likes the song and may even be interested in getting back together.
In relation to "Sick Bad", his second hit for 2018, Grabba Finesse said it was recorded before the carnival season and he was not planning on releasing it this year, but his fans called for another track seeing the success of "Peaches". "I would release one song a year but fans asking for another track, so I released it for the fans.
It has a good international feel, so I said I will just buss it," said the 28-year-old. He said that while "Sick Bad" is not his Soca Monarch song, he will find a way to give fans what they ask for on show night. Grabba Finesse, who placed second in the Black Rave Shell Down Boss competition also used his interview to condemn last Sunday's attack on fellow artiste "Small Circle" who was hit in his face with a bottle in Georgetown after winning the Windward Soca Monarch crown.
"I am mad about that and the artiste being hit," Grabba Finesse intimated. Persons wanting to catch a Grabba Finesse performance may see him in fetes like H20 Soca, Soca and Brunch, Pumpin, Dirty Sext Soca, Colour Fete, Jamboree and Rum and Soca among others for Vincy Mas 2018. "I am in mostly all the fetes for the season," said the Barrouallie resident.