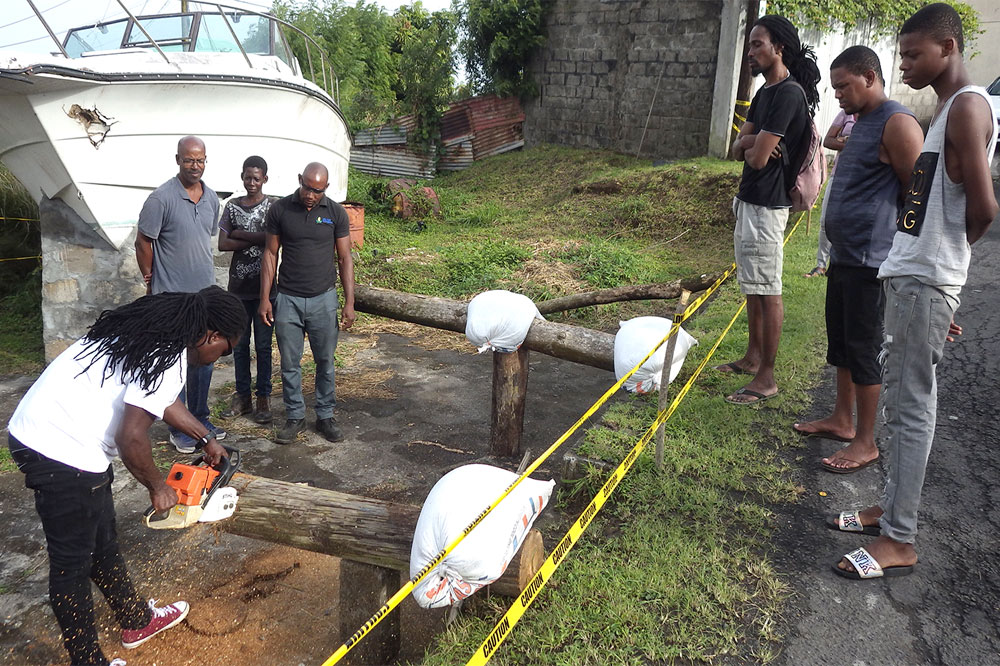 Fairhall residents get first responders training
In an effort to sensitize and mobilize the residents of Fairhall for the 2018 hurricane season, the SVG First Responders (SVGFR) conducted its first ever chainsaw operations training for volunteers.
On Saturday, June 23, Lawson Bonadie, logistical officer from the SVGFR conducted a chainsaw operations training session to provide members from Fairhall with skills necessary to clear fallen trees following landslides or storms. Later that same day, a slide presentation was also held in the area called "The Boat", depicting scenes of damage done by Hurricane Maria in Dominica in September 2017.
The object of the slide show was to show the type and degree of devastation that can result from violent storms, and the need for each community to have their own disaster response team. According to Bonadie, this activity was designed to get the community aware and involved, because some situations demand that roads be cleared so that vehicles transporting badly injured victims can reach clinics without delay.
He went on to say that similar sessions will be conducted in other vulnerable communities and that the second aspect of the training in Fairhall will involve basic servicing of chainsaws as well as serving as a refresher course for those who received the initial training.
Addressing the audience during the slide presentation was Donald De Riggs, Executive Director of the Rainbow Radio League Inc. (RRL), who advised that each community must identify and get the support of the electricians, plumbers, carpenters, chainsaw operators, nurses, truck/minibus drivers, in short all the persons with skills that will be useful in a pre or post disaster scenario.
He also commended Bonadie on the fine job done and encouraged the community to support similar disaster management initiatives. Also on hand to participate in the chainsaw training was Arthur De Shong, President of the SVGFR.
He also encouraged the Fairhall residents to make full use of the training which was provided as a free service from the first responders group and encouraged more persons to become involved.
It is hoped that NEMO and multi-national corporations in SVG could supply the Fairhall community and other organized communities with chainsaws, cutlasses, shovels, wheel barrows, water boots, gloves, safety helmets, safety eye wear, two-way radios and raincoats, so that volunteers have adequate tools and protection while providing necessary voluntary service.