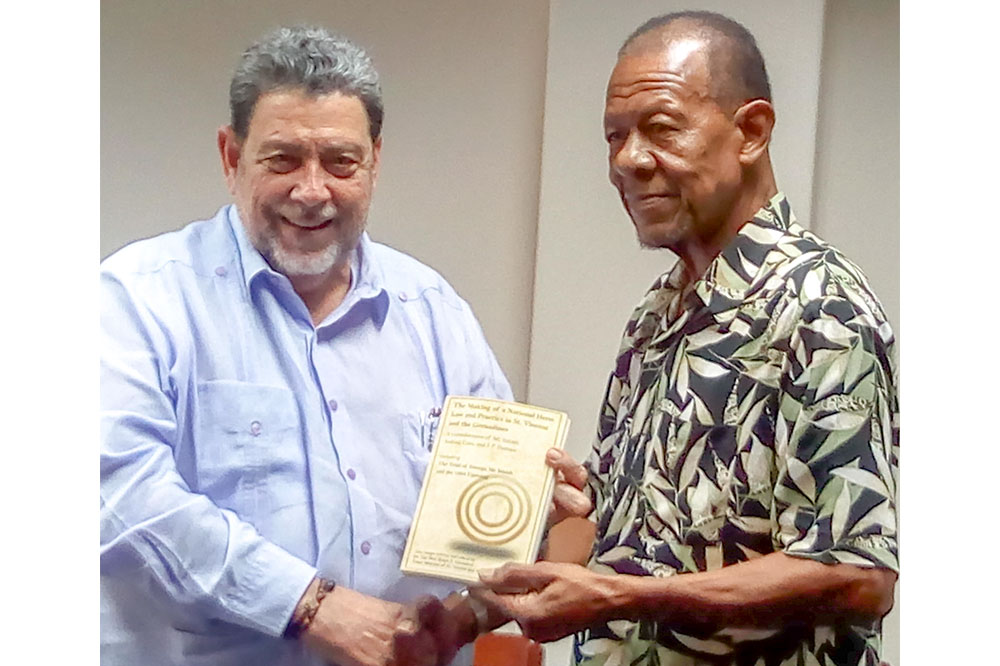 Dr Ralph Gonsalves releases new book
'The Making of a National Hero: Law and Practice in St Vincent and the Grenadines – A consideration of McIntosh, Joshua, Cato and J P Eustace' is the title of the latest book produced by Prime Minister Dr Ralph Gonsalves.
The book, which contains two essays written and edited by Gonsalves, also includes the transcript of the trial of George McIntosh and his involvement in the local uprisings of 1935.
Last week, the Prime Minister distributed copies of the book to members of the media and to trade unionist Joseph Burns Bonadie. The transcript is of McIntosh's preliminary inquiry after he was charged in relation to the 1935 riots, while the book also includes a paper the Prime Minister delivered at the University of the West Indies Open Campus in April 2013.
Gonsalves said that he searched for the trial transcript for years at the local courthouse and at the records office in the United Kingdom (UK) but could not find it.
He eventually got a copy from Jamaican scholar and lawyer Richard Hart (deceased). "…And he (Hart) said he had one from the Port of Spain Gazette, a newspaper. Journalists would be amazed, The Gazette sent a journalist from Trinidad and he took word for word what everyone said…," explained Gonsalves. The Prime Minister said that the Gazette's interest in the local trial gives an idea as to how the happenings in the other territories commanded the interest of publications and journalists.
"He took a boat and he stayed here and they printed the details of the trial verbatim on a delayed basis and it is that transcript which was published, is what is available and gives you the flavour of what happened," said Gonsalves who added that local historian Dr Adrian Fraser has also written about the riots.
Gonsalves's book may be purchased on Amazon and he notes that it is important to read about local history and where we come from, "as you will not appreciate where we are unless you see where we come from." "We have our own authenticity and historical uniqueness and nobility…," said the Prime Minister.