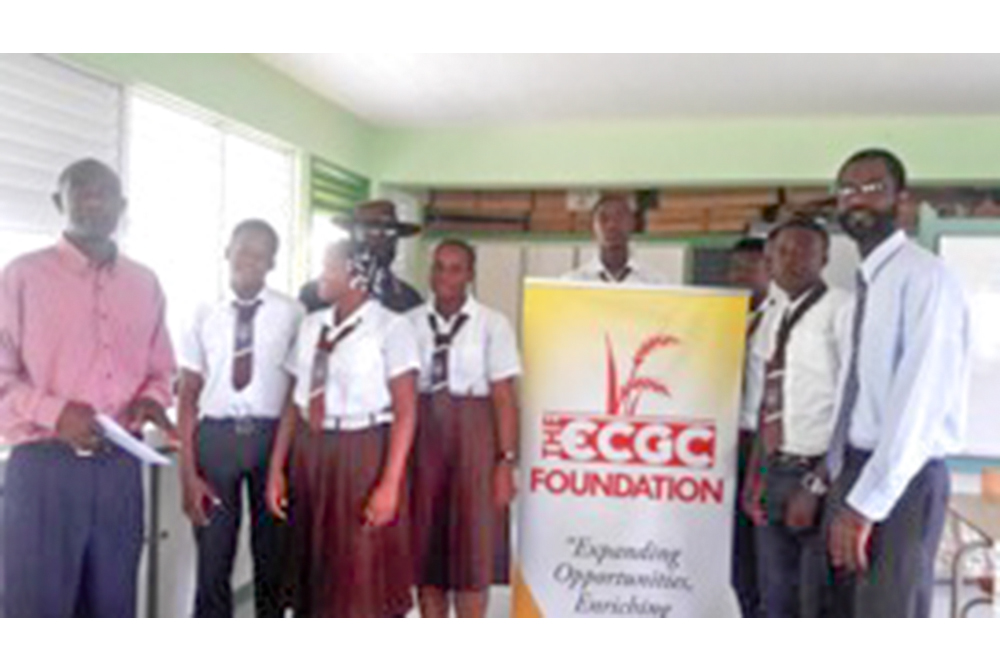 ECGC supports school's poultry project
A grant awarded by the ECGC Foundation to the Central Leeward (Barrouallie) Secondary School will make a real difference to students of Agricultural Science, who are now in a better position to prepare for their Caribbean Secondary Education Certificate (CSEC) examination.
At a presentation ceremony held at the school on Wednesday, May 30, a donation of $3,975.52 was presented by Dr Wayne Murray, a Director of the ECGC Foundation, to Kelvin Pierre, Agricultural Science Teacher, in the presence of principal Dalton Holder and some of the Agricultural Science students.
The grant will allow for the construction of a broiler facility to house 50 birds, which will enable the school to provide practical instructional facilities for students writing the Agricultural Science subject at the CSEC level.
The project will form part of the students' School-Based Assessment (SBA) which is an integral part of their overall assessment and is intended to assist the students in acquiring knowledge, skills and attitudes that are critical to the subject. During the course of study, students obtain marks for the competence they develop and demonstrate in undertaking their SBA assignments and these contribute to the final grades that are awarded to the students.
Dr Murray, on presenting the cheque, said that poultry farming is a very important industry in SVG and therefore formal education in this field is critical, not only in obtaining good grades at the CSEC level but for effective and efficient poultry management. He further stated that ECGC produces poultry feeds and has formulated studies in poultry farming, utilizing the services of a veterinarian. He also encouraged the students to spearhead a good system so they can become the leaders and assist other schools with their projects.
Pierre also said that this project is part of a special development agricultural project, to help CXC students and disadvantaged students at the school, to develop an appreciation of the importance of agriculture in alleviating poverty, providing multiple pathways to employment and further education; ensuring food security and preservation of the environment.
ECGC's veterinarian, Dr Tahomma Richards, will work along with the students to provide technical assistance. ECGC has also committed to supplying the required poultry feeds.
Seymoura Jack, a fourth form student, expressed heartfelt thanks to the ECGC Foundation on behalf of her school, for assisting them with their Agricultural Science programme.
The ECGC Foundation has already been delivering a highly successful charitable educational programme to the St Vincent and the Grenadines Community College – Division of Technical and Vocational Education and the local UWI Open Campus.