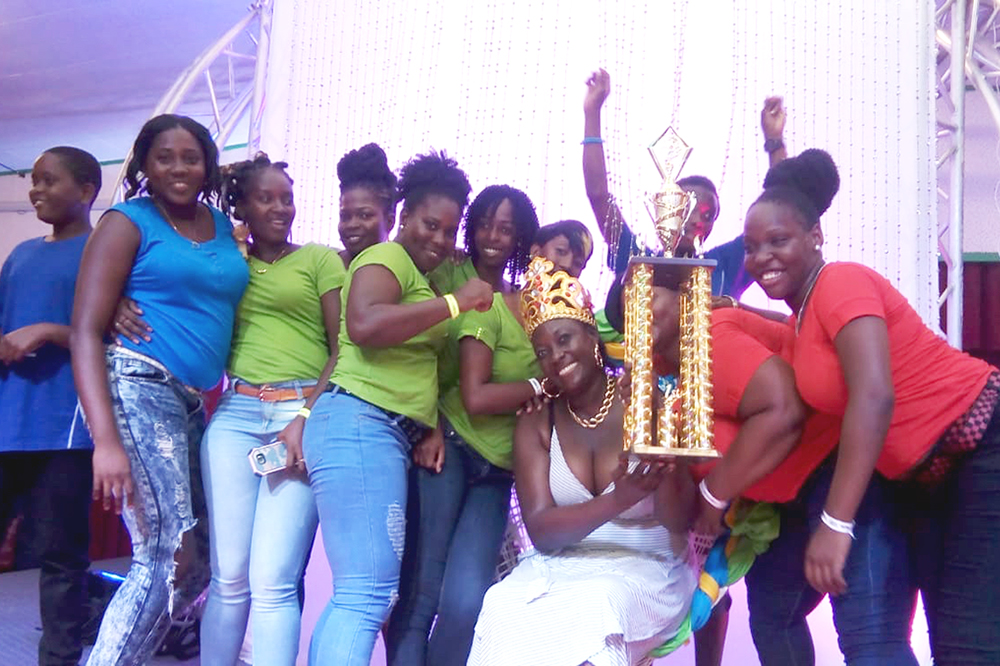 Princess is the Queen
Winning the National Queen of Calypso Crown has given Joeana 'Nubian Princess' Christopher confidence as she seeks a place in the finals of the National Calypso Competition.
Performing a song called 'Everything Gone Up', Christopher beat 14 other song birds to take the coveted crown at the Russell's Auditorium last Friday, June 8.
She will face the judges again tomorrow, Wednesday, June 13, when she will fight with her fellow Upstage XPerience artistes for a chance to represent their tent on Friday, June 29 at the calypso semi-finals with the overall aim of making the finals slated for Sunday July 8.
"I feel good, I feel great. I think I owe everything, all my success to God," Christopher said after winning the crown.
She said that going into the competition she had a feeling she would win, but there was always doubt.
"I was very calm, and persons thought I did not have anything prepared, but I had a lot up my sleeve and when I heard the number that I got, number 13, I said that was a good number.
"This has most definitely given me a boost going into the preliminary judging as a member of the Upstage XPerience Calypso tent," Christopher told SEARCHLIGHT.
She thanked Stephen Huggins and Bentley Browne for allowing her to join Upstage XPerience.
Competing for the first time last year in the finals of the National Calypso Competition, Christopher placed third. She says once she makes it into the 2018 finals, she has a lot in store for fans.
"I am going to make St Vincent proud and I have a wicked second song that people will love. It is not about politics or fighting down anybody, it is going to be something great for everybody," commented the Layou resident.
In relation to her winning song last Friday, Christopher said that she thinks inflation is a situation worldwide and not just in St Vincent and the Grenadines (SVG).
"Long ago people use to live with what little they have, but now I think people trying to live above their means knowing that things are very expensive. You see a lot of people trying to take out cable and those things and they can't afford it because cost of living gone up and even the Bible tells you that you will have money in your hand and can't spend it, so it (inflation) is what is going on," opined Christopher.
Seemingly the crowd favourite last Friday, Christopher said she was shocked with the support although she usually gets a lot.
"When I saw the team that came out to support me, I felt loved and that encouraged me to bring out what I really had in me, so I want to thank my fans for really doing what they did for me."
Christopher also thanked the St Vincent and the Grenadines Calypso Association (SVGCA) for reintroducing the competition and empowering women.
"I am all about girl power and I am happy that they bring back something like that. Next year will be even better," said Christopher who competed against her niece Kristiana "Singing Kristy" Christopher, the holder of the Secondary School Calypso crown.
"For years I have been behind her and I got the strength from her and my brother Wallace Christopher and If I hadn't been doing backing vocals for her, I would probably not have learned the tactics and the craft in calypso, so it was honour being there for her," Christopher told SEARCHLIGHT.
Her winning song, which was written by Danette Dopwell and Carlton 'CP' Hall, is a commentary about inflation.
In second place was Shaunelle McKenzie with 'Life Isn't Fair', while third place went to Phylicia 'Nubian Empress' Alexander with 'Dirty Clothes Online'.
The competition, which took place at Russell's Auditorium at Stoney Ground, also saw performances from Denise 'Lady D' Stephens, Shena Collis, Cecile 'Lil Bit' King, Brianca 'Briah' Matthias, M'riah 'Young Siah' Robertson, Sasha 'Patience' Rogers, Rolmina 'Lady Rolie' Matthews, Marvo 'Lady Marvo' Morgan, Sherikah Liverpool-Richards, Kristiana 'Singing Kristy' Christopher, Cleo 'Cleopatra' Hendrickson and Sylvorn 'Royal Gem' Lavia.