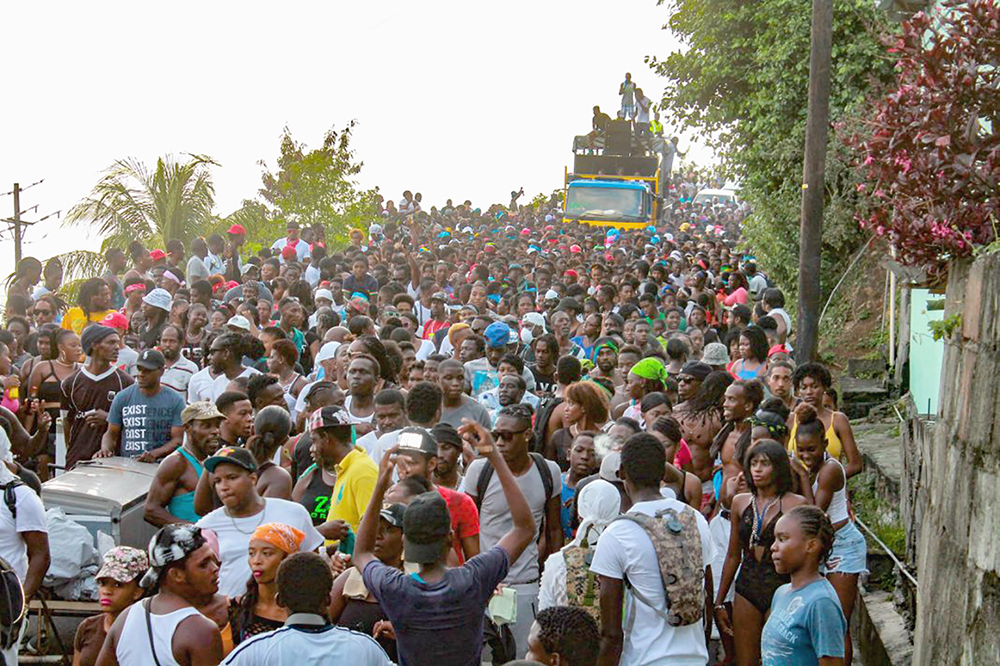 Nine days of Partying in South Leeward
The South Leeward Carnival, which this year was made up of several events that included a J'ouvert street party and evening street jump-up, has been described as a success by the organisers.
The rural carnival event, which began on May 11 with a fish festival in Clare Valley and ended on May 19 with a street party, served as a precursor to the country's premier festival Vincy Mas (June 29 to July 10).
Head of the South Leeward Carnival Committee Sergeant Jules Morgan said that he was proud of what the new committee had been able to achieve as they took up the initiative on short notice.
The event, after the May 11 fish festival launch, saw a cultural presentation at the Vermont Hard Court on May 18, where the Symphonix Steel Orchestra and several calypso and soca artistes performed.
The pre-J'ouvert party at the Questelles Hard court which ran from 10 a.m. to 4 p.m. on May 19. That event was followed by the J'ouvert street party which started in front of the Philo's Gas Station in Questelles and ended in Pembroke.


"It was a massive crowd and we had no form of violence," said Sergeant Morgan who added that the J'ouvert ended at 8 a.m. on Sunday May 20, long before church began.
"Sunday is the best time for road activities because there is less traffic. We did not disturb church because we started at 4 a.m. and finished at 8 a.m. and I spoke to some persons in the Christians community beforehand so they knew what was going to happen. There were also no churches in the J'ouvert area to disturb," noted Morgan.
On the evening of May 20, it was back to the road for the street party and that started at 4 p.m. in Chauncey, travelled through Questelles to the Campden Park industrial site then on to Lowmans Bay road into Pirate's Cove where the event culminated.
"It was like the massive crowd that you will see in Kingstown on carnival Monday. It was a well-behaved crowd, no incidents of violence but rain kind of created an issue", noted Morgan who thanks sponsors Hairoun, FLOW and East Caribbean Bottlers Inc for supporting the event.
He revealed that next year "will be bigger and better" as they are hoping to bring back the Miss South Leeward Beauty Pageant.