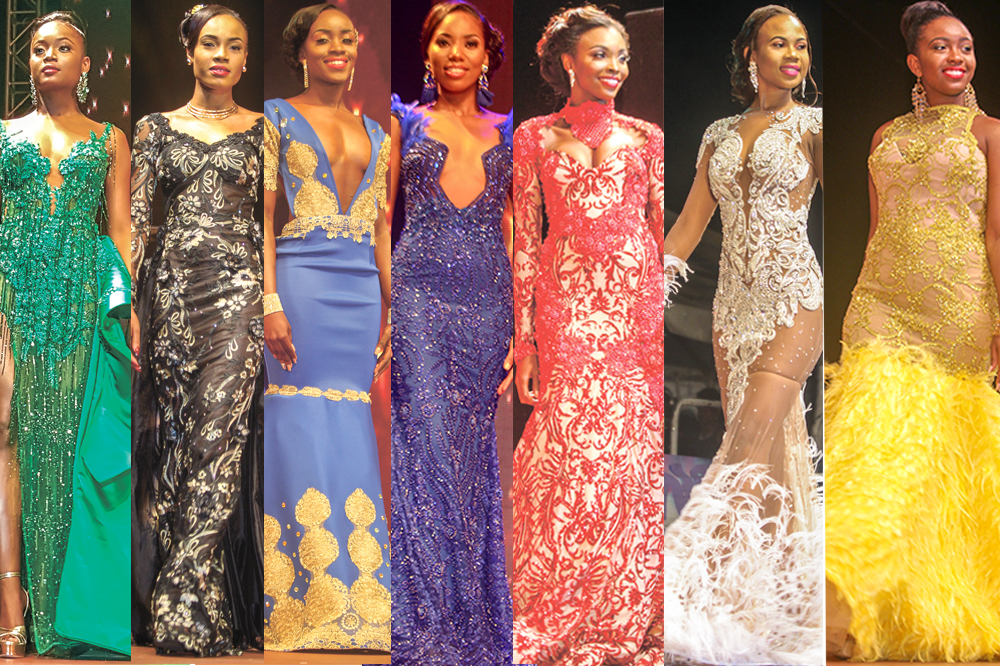 Seven gowns, four local designers
by Bria King
Patrons at the Miss SVG pageant last Saturday gathered at the front of the stage to get a closer look at the contestants adorned in delicate lace, colourful feathers and well-fitted gowns during the evening wear section.
As each contestant paraded across the stage in Victoria Park to Sia's "Unstoppable", it was observed that one aspect was missing; a description of the gown, which usually included the name of the gown's designer.
Janelle Allen, a member of the Beauty Shows Committee told SEARCHLIGHT that this was the second year that the decision was taken to not identify the designers of the evening gowns.
"We have been doing that so that there is no bias or possibility of bias in anybody's head," she said. " The girls are supposed to be judged on how they carry the evening gown and not necessarily the gown itself. That's why its best in evening gown. So, it shouldn't matter who designed the gown".
Allen added that the exclusion of the designer's name is intended to give all contestants a fair and equal chance, regardless of if their gown was designer gown or not.
Furthermore, she said that designers are later given credit via the official photographs from the show.
This year, Kimon Baptiste-St Rose created four of the seven gowns seen at the Miss SVG show, one of which won Best Evening Wear.
"This year, I took on the role of being a more of a production house as opposed to a designer simply because I knew I was going to do more than one gown," Baptiste-St Rose said.
The Kimmystic.clo designer made the dresses worn by Miss Mustique Company Limited, Criscionne Morgan; Miss Flow, Solange Fernandez; Miss GECCU, Azanie Lavia; and Miss Lotto, Shellisa Nanton.
She explained that the contestants that chose to work with her, came with ideas for their dresses. And, after consulting about fabric and colour choice, she created the final product.
In previous years, the local designer played the role of chaperone for one contestant in the pageant. She said that she would usually outfit that contestant for all public appearances.
Baptiste-St Rose revealed that making four dresses this year was less stressful in comparison to the years when she chaperoned a contestant.
"I was really happy that the young ladies trusted that I would be professional in terms of being able to produce more than one gown," she said. "I think all the gowns were locally done and it speaks volumes. It says that we have a thriving fashion industry and its good. Thats a good thing."
Creating detailed, delicate and well-fitted evening gowns take a lot of time and skill.
Lisa Cordice of Poshelle was the talent behind the mermaid silhouette gown worn by Miss Vincentian Chocolate, Cameisha Foster. Poshelle's marketing and communications manager, Maria Joyette told SEARCHLIGHT that Cordice sketched and handcrafted the dress, which featured African Ostrich feathers.
"Most of the top of the dress; that was actually a motif designed and built by hand. It was jewelled so she cut out a lot of jewelled pieces, a lot of appliqués and actually pieced the whole thing together," Joyette explained.
She also said that all the feathers were each placed by hand on the nude, mesh fabric.
Cordice started designing gowns for Miss SVG contestants within the last five years and is yet to have one of her designs win the evening wear category.
Although he is no stranger to designing gowns for pageants, this was Owen Paul's first year designing a gown for a Miss SVG contestant.
Paul, who operates Owen Paul Couture created the bright blue gown worn by Miss Massy Stores SVG Ltd, Morrissia Williams.
Paul noted that it took him at least four days to hand stitch the delicate lace and apply rhinestones to the gown.
"It was an overwhelming experience, I enjoyed it. Although it did not win, for me I always say…there is always more opportunities, there'll be a next time I will be able to do it and win," said the Campden Park based designer, whose design won the Best Evening Wear category in the Miss P'tani 2017 pageant.
Laverne Alexander considers herself as more of a seamstress than a designer. She told SEARCHLIGHT that she collaborated with Miss Metrocint General Insurance Company Ltd to create the black and white lace and organza dress.
Alexander's career spans at least 35 years and she has been making dresses for pageants since the 70s. Like most dresses featured in this year's pageant, the Prospect seamstress said that most of the dress was hand sewn as the African lace used was extremely delicate.
Best Evening Wear in the Miss SVG 2018 pageant was won by Miss Lotto, Shellisa Nanton. She wore a sleeveless, green gown which featured lace detailing. She was also crowned Miss SVG 2018.