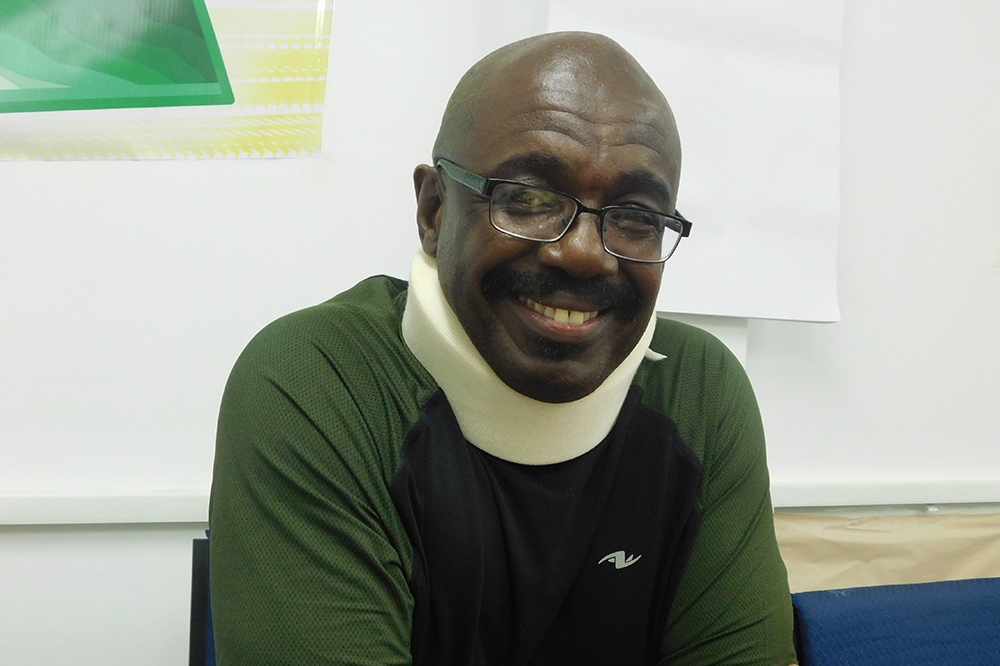 I am satisfied that I got the message out – 'Ole George'
Despite having to abort his attempt at dancing his way into the Guinness Book of World Records, Earl 'Ole George' Daniel is satisfied that his intended message has been communicated to the public.
Daniel fell off the stage at Peace Memorial Hall on Sunday morning, after continuously dancing for more than 60 hours. He continued dancing after his fall for more than 20 hours, but his efforts were later halted due to a knee injury.
Ole George, who was attempting to dance continuously for 168 hours, was placed on bed rest for two days after ending his efforts 43 hours short of breaking the record.
"When I was tumbling, my whole life flashed before my eyes, including the horrific realization that this record attempt is over. Then it flashed from that to trying to save your life," the 54 -year-old told SEARCHLIGHT on Wednesday evening.
Daniel revealed that he hit his knee, shoulder and head when he fell off the stage. He damaged his neck as well and the symptoms that followed included headaches, and a lapse in his short term memory.
"And now, after the fact, after knowing that I'm OK, I didn't feel as disappointed as I thought I would have been because a record is a record. That can always be sought after at any other point but I was satisfied that the message which I wanted to bring was getting through."
The social worker said that he danced as a way of raising awareness and starting a discussion about crime and diabetes in St Vincent and the Grenadines.
And this is not the only goal that he believes he has accomplished.
Daniel said that he now has a platform to raise awareness of what can happen when someone "goes over the edge" whether emotionally, physically or crime, diabetes or domestic violence.
"This incident helped me to understand that I actually am the example used of what could happen when you go over the edge," he said. "Putting everything in perspective, I feel satisfied that I did what I had to do and a lot of times, the attempt is greater than the end result; the fact that you attempt to do something."
While he isn't sure if he would attempt to break the record again, Daniel said that he hopes to participate in several dance projects.
One of those projects is one he calls "Dance 24", a dance competition for persons of all ages to dance for 24 hours with the possibility of winning several prizes. He said that he intends to dance for 24 hours and if anyone can dance for that same time period, then there will be a dance-off.
Daniel began his quest to dance for seven days on May 31 at 9 p.m. and he was being monitored by cameras and local time-keepers. This was his latest attempt at making it into the Guinness Book of World Records, having tried to set a world record first in 2006 when he walked for seven days around Emancipation Park in Jamaica.
In 2007, he walked for seven days, one hour in Brooklyn's Prospect Park and in 2008, he walked from Montreal to New York. He has also walked around Barbados, Grenada, St Lucia, all the Grenadines islands and around SVG nine times.
He switched to dancing in 2012, with his first attempt being in Nunavik (northern third of the province of Quebec).
According to the Guinness Book of World Records, the record for longest continuous dancing is 123 hours.